Amazon's 'Fire Phone' Comes with a 13MP Camera and Unlimited Cloud Photo Storage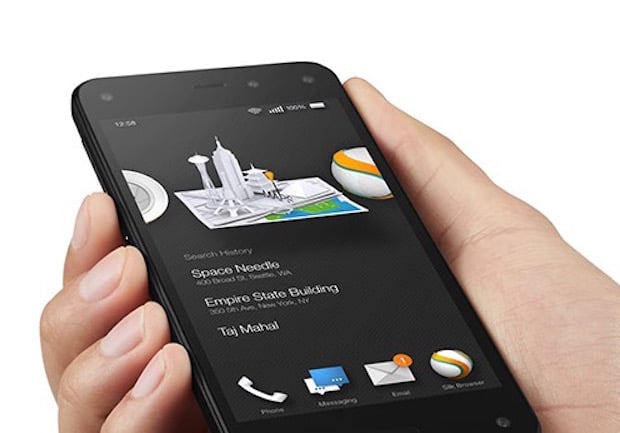 Today, Amazon showed us that where there's smoke, there's most definitely Fire. After years of rumors that Amazon was working on a phone, CEO Jeff Bezos officially unveiled Amazon's first attempt at a smartphone at today's event.
It's called the Amazon Fire Phone and it comes to market with a few interesting, photo-centric features that go beyond the standard camera specs.
First, the hardware. The Fire Phone features a 13-megapixel rear-facing camera complete with a five-element f/2.0 lens and optical image stabilization. Capable of 1080p video at 30fps, panoramas, "intelligent" HDR and burst mode, the camera stacks up comparatively with smartphone competitors.
The phone also sports a 2.1-megapixel front-facing camera. More than enough resolution to ensure your selfies are suitable for Instagram and Snapchat.
One of the more interesting hardware components Amazon decided to add to the Fire is the inclusion of a dedicated camera button. Eliminating the need to fumble around with swipes and taps, the smartphone features a dedicated button below the volume rocker that launches the camera instantaneously — even when the display is off.
Now onto the platform. Operating on Fire OS 3.5, a forked version of Android, the Fire phone takes advantage of a few interesting announcements that Amazon made alongside the phone.
The still-impressive but less exciting aspect is the Fire phone's automatic backup of your photos and video to their Amazon Cloud Drive. Through this, you will be able to access your media almost instantly across any other Amazon devices or Amazon Cloud Drive apps.
The also-impressive more exciting part is the announcement that all Fire users will get free, unlimited cloud storage for their full-resolution photos and video through Amazon Cloud Drive. Is it really free? It sure seems to be.
In the Unlimited Photo Storage section of Amazon's FAQ about the Fire Phone there is no mention of having to have an Amazon Prime account, although the company is giving away free one-year memberships to a limited number of buyers.
We'll have to wait and see if more info comes to light, but those who want to ditch their current smartphone company in favor of Amazon may never have to delete a smartphone photo again.
While nothing revolutionary by any means, Amazon's first endeavor into the smartphone market does manage to grab some appeal for those looking to try out a new manufacturer without skimping on camera capabilities.
To find out more of secure yourself a pre-order of the Amazon Fire Phone, head on over to the smartphone's product page. The Fire Phone starts at $200 on a two-year contract.