Irista: A Cloud-Based Storage Solution Built by Canon for Photographers
Following hot on the heels of a report that claimed Leica is looking to launch a cloud storage service, Canon has opened up Irista, a cloud-based photo storage solution of its own. Originally released in beta a few years ago under the unusual name Project 1709, the now-public service offers photographers a way to store, organize and share images in the cloud.
Since Irista has been built, in a sense, "for photographers, by photographers," there are a number of photo-specific features inherent in Canon's approach to cloud storage that don't show up in consumer options like Dropbox, Google Drive, and the soon-to-be iCloud Drive.
For example, Irista doesn't have file-size limitations, features automatic image collections, offers simple importing, and makes sharing to social networks such as Facebook and Flickr as simple as possible. And, as you would expect with such a photo-centric service, Irista allows you to store RAW files — but not just ones from Canon cameras, Nikon, Olympus, Sony, Panasonic and Samsung are all supported as well.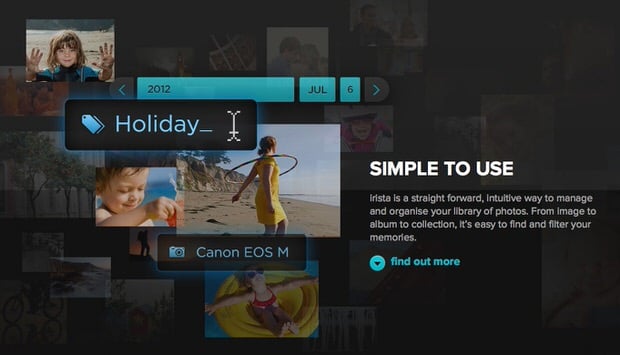 Canon Irista is currently open to the public, but it seems as though it's still being pieced together. For now, the platform is still focused on British users, with pricing info displayed in British Pounds.
It starts off at 10GB plus full access to all of Irista's features for free. Once you hit your 10GB limit, there are currently two options to choose from: 50GB for £5 (approximately $8.37 USD) per month or 100GB for £11 (approximately $18.45 USD) per month.
At these prices, Canon won't be the go-to for anybody who is looking for pure storage — they can get more space for less money elsewhere — but Irista's other features will make the service seem more valuable for those of us who deal with massive RAW files on a daily basis.
Canon's first public foray into online storage for photographers is, if nothing else, an intriguing one. The focus on the trifecta of image storage, organization and sharing, plus some of the other photographer-specific features built into the service, will make it an enticing option for photographers looking to explore the cloud.
Now we just have to wait and see what Leica has up its sleeve.
(via Imaging Resource)