Photog Creates Unique Save-the-Dates by Mimicking Popular Movie Posters
What started as soon-to-be-wed couple's idea to recreate a single movie poster quickly turned into a creative collection of awesome save-the-dates when Dave Dicicco and Rachael Batts employed the services of friend and Nashville-based wedding photographer Andres Martinez.
The couple's original idea consisted of only the movie poster for Casablanca, but Dicicco and Martinez quickly drew on their mutual obsession love for movies and cinematography to come up with an entire gamut of posters that won't soon be forgotten by any of the recipients. As Martinez explained to us via email:
I think our appreciation of cinematography and story was a big part of how we became friends and, fast forward a couple years, I'm not entirely surprised we did something like this. Okay, we're not movie buffs, we're big movie nerds. It had to be said. Rachael likes movies but I think it's a more casual (and healthy) appreciation.
Martinez said one of the most difficult parts of the process was actually "deciding on a handful of posters to recreate," explaining that, in addition to the completed ones, there were a few others that didn't get finished due to time constraints.
He didn't keep track of definite numbers, but says the posters that did get completed "were finished over the course of a month working on and off between other projects." Also, in case you're wondering which of the posters gave him the most trouble:
In terms of difficulty, the Twilight and Bad Boys [II] posters were the toughest to put together. Bad Boys [II] had a lot of layering and texture, whereas Twilight is a little strange when you actually try to set it up. If I ever run into Joey L, I'm going to ask him about it (and probably a thousand more questions about his career).
Take a look at the rest of the series below and let us know which one is your favorite!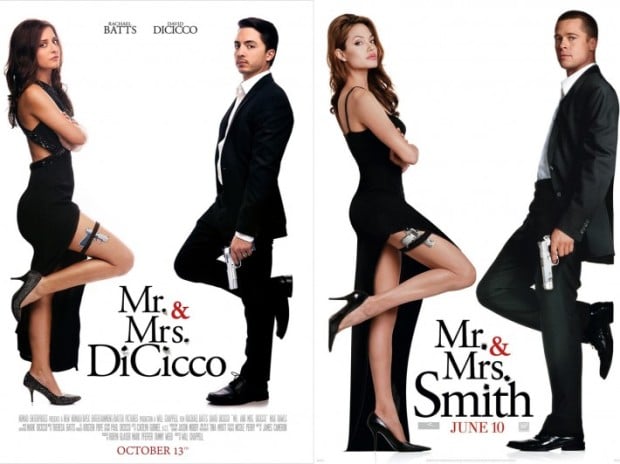 Both Dicicco and Batts loved how the posters turned out, which Martinez said "was the goal from the start." And as the Reddit post that took this viral goes to show, so does almost everyone else.
For those who are curious, posters that were photographed but never finished include The Girl with the Dragon Tattoo, Titanic and Star Wars: A New Hope… we seriously hope he takes the time to finish them sometime down the road and sends them our way.
To see more of Martinez's work or follow along as he embarks on other creative projects, head over to his website by clicking here.
(via Fstoppers)
---
Image credits: Photographs by Andres Martinez used with permission