Giveaway: Win a Fuji Instax Mini 90 Instant Camera and Twenty Packs of Film!
Update: This giveaway is now over. The winner has been announced at the end of this post.
---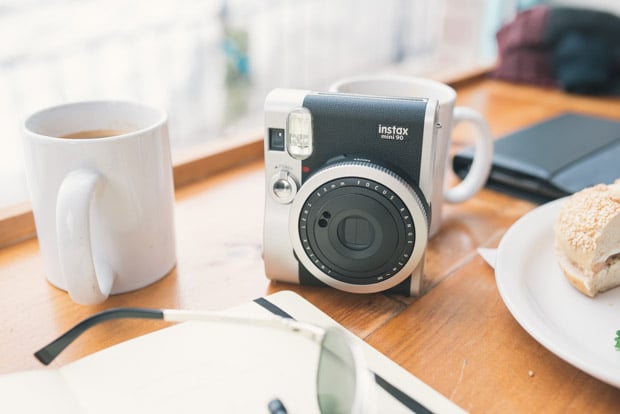 Alright ladies and gentlemen, it's time for the first of MANY giveaways this year (yes, many, so stick around), and we thought we'd start 2014 off with something fun: a Fujifilm Instax Mini 90 Neo Classic instant camera and twenty 20-count packs of film to keep you shooting all year long!
If you're not familiar with the Instax Mini 90, it's one of Fuji's most popular instant cameras and was a big hit when we reviewed it earlier this month. Whether you're a photo enthusiast who just likes taking pictures, or a professional who likes to put away your D4 or 1DX and slum it on occasion, the Mini 90 offers a glorious return to the world of instant photography.
And since a lot of people seem to feel that the price of film is a prohibitory part of the instant camera deal, we're throwing in twenty 20-count packs of Instax Mini film. That's 400 pictures, enough for a 365 project and then some!
Entering is Easy
We've heard your feedback loud and clear, and you no longer need to have a Facebook account to enter. Just drop us a line in the comments letting us know how you intend to put the Instax Mini to good use. If you DO like our Facebook page, you'll get a bonus entry! Just include ANOTHER comment with your personalized Facebook ID only (e.g. for facebook.com/petapixel the ID is petapixel).
And that's it! We'll take entries all the way from the moment this post goes live until Friday January 31st at midnight Easter Standard Time. (Note: Please don't comment more than once — or twice if you get a bonus entry for liking our Facebook page — or we'll have to disqualify you from the drawing).
Remember, the contest ends on Friday January 31st at midnight Eastern Standard Time, so get your entries in before that and we'll update this post with the randomly selected winner's name once the contest is over!
Also, this giveaway is open to everyone — the camera can be shipped abroad if you're an international reader outside the United States.
Good luck and thank you so much for reading PetaPixel!
---
Update: This giveaway is now over. We received almost 3,000 entries! The randomly selected winner is:
Aileen Edwards Finney
Congratulations! Please contact our Editor in Chief directly at [email protected] to claim your prize. We'll attempt to contact you as well.
And if you didn't win this latest giveaway, don't worry — we'll be back with another one at the end of February, and it's gonna be a doozy!