Behold Lux: The 100% Do it Yourself, 3D-Printed Medium-Format Camera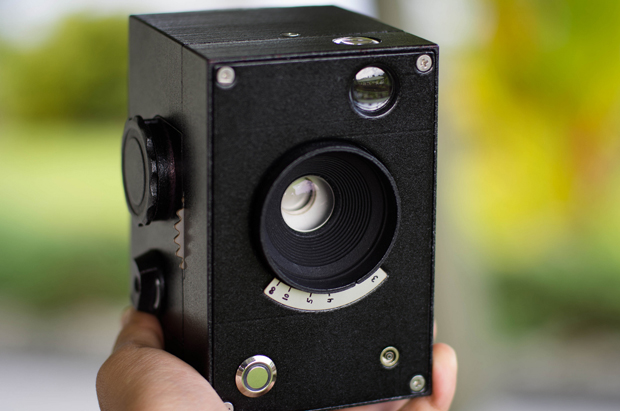 "Do-it-yourself" can mean a lot of things, but for camera dweebs, it's usually entailed some degree of scavenging and recycling parts from factory-made cameras. Grad student and specialty camera builder Kevin Kadooka understands the ease and accessibility of the practice but doesn't think it's sustainable — eventually we'll run out of old cameras to cannibalize.

So for his latest project, the hardcore tinkerer decided to go 100% homebrew, producing a camera that uses nothing from an existing camera. Instead, his handsome medium-format Lux camera relies on off-the-shelf electronics and mechanical parts and a body constructed of plastic panels produced by a 3D printer.
"My goal is to design and produce a fully-fledged camera, using easily purchased off-the-shelf components, without having to rely on anything pulled from a potentially valuable piece of equipment," he says in his introduction to the project. "A secondary goal is also to make this camera completely open source through rapid-prototyping techniques such as laser cutting and 3D printing, and the Arduino physical computing platform."
The results, now available for one and all to replicate via online instructions, parts lists and 3D printer templates, are beyond impressive. The Lux looks somewhere between a vintage box camera and modern, minimalist electro-cube, with a waist-level viewfinder and 120 roll film assembly combined with a sophisticated electronic single leaf shutter. The innards are powered Arduino components running open-source code.
Update on 12/16/21: This video has been removed by its creator.
Kadooka recently processed the first roll of film shot by the Lux and is pleased with the results — no light leaks and negligible film scratching.
Which means it's on to Version 2.0 of the camera design, which will address issues such as battery accessibility (you currently have to disassemble the camera) and speeding up the shutter from the current maximum of 1/125 sec.
For detailed step-by-step instructions on how to build one, head over to Kadooka's website. And if you'd like to see sample images or pictures of the camera in action, check out his Flickr account by clicking here.
---
Image credits: All images by Kevin Kadooka