Hasselnuts is an Adapter that Turns Your iPhone into a Medium Format Digital Back
Back in early August, we told you about Badass Cameras and their plan to create an adapter that could turn your iPhone into an uber-cheap (relatively speaking) digital back for your old Hasselblad film camera. Well, the wait is over. Arriving on Kickstarter a bit later than expected, the Hasselnuts adapter does just that.
Hasselnuts is built to work specifically with the Hasselblad V-System cameras. It looks exactly like any other digital back, only it allows for you to slide in your iPhone and use the accompanying Hasselnuts app to take digital photos using the phone instead of ponying up the dough for a full-fledged digital back.
The goal is to get people to dust off their old Hasselblad V-system cameras and put them to good use again.
"With Hasselnuts, those who were unable to afford the digital backs can utilize their Hasselblad cameras at an affordable cost! Plus, we want to revitalize the old Hasselblad cameras you have in the back of your closet … we know you have them. Now professionals and amateur photographers can enjoy the classic camera together!"
The coolest thing about the Hasselnuts system is that it does its best to keep you feeling like you're shooting analog. The app syncs with the camera, so you set the aperture on the camera lens, set the exposure through the app and then press the shutter on the camera itself. The app automatically senses the shutter and takes the photo.
Thanks to the special projection screen that the iPhone is actually taking a picture of, the resulting photos even manage to maintain the same depth of field that you would normally get with the medium format camera.
It's this projection screen that has Hasselnuts designer Daniel Jun Hoshino most excited. very similar to a ground glass, it has similar characteristics to medium format film surface. Because of this, the resulting images don't just look like iPhone images taken through a Hasselblad lens, they look "grainy and film like."
Here are some sample shots taken with the Hasselnuts system: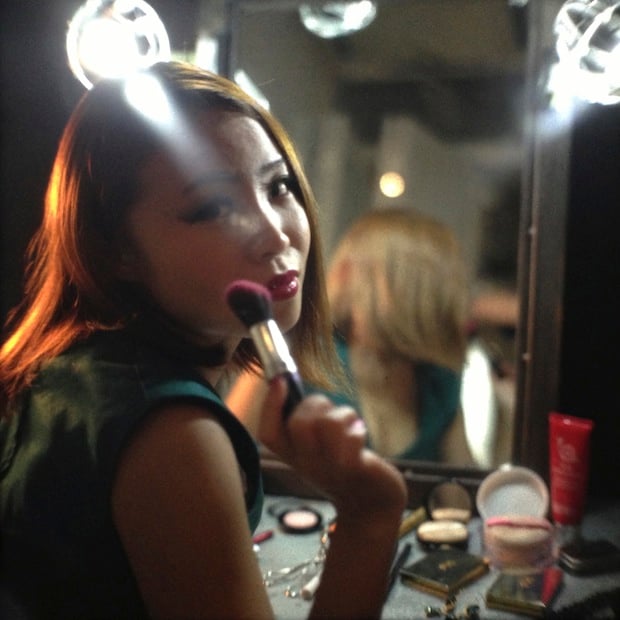 After a few delays, Hasselnuts finally hit Kickstarter a few days ago with a $10,000 goal and some determination. With 42 days left to go, they've already raised over $2,500, so we have no doubt this one will get funded and then some.
There's still time to jump on the early bird special and get your own Hasselnuts adapter for $200 (only 32 of 44 left as of this writing), but that offer won't last long. After that, the next 44 pledgers will pay $250 for a semi-discounted adapter, and then the Hasselnuts system settles in at a final Kickstarter price of $300.
Keep in mind, all of these are discounted prices — once the Kickstarter is over, it'll retail for $350.
To find out more or grab your own Hasselnuts adapter, head over to Badass Cameras website or the Hasselnuts Kickstarter page by following the respective links.