Sprite's Raspberry Pi Camera: Marketing Stunt Meets DIY Photography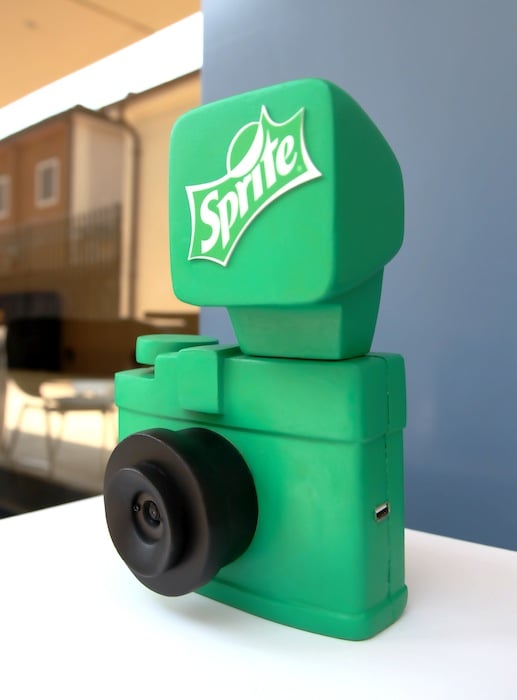 There's nothing like a gimmicky camera to make you tilt your head to the side and raise an eyebrow out of curiosity. The most recent gimmick to cross our desks is a camera that is equal parts advertising and DIY creation: an over-branded Sprite camera with a Raspberry Pi at its core.
In case you're not familiar, Raspberry Pi is a single board computer that was built with teaching in mind. Computer science buffs can use it in their gadgets or as a stand-alone computer and program it to do whatever their hearts desire.
Back in March, the Raspberry Pi Foundation caught our eye when they announced the addition of a pint-sized camera module that could attach to the original board, and it's this module that's at the heart of the Sprite Raspberry Pi Camera.
The camera is the first product created as part of Sprite's "prizes that advertise for us" campaign put together by Romanian ad agency McCann Bucharest. With the exception of the gaudy green resin casing, the rest of the camera is made from parts that anyone could get their hands on: a Raspberry Pi board and camera, an off-the-shelf Colia external mobile phone battery, and a small speaker.
RoboFun, the folks who put the camera together, have even published the Python script they used to program the camera, so you really can use this as a template for making your own.
Here are some sample shots taken with the Sprite cam:
Of course, there are a few things you might leave out. For one, that green case. For another, every time you snap a picture, the aforementioned speaker yells "Sprite!" And finally, as you can see from the samples above, there's some script written in that automatically watermarks every photo with the Sprite logo.
Like we said: half DIY project, half marketing stunt. Regardless, if you would like to learn more and/or build your own (with or without the Sprite branding), head over to RoboFun for a full set of instructions.
(via Hack a Day)