Photographing Surfers Underwater: How Sarah Lee Makes it Happen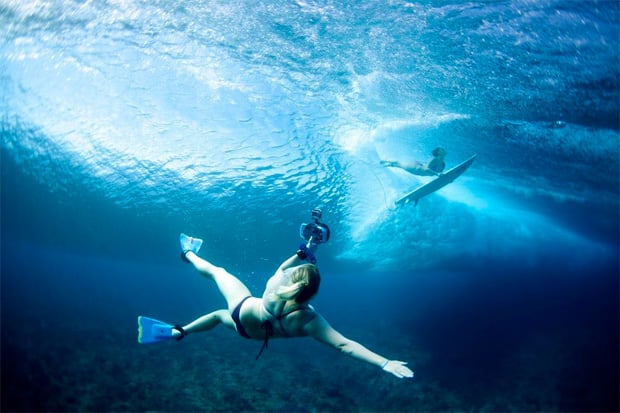 We're in the midst of Summer, and if you're one of the many folks who live by coastline, you have access to one of mother nature's most beautiful elements: the ocean. And while the lot of us prefer to purely listen to the waves crash from the comfort of the golden sands, photographer Sarah Lee has been taking her gear into the water and capturing surfers do their thing off the big island of Hawaii.
Having snapped scores of mesmerizing imagery of surfers beneath the waves — as if they themselves were sea life — Sarah Lee's art piqued our interest. How does she do it? Surely there's more to bringing your camera into the water and firing away, right?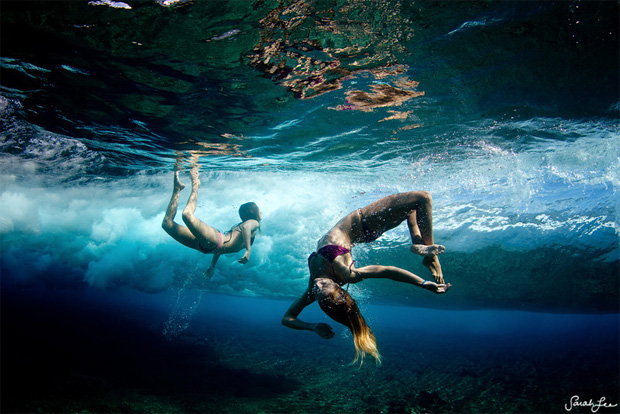 We were able to ask Sarah a few questions. We've learned that this art requires a great deal of charisma, patience, and a spot of luck:
PetaPixel: Can you tell us a little about yourself and your background?
Sarah Lee: I grew up in Kona on the Big Island of Hawai'i. Lived on a coffee farm and spent every day in the water whether it was a pool for swim practice or playing in the ocean.  I haven't been able to leave the ocean since!
I relocated to California to attend Chapman University for film production/documentary, took the past year off to shoot photo and video content Alisons Adventures around Fiji, Australia, New Zealand, and the Grand Canyon, and am now headed back to Chapman to complete my degree.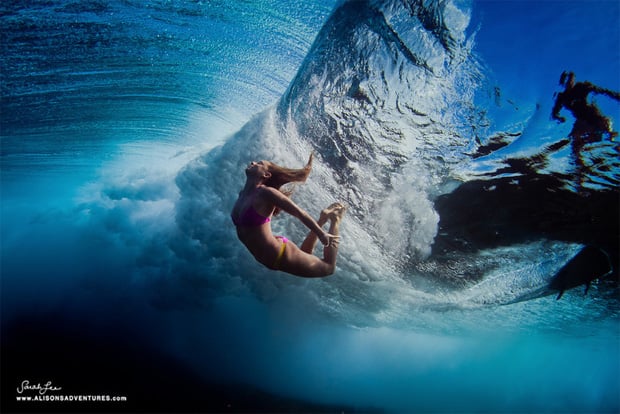 PP: How did you get into photography in general?
SL: I "got into" photography when I was about 15.  As a child and into my teens, I was shy and observant, so photography became a "tool." I discovered to not only translate and share the beauty of what I saw from day to day with others, but also simply a tool for me to get involved with what was going on around me.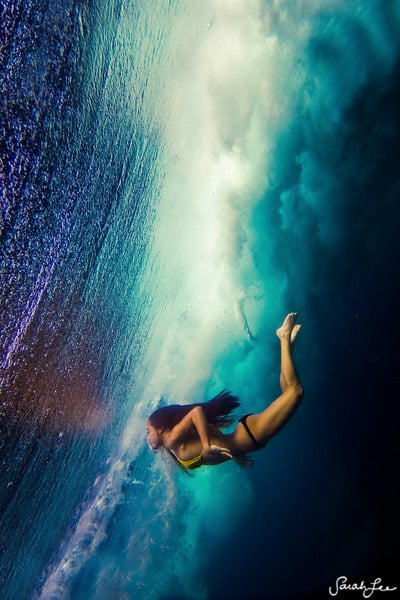 PP: How did you get into shooting surfers underwater?
SL: Having a competitive swimming background and spending hours on end in pools and in the ocean, I couldn't help but want to capture what I was seeing underwater as humans interacted with the water. I got into shooting surfers underwater because on the Big Island the ocean is SO clear and beautiful but it's not too often that the waves at the surface are as impressive or interesting as what was happening below.
I was drawn to underwater photography because I enjoy being able to synthesize both the physical and creative "challenges" of the genre. In particular, I'm attracted to underwater photography in the ocean because of the lack of control I have in such a massive body of water and it's constant state of change in the lighting, water clarity, currents, surf, etc. It's somewhere where you have to be completely switched on and be able to adapt to anything it throws at you.
PP: Can you tell us about the equipment you use for these shoots?
SL: I primarily use a Canon 7D, fish-eye lens, and a custom surf housing. Or, in special situations I'll use an Outex housing or GoPro.
PP: What's you workflow like for these types of shoots? How long are you in the water?
SL: I like to keep things as simple as possible.  The less you bring, the less you have to worry about losing. Depending on the waves, our time in the water can last anywhere from 30 minutes to three hours. I jump out in the water with fins and a mask (if I remember the mask!) and the subjects photographed are either paddling out on a board or more often than not, swimming out on their own with nothing on.  No scuba gear – just breath holds! Not just anyone can make it out from the shore past razor sharp reef, currents, and crashing waves, and I am very lucky to be in a place where there are many extremely competent, talented, and beautiful water people I have the privilege of photographing.
PP: How many shots would you say you take per shoot? How many from those would you be comfortable giving the "stamp of approval", so to speak?
SL: It depends because you never know what you're going to get!  For underwater, I have about a 1:3 ratio on average.  So if I took 300 shots, I would keep about 100 of them.  I'm not one to run the shutter like a machine gun, but try get in position and capture 3-5 frames per wave.  For under-wave photography I think that's reasonable because there's so much outside of your control, sometimes you just need to be in the right spot to capture what's happening in front of you.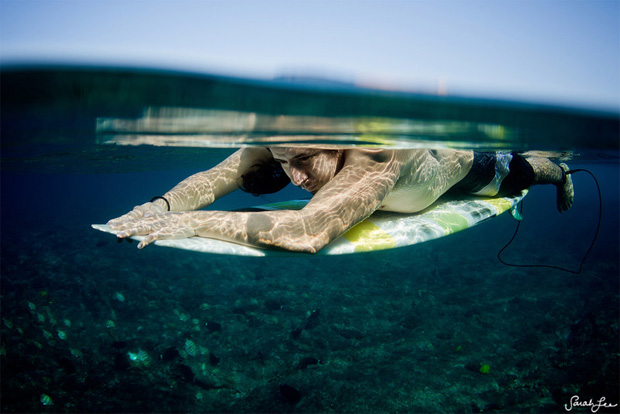 PP: What's involved regarding post-processing of these images?
SL: I always shoot in raw and color correct everything in Lightroom. I believe that basic color correction is an integral component of digital photography.
PP: Any advice for photographers looking to do similar work?
SL: I sure hope you know how to swim!  Start out with a GoPro and see how that goes.  It's not about getting all the fancy gear and sometimes the simplest set-ups can get the most exciting results. Make sure you're extremely familiar and comfortable with the place you're swimming out at before you take other people with you.
---
Sarah Lee isn't simply known for her amazing underwater photography. Her image library is rather diverse. If you're interested in seeing more of Lee's images, you can check out her official website.
---
Image credits: Sarah Lee image courtesy Lucia Griggi. All other images courtesy Sarah Lee and used with permission.