Indian School Trains Blind Photographers in 'Non-Retinal Art'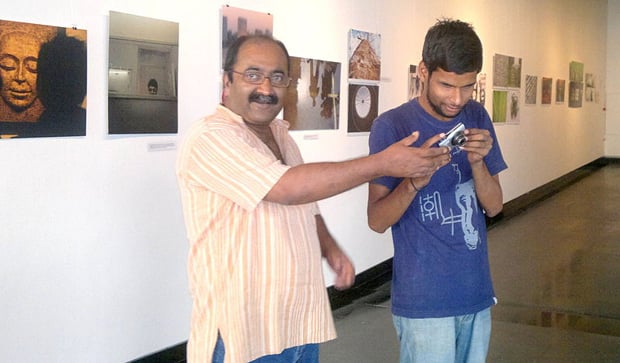 Take away the visual element from photography and what have you got?
Quite a lot, according to Partho Bhowmick, founder of the Blind With Camera project in Mumbai, India, which to date has taught more than 500 blind people how to express themselves through photography (you can find a gallery here).

Bhomwick, a professional photographer with full vision, says blind photographers rely on other sensory input, such as sound or the warm feel of sunlight on skin, to inspire them to press the shutter.
"These people can create a mental description of everything they are familiar with," he told the Indo-Asian News Service. "Recognizing different sounds and capturing them, feeling the warmth of the sun or source of light and photographing accordingly. They have strong senses and they build up on that."
Bhomwick typically starts with a student by demonstrating the tactile operation of a point-and-shoot camera, then encouraging the student to take photos according to the sensory cues that are important to them. Bhomwick then describes the images captured to the student, to connect mental images to what's on the screen.
The Blind With Camera project has expanded to include workshops in which blind photographers teach sighted ones, wearing blindfolds, to utilize other senses in their work.
Bhomwick characterize his work as part of a growing global movement of "non-retinal art," in which technology can help artists with limited or no vision pursue new paths.
(via Daijiworld)
---
Image credits: Photos by Dr. Satendra and the American Center Mumbai