Tragopan Blinds Are Made Specifically for Wildlife Photographers
If you're a wildlife photographer who uses a hunting blind to stay hidden from your subjects, you might want to check out Tragopan. It's a relatively young brand that's designing blinds specifically for the needs of photographers, not hunters.

"Photographers in the U.S have long had to use crappy hunting blinds for wildlife photography," founder Gerrit Vyn tells PetaPixel. "There have been very few blinds made over the years in North America specifically for photography. Because of this, the vast majority of photographers use pop-up hunting blinds which are made of cheap materials and don't provide the features that photographers need.
"Photographers usually ended up having to cut holes in the walls of hunting blinds to shoot from and they end up being treated as disposable products — good for a season maybe."
Vyn started his company about 5 years ago, and two years ago Tragopan began selling its products in North America.
All Tragopan blinds come with a variety of window sleeves and panes, allowing each window to be customized for the specific cameras and lenses being used by the photographer as well as how much concealment and visibility they would like. There are even window panes that help with off-camera flash photography.
The windows provide options for shooting at various heights, including at ground level, so photographers never need to cut their own custom holes in the blinds. Alongside the windows are special peepholes with shutters.
Under each shooting window is a three-way zipper that lets a tripod leg stick out from the blind, allowing for more room in the blind for the photographer.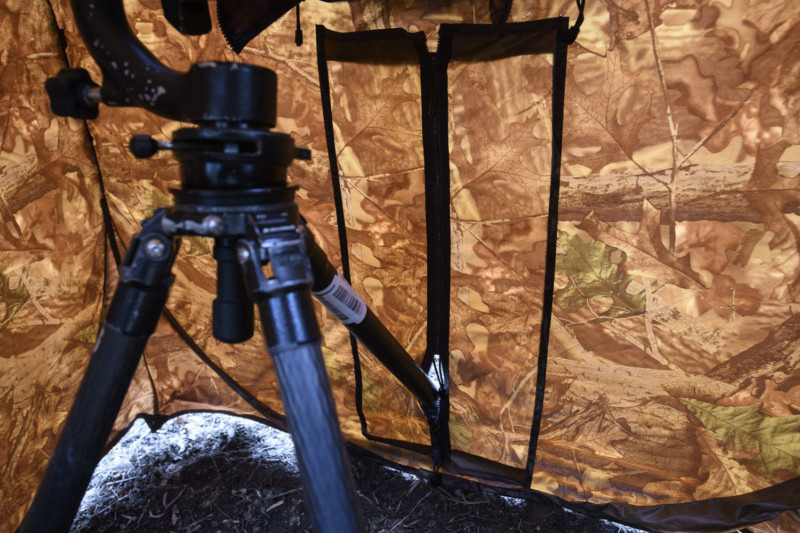 All the zippers are large and quiet for ease of use and minimizing noise created while working.
Other features include rugged and water-resistant materials and ventilation (e.g. in the roofs) for temperature and condensation control.
Here are short videos introducing the features of the Monal and Tragopan V Plus, respectively:
Tragopan blinds cost between $48 and $335. You can check out the entire catalog of four blinds over on the company's website.