Skateboard Photographer Talks Travelling the World with Camera and Board in Tow
It started with a trip to Hong Kong. That's what got skateboard photographer Jonathan Mehring hooked on travelling. But while there are a lot of photographers that travel the world capturing different cultures, Mehring was more interested in answering the question: "is it even possible to skate some of these places?"
This short interview was put together by The Photographer Series, a site by multimedia storyteller Andrew Norton that dedicates itself to telling the stories behind some of skateboarding's coolest images — and Mehring has captured some awesome images.
The lifestyle he's built for himself — travelling all over the world with his skateboarder friends, exploring cultures and grinding rails thousands of miles from home, and then making a living publishing those photos in skateboarding magazines — is surreal to him:
People probably think it's stupid, you know what I mean? Some people, but enough people think it's cool, I guess, so that I still have a job […] It's kind of the balancing act, where you have to figure out: 'alright, where is the gnarliest, culturally different place that I can go to that also [has] good enough ground, architecture, whatever, to be able to skate.?' […] Somewhere that has texture in the background, and somewhere that's different … that you haven't seen before.
He and his friends have travelled to Argentina, Mexico, Bolivia, the Canary Islands, Russia, Mongolia, China, Kazakhstan, Kyrgyzstan, Vietnam and the Amazon, his skateboard and camera always at the ready. Here are some of the photos he's captured along the way: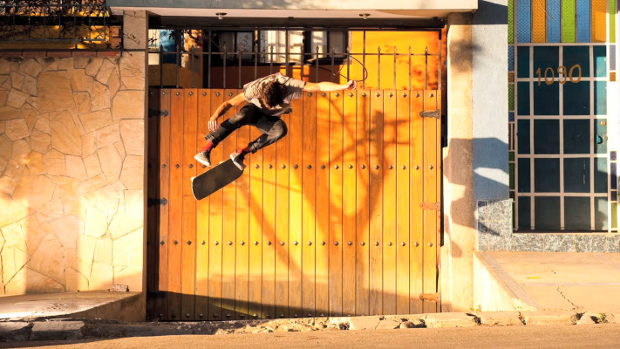 Of course, there's a lot of hard work involved too. Since it's not a photo editor telling him to go do this, the burden of setting up these trips and getting everyone together is entirely on him. But, so far, the photos he's captured and adventures he's had as a result have been well worth the trouble.
"It's just an expansion of the high school road trip," says Mehring. "You got your drivers license and you're heading out into the unknown."
Check out the full video at the top (warning: he does drop the occasional curse word) to hear the entire story, head over to Mehring's website to see more of his photography, and be sure to visit The Photographer Series website for more interviews with awesome skateboard photogs.
---
Image credits: Photographs by Jonathan Mehring and used with permission