Samsung Galaxy NX Mirrorless Camera Photos Leaked, Show Android OS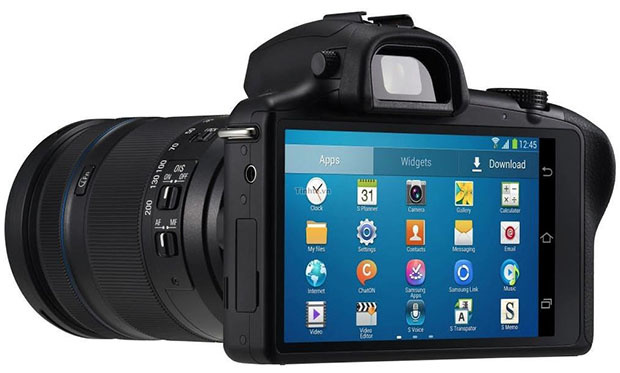 We reported earlier today that Samsung's CEO recently said that his company's next "mirrorless" camera would be Android-powered, but that it wasn't clear whether it would actually be an interchangeable lens NX mirrorless camera or simply a point-and-shoot. Turns out it's the former.
Photographs of an upcoming Samsung Galaxy NX leaked onto the web today, confirming that Samsung will soon be launching an Android-powered mirrorless camera.

The photographs, first published by Vietnamese website tinhte, reveal that the camera will have a giant LCD display — reportedly 4.3 inches — and that the camera will feature Android Jelly Bean with TouchWiz, Samsung's front end touch interface.
A closer look at the back of the camera reveals that there's not much there as far as physical interfaces go (e.g. buttons and dials):
The camera is rumored to pack an Exynos 4 Quad-Core processor, and feature 2 gigs of RAM and 16 gigs of onboard storage. It's also said that there is a 20.3 megapixel APS-C sensor inside the camera that has a max ISO of 25600 and can record 1080p Full HD video. By comparison, the Samsung Galaxy Camera smartcamera (a point-and-shoot) that was announced in 2012 features a tiny 1/2.3-inch sensor.
If you have an existing set of NX lenses, you'll be able to transition to this Galaxy NX camera without any problems. The new mirrorless camera is essentially a fusion between a smartphone and an NX mirrorless camera — you'll enjoy wireless connectivity and Android apps coupled with a large sensor and an NX lens mount.
The price of the new camera is rumored to be €1,000, or around $1,300. An official announcement should come on June 20th (a week from today) at a special Samsung launch event in London. Stay tuned.
(via tinhte via Mirrorless Rumors)