Rochester, New York — The cold hits me as soon as I leave the Amtrak station, stepping into a swirl of snow eddies that etch the low streets in black and white.
The terminal sits just outside the city center. In the short car ride into town, one building stands out to me from all the others. It is an impressive beaux arts landmark with five large letters, glowing in red, resting at the top:
K-O-D-A-K
George Eastman invented casual photography here in the 1880s, made a fortune, and built a small town into a city. Millions of people around the world "pressed the button" and for more than a hundred years, Kodak "took care of the rest."
At its peak, in 1996, Kodak was rated the fourth-most-valuable global brand. That year, the company had about two-thirds of the global photo market, annual revenues of $16 billion, and a market capitalization of $31 billion. At the time of its peak local employment, in 1982, the company had over 60,000 workers in Rochester, most of whom worked in Kodak Park, as it's known to employees and locals. The campus, a private city within the city, sprawled over 120 acres with its own power plant and fire department, once stood as a monument of imaging and innovation. Today it still stands, but vastly scaled back from the days when film production was at the core of Kodak's work.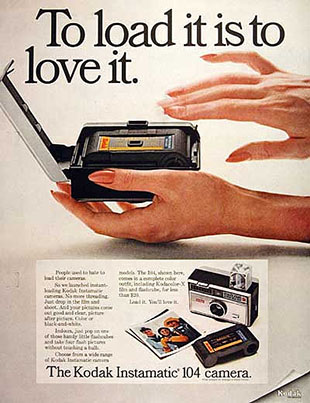 I traveled here in late January to see firsthand the slow, unstoppable, excruciating decline.
With a bitter blizzard hammering down in upstate New York, a bankruptcy judge had just approved a proposal to resolve a big chunk of Kodak's $6.8 billion in debt and pave the way for it to emerge from Chapter 11 after more than a year of insolvency. The company expects to finalize the process and exit bankruptcy protection in the third quarter of this year.
I headed to a diner, and was immediately greeted with a banal tableau of defeat — the first of many variations on the theme that unfolded during my visit.
Two middle-aged men sit at the table next to mine. One wears a KODAK PHOTOFINISHING PRODUCTS sweatshirt. He drowns his coffee in cream and spoons in sugar while his friend peruses a headline in the Democrat and Chronicle, a local paper. On the front page is news of the sale of thousands of Kodak's digital-imaging patents to a consortium led by Apple, Google, and Microsoft. The price is a fraction of the $2 billion that Kodak executives thought the patents would bring, but it will help buy time as the cash-poor company pursues its reorganization plan.
Among other things, Kodak CEO Antonio M. Perez is betting his commercial-printing business on high-volume customers who need a lot of ink, like product-packaging manufacturers. Even if this latest "pivot" is successful — and a lot of people think it's a stretch — the company would be reduced to helping other people make the boxes used to ship the devices that will take the photographs of the future.
---
There is a certain tone that former Kodak employees take whenever I asked them about the 1980s and '90s, a time within easy memory when Kodak ruled the film-imaging universe. It falls somewhere between baffled and resigned, especially for those whose careers were curtailed by years of fruitless restructuring.
I had come to Rochester to meet Ron Andrews, a chemical engineer who was laid off in 2005 when the company first began to phase out the film-manufacturing business he'd worked on for more than thirty years. The film that he helped refine and develop, Kodachrome, was finally discontinued in 2009. For nearly seventy-two years, Kodachrome was the crown jewel of the color-film portfolio. Photojournalist Steve McCurry used it to shoot the now-iconic June 1985 National Geographic cover, an image of a wide-eyed Afghan girl. Today, it is just another discontinued film stock.
Andrews calls himself a victim of "technological substitutions," but it is clear that he carries very deep and divided feelings about Kodak, both the company where he had worked since graduating college in the early 1970s and the company that stumbled and had no place for him in the end.
"In retrospect, it was probably a good time to leave," he recalls when we meet, in the lobby of the Radisson Hotel. "Everybody else was sitting around plotting their endgame."
Andrews was part of the old school of innovators that first made possible the "Kodak Moment" — optical engineers and mechanics, who built cameras, and chemists, who manipulated molecules that froze light and fixed it in gelatin and paper.
By the late-twentieth century, molecules were at the heart of Kodak's business, so much so that its chemical division — divested in 1993 — continues as an R & D and earnings powerhouse today, with $8.6 billion in revenues in 2012.
Chemistry was work that Eastman himself, with one foot still planted in the nineteenth century, well understood. Over the span of about a decade, the Kodak founder invented the first practical roll film and then built the first cameras that could reliably use it. Never again would photography be a cumbersome process, the domain of professionals only.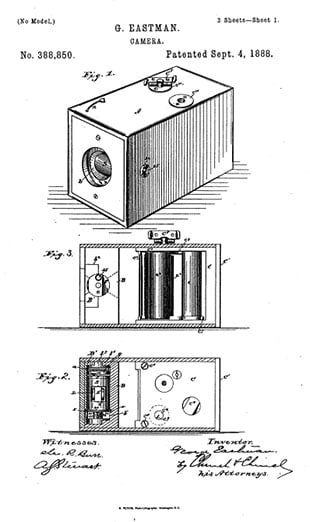 In his original patent, he wrote that his improvements applied to "that class of photographic apparatus known as 'detective cameras,' " — concealed and disguised devices, made possible by a new wave of miniaturization, that were used mostly for a lowbrow entertainment: snapping pictures of people unaware. Cameras equipped with single-use chemical plates were hidden in opera glasses, umbrellas, and other everyday objects, and sharing the surreptitious, random, and sometimes compromising photos that resulted became a popular fad.
Eastman, in other words, was obsessively tinkering with what many people at the time would have considered a cheap novelty or a toy. Like Netflix in its early days, Kodak relied on the U.S. Postal Service: Customers sent their spent cameras to Rochester, where the film was removed, processed, and cut into frames; the resulting negatives and prints, along with the camera, reloaded with a fresh roll of film, were returned to the sender. Suddenly it was easy for anyone to take lots of pictures, and Eastman's new business became a juggernaut almost overnight.
About ninety years later, another tinkerer in Kodak labs would create an integrated circuit that turned light waves into digital images. It too would be labeled a toy by the few people who saw it. It too would eventually launch a huge new business all but overnight. But this time, Kodak wouldn't be part of it.
---
How is it that big, established companies fail to recognize and seize new opportunities? When I first started wondering about this problem and what had happened at Kodak, I e-mailed Raymond Demoulin.
Demoulin started "at the lowest rung" at Kodak in 1954 and eventually rose to become vice president of professional imaging from 1986 through 1993. He has long been identified as an early — though mostly ignored — advocate of the digital-imaging revolution inside the company.
Dubbed "Saint Raymond" — in earnest or ironically, depending on who's talking — Demoulin retired more than a decade ago. But he's continued to follow the news at Kodak from a distance, and he has expressed some voluble opinions.
Through Demoulin, Andrews, and several other former Kodak engineers and scientists, I began piecing together an oral history — sourced from the largely overlooked circle of Kodak's original digital innovators — of what may be one of the greatest gambits in the history of technology to have been declined; whisked away by executives in denial of the impending doom for film photography.
In the course of our correspondence, Demoulin sent me copies of two business reports he'd written going over Kodak's collapse in a point-by-point analysis.
According to his numbers, a roll of film that cost one dollar to produce was marked up 800 percent, which allowed the company to generate its enormous profits. This drove the company's growth, he argued, but eventually it turned into a trap when managers, addicted to the revenue, ignored clear signs that the market was shifting to digital and the end of the old way was in sight.
"They were in denial all the way," he says. "They didn't want to give up a 90 percent market in film to have a 10 to 20 percent market in consumer electronics."
---
Kodak's worship of film is still alive and well and on display at the George Eastman House Museum. Situated in the picturesque old Park Place neighborhood of Rochester, it stands in stark juxtaposition to the derelict and demolished buildings of Kodak Park. Eastman House has a large collection, covering most of the key photographic advances over more than a century of innovations, many of them by Kodak: the first 16-millimeter movie camera; a plethora of the Brownie and Instamatic models; the device used by NASA to take the first photographs of Earth from outer space.
Two oddballs stand out. One, the Nikon DCS-100, is an old film SLR outfitted with a fat electronic umbilical cord attaching it to a grey box — a storage device that, aside from the tininess of tiny capacity, isn't that much different in principle from the one in a smartphone today. The other, a Canon, has a built-in attachment serving the same purpose that about doubles its usual size.
They're examples of the first marketable digital cameras, and Kodak designed them both.
In an early 1980s interview with the Democrat and Chronicle, then CEO Colby Chandler was asked to predict where he saw Kodak in ten, twenty-five, and fifty years. Uncertain, he responded that Kodak's work had always been with the "miracle of the molecule," and it would continue to be in the future. In fact, images were already being organized as bits of information and the molecule was, inexorably, on its way out.
The tipping point had come years earlier, in 1975.
That year, Steve Sasson was a 25 year-old electrical engineer working in Kodak's Photographic Research Laboratory. His assignment was not considered pressing or significant to anyone but himself, his team, and his supervisor: the task was to find a way for captured light to be converted into an electronic signal with a numeric, or digital, value.
For digital imaging, this was the genesis.
To many people at Kodak who were not involved with the project, Sasson's camera looked more like a device built by a hobbyist, recalls Robert Shanebrook, a retired Kodak employee who worked near the research lab at the time. It was impressive and interesting, they thought, but it was a toy, like their Instamatic plastic cameras. "Electronic photography was certainly paid attention to by some, but many didn't think much of it," he recalls.
Analysts have pointed to a number of factors in Kodak's fall, from general mismanagement to poor financial decisions. Its divestiture of Eastman Chemical stripped billions in cash flow that might have propped it up as it struggled to make the transition to digital. Others point to antitrust suits that hampered the company for decades and opened the door to rivals. Some of those, notably Fuji, were able to manage the analog-to-digital conversion successfully.
To the people in the trenches, like Demoulin, the failure always comes back to the same key error: Kodak, they say, suffered from a fundamental breakdown between, on one side the engineers and tinkerers — many of whom saw the digital future clearly and fought to bring it forth — and on the other the top management, whose interest remained fixed on molecules and the miracle of near-monopoly profits.
Demoulin told me about watching a team in 1980 demonstrate a scanner-printer that converted film images to digital. "That's when I thought: This digital thing is going to happen," he recalls. His place at the helm of the professional-imaging division allowed him to autonomously invest in developing a digital still camera, and he says he pursued that vision, despite lukewarm support from the company.
"Very few companies have been successful in straying away from the expertise of its employees," says Andrews, who works today as a senior engineer at Bausch and Lomb. Many Kodak alumni, like Andrews, found work at smaller tech-based companies that filled the employment vacuum and averted a repeat of Detroit and the automobile industry.
As demand for electronic photography slowly grew through the 1980s, the Electronic Photography Division (EPD) became the catchall for a new generation of Kodak engineers trained not in chemicals, but computer science. Engineers like Bruce Rubin began working at EPD in 1987, when printers and film scanners were being developed to transmit data through telecommunication channels; these devices were part of how the Tiananmen Square photographs were leaked.
But as exciting as the work was, it led to frustration and a disconnect between executives and employees. "One of the things that always drove me crazy," Rubin remembers, "was when a proposal was denied because either somebody else was doing it, or nobody else was doing it. There was no wiggle room…[unless] Fuji was doing it too."
Peter Sucy, another computer engineer at Kodak, describes the rarity of computers in the workplace in the late 1980s. "Almost no one had a computer at their desk," he recalls. When the Macintosh II was announced, packed with new state-of-the-art features, he had to buy one himself. With a $3,000 price tag, it allowed him to do things with images he could not do before, including digital photo editing. Based on those exhilarating experiences, he began making proposals for products that could expand Kodak's reach in digital platforms.
Sucy's biggest hurdle, he asserts, was the head of marketing at EPD, who exemplified the disconnect between manager and engineer. "He used an Underwood typewriter to send out weekly missives," Sucy recalls. "He told my boss to tell me to stop writing computer proposals, because Kodak would never be a computer peripheral company…not on his watch, at least."
Undeterred, Sucy continued developing products using a clandestine approach, giving them code names that "didn't sound like computer products."
The subterfuge helped them bring some experimental products to market, but then they encountered a new problem they hadn't expected: No matter what they came up with, nothing digital would sell. To consumers, everything was too expensive, and to professionals, the quality was not yet good enough. "It was a difficult thing to market," Sucy admits, "especially for people who didn't have any kind of experience marketing this kind of product; people who didn't really know what it did."
In the end, being early did not help, because the market simply wasn't ready. As obvious as the endgame was, Kodak's leaders were faced with an unwinnable predicament: either keep investing in end-of-life products until the profits dried up — and die over the long run; or switch to stillborn product lines that produced mostly red ink in the ledgers — and die immediately.
Chris Anderson, former editor in chief of Wired and founder of 3D Robotics, a designer of DIY drone kits, has written extensively about business models in the digital age. I asked Anderson about his thoughts on Kodak's bankruptcy, and told him about the Electronic Photography Division, how the engineers had developed a four-megapixel sensor by the late 1980s. How did Kodak fail to convert such a massive head start into success?
"Who could afford that?" Anderson fired back, unimpressed. "Macs were really expensive. Computing technology couldn't have kept up until much later."
---
When Kodak finally entered consumer photography in force, at the end of the 1990s, it did so as a dominant brand in a growing market. They produced cameras that were forerunners technologically and in 2003 were best sellers — but, crushingly, had to sell them to consumers at a loss of up to sixty dollars apiece.
The company threw its remaining R & D muscle at a dizzying array of digital-imaging technologies and products, notably scanners and printers. Though Kodak was still loaded with cash and patents, it now needed a hit product to push it back into profitability, a situation that led it to attempt ever more desperate strategies. The depressing reality is painfully visible on YouTube. In videos posted of building demolitions in Kodak Park from the late 2000s, chipper executives doggedly proclaim a bright future ahead during festivities attended by crowds of locals who came to witness the creation of rubble and dust.
Not everyone felt like partying.
"As a Kodak retiree who worked in Building 9 as well as many others in Kodak Park…I see no reason to celebrate the destruction of what was once a Fortune 500 company asset," comments Harry Trulli in an online post about one well-attended blast. "I want to cry when I think of the future of our country."
Instead of finding new opportunities, Kodak faced even more disruption as the consumer camera market moved into phones, and nimble start-ups pounced on social photo-sharing opportunities. In a matter of months, Instagram went from start-up to Facebook acquisition with a valuation of $1 billion— more than twenty-five times Kodak's recent market capitalization of about $40 million.
"Even if Kodak went into [digital] wholeheartedly, things would remain the same," says Anderson. "It's a fact that they were too early, and inevitably doomed."
The day I left Rochester, the blizzard was spent and the city was returning to its quotidian hum. From my seat on the train, the Kodak Tower loomed tall in the window overlooking the city, much as it must when it was first built, in 1916. As we pulled away from the station, it blended before long into the newer buildings around it, and disappeared.
---
About the author: Kenny Suleimanagich is a multimedia journalist focusing on media and culture. He received his masters degree in Journalism from Columbia University, where he concentrated in Digital Media storytelling. He enjoys writing everything from film reviews to live-blogs, and favors being behind the camera instead of in front of it. This article originally appeared here.