Photog Accuses Getty of Loaning Images to CafePress Instead of Licensing Them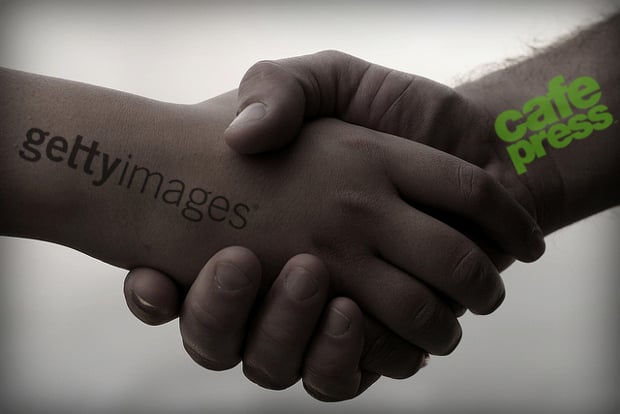 Photographer Remi Thornton recently terminated his contract with Getty after finding out that the agency was allowing online retailer CafePress to use his images on potential merchandise without paying an up-front licensing fee.
In fact, according to Thornton, CafePress has an exclusive agreement with Getty, which allows them use any of the agency's Royalty Free stock to populate their store, while only paying the photographer if the merchandise featuring their image actually sells.
While this may not seem like a huge deal to some, Thornton explains that this has never been the way photography agencies do business:
Given my experience, here is how a deal like this would normally be structured…If company "X" wanted to sell one of Getty's images on a poster they would contact Getty, negotiate a licensing fee, pay the fee up front, and the photographer that supplied the image to Getty would receive a nifty 20-30% royalty (on average). That is common procedure … For some reason, Getty is treating CafePress a bit differently.
Imagining a situation in which they expanded this practice to other companies that frequently use stock photography, the problem becomes a bit clearer:
Let's imagine a world where Getty handled all of its business this way. What if Company "X" approached Getty and asked to borrow an image for use in an advertising campaign, without paying a licensing fee, and say, 'let's look at our revenues next quarter and see how effective that image has been in our marketing efforts … If we are more profitable next quarter, we'll pay you for the use of the image. Then you can split that with your photographer according to your agreement with them.'
Thornton believes that the reason Getty is managing to get away with this unorthodox way of doing business because the agreement between CafePress and Getty only includes images found through Flickr. More often than not, these are images by "mostly amateur but still very talented" photographers who are "the perfect target for a company like Getty because they can bend the rules and not receive a fight."
You can read Thornton's full write up on Getty's "use now, pay later" deal with CafePress here. Now that he's terminated his contract, Thornton plans to keep a close eye on CafePress to see just how long it takes to get his images removed.
Why I Terminated My Contract With Getty [Remi Thornton Photography via A Photo Editor]
---
Image credit: Photo illustration based on Peaceful Resolution by Nomadic Lass