Collaborative Project Using Gas Masks to Draw Attention to Wet Plate Photography
The Mask Series is a collaboration between wet plate photographers around the world who are trying to raise public awareness of the historical photographic process that they're so passionate about. The whole thing is centered around a specific prop: a vintage Czech M10 gas mask. Basically, every photograph contributed to the project must somehow incorporate one of these gas masks in one way or another.

The gas mask is designed to "level the playing field" for the photographers who participate, acting as a symbol of the wet place process and creating a common thread among the photos submitted.
Photographers who are interested in participating don't need to go out and buy their own gas mask. Join the project, and you'll have one sent to you.
You'll then be asked to produce a wet plate collodion image of any size and of any type (e.g. a glass ambrotype or a metal tin type). The only restriction is that the mask must somehow be incorporated into the wet plate image.
Once you're done, you send both the image and the mask back to the project so that the mask can be passed onto the next photographer in line. Thus, at any given time, only one photographer somewhere on Earth is using the mask to create an image.
Submitted wet plates are then scanned and shared through a gallery on the project's website. So far, over 120 people have signed up to participate and 14 photographers around the world have used the mask.
Here are some of the wet plates that have been submitted: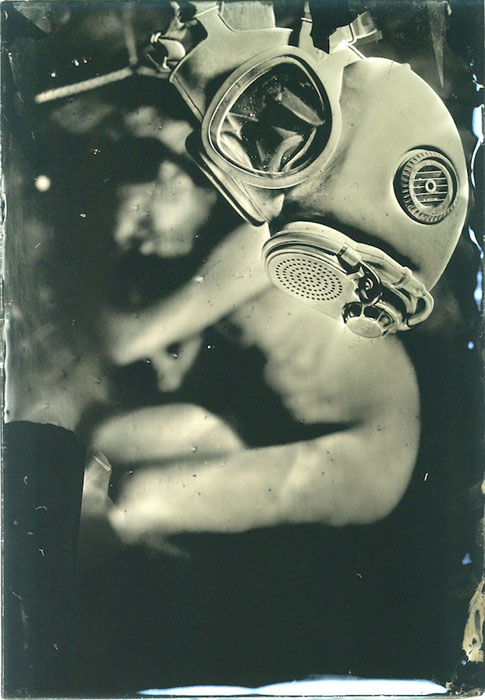 Once the project is "completed," the wet plates may also be turned into a gallery exhibition and/or published as a photo book. Project founder Shane Balkowitsch says that there is no selection process for photographers who apply to participate, and that the only cost that participants will incur is the cost of creating the wet plates themselves. You can get involved yourself by contacting Balkowitsch through the site.