Six Years Ago, Apple Made a Crowd Gasp With Pinch to Zoom and Swiping
If you want a taste of how fast technology progresses in the world of digital photography, just look at the consumer camera industry through the lens of a company that continues to make a big splash: Apple.
When Steve Jobs unveiled the original iPhone on January 9, 2007 at the Moscone Center in San Francisco, cameras on phones were horrible and viewing those shoddy pictures was a pain. Then, almost overnight, the smartphone photography revolution — and the slow demise of the compact camera — began.

It's crazy to think that just six years ago things like pinch to zoom, turning a device to view photos in the correct orientation, and swiping to browse pictures were unheard-of features. Check out this short clip of Jobs' making the capacity crowd gasp by demonstrating these features that we now take for granted:
Now step back 10 more years to December 20, 1996. On that date, Steve Jobs made a surprise appearance at the company's meeting room after a decade of exile. Apple employee Tim Holmes was one of the people in attendance and shot a number of photographs of the event. His camera of choice? The Apple QuickTake.
That's right, Holmes was using the camera that Apple launched in 1994 — a camera that TIME calls "the first consumer digital camera" and one of the "100 greatest and most influential gadgets from 1923 to the present."
Here are the photos Holmes snapped: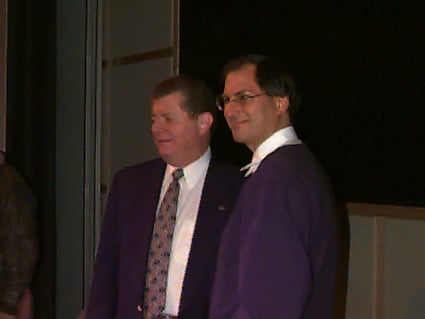 The photographs emerged this past week after Holmes decided to upload them to his Flickr account. He notes that, "The QuickTake camera, as all early digital camera, did a poor job or reproducing color."
See those purple jackets and sweaters being worn in the photos above? Those were actually black…
Apple discontinued the QuickTake in 1997, and reentered the consumer photography game ten years later with the iPhone introduction seen above. Luckily for millions of users around the world, the iPhone's camera does a much better job at capturing black as black.
(via Reddit and Business Insider)
---
Image credits: iPhone introduction still and video by Apple, Apple QuickTake 200 Digital Camera by donjd2, Apple "town hall" photos by Tim Holmes