Cardboard Hasselblad Medium Format Pinhole Camera to Be Sold as a Kit [Updated]
Remember that beautiful cardboard Hasselblad created by designer Kelly Angood a couple of years ago and released as a PDF template? If you'd like to build your own but don't want to go through the trouble of printing the design onto cardboard and cutting out the pieces, you'll be glad to know that Angood is working on launching a do-it-yourself kit for the camera.

The DIY flat pack kit will make a medium format pinhole camera that works by itself without any additional lens. All the components will be printed and die-cut on thick recycled card.
In addition to the camera's basic pieces, the kit will include detailed instructions on how to build and use the camera, along with an extra medium format film spool.
Here are some photos Angood shot of her personal cardboard camera in various states of completion:
The finished camera opens up to accept film: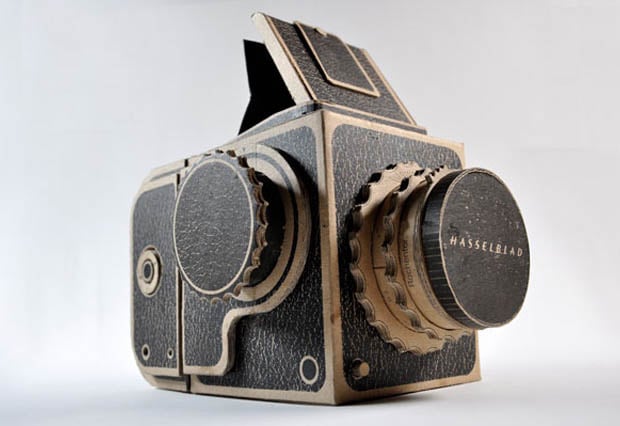 Here are a couple of sample photos shot using the camera:
Angood has turned to Kickstarter to raise funds for the production and launch of the camera, which is set to hit "store shelves" and front porches in November 2013 (in time for Christmas).
A £30 contribution (~$45) will preorder you a camera kit. At the time of this writing, over £22,000 has been raised already, smashing the fundraising goal of £15,000 — and there's still over a month left in the campaign!
You can follow along with the camera's (and the business') developments through this Tumblr page dedicated to the project.
---
Update: The Kickstarter campaign has been cancelled due to a legal threat against Angood.