Shooting a Portrait of Richard Branson for the Cover of Wired UK
Up. That's all you need to say. Last November, we took on a project with Wired UK magazine to photograph Richard Branson's latest venture in attempting to conquer the final frontier: space. We spent the good part of a week in the deserts of New Mexico and California, photographing the spaces and places, the infrastructure, the people, and ultimately Sir Richard himself.

It's not an exaggeration that ten minutes can go by in the blink of an eye. Months of concepting, weeks of planning and pre-production, and when it's all said and done we've got ten minutes to make it happen. What can we do in ten minutes with one of the most iconic and charismatic public figures on the planet? What we always do – make photos.
Here's where we started. An early morning on the tarmac. Since we only had ten minutes with Branson and very little time with Virgin CEO George Whitesides and test pilot Dave Mackay, we knew that we would have to shoot each of the subjects separately and then composite them into the final cover. No problem. With this in mind, we mapped out the shot and carefully setup three portraits.
As you can see by this test shot, our crew was ready for anything. Now I should probably mention that when our team was planning out the lighting for this shot, we wanted to go big — a cover shoot of this magnitude deserved it. We planned to use a combination of an 8×8 scrim paired with a trio of octabanks. We wanted to shade our subjects and light them individually.
When we arrived on the morning of the shoot we were thrown a serious curve ball – since our shoot was part of a larger day of events at the spaceport, we were not allowed to leave our equipment setup on the tarmac. No surprise that a star like Sir Richard Branson attracts an appropriately sized crowd.
Time to reconfigure. We needed to be fast and mobile, simple yet effective light. The 8×8 was no longer possible and neither was a setup that involved multiple sources. In essence, the light now had to serve two purposes – both shading the subjects from the harsh desert sun, and illuminating them in the best way possible. To get there, we used one large octabank – functioning essentially as three lights we had originally planned for, but now shifting position from each subject as we shot them individually.
We were careful to map out our distance here as well, keeping the lighting ratio the same for each of the pieces of the composite.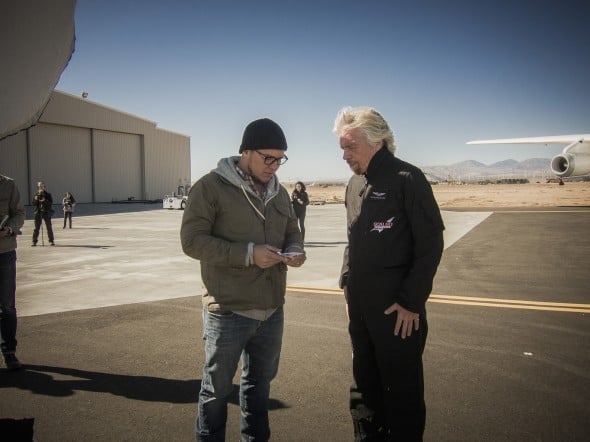 With everything squared away there was nothing left to do but introduce ourselves and get shooting.
Just over ten minutes and 200 shots later we were wrapped with Sir Richard and the rest of our cover stars. Hands were shaken all-around, our subjects were whisked away to the other events of the day and we ready to get the pieces put together.
Author's note: With all of the images shot, we put the final product into the trusted hands of our in-house digital artist Taisya Kuzmenko and let her work her magic. Here are a few of her thoughts on how it all came together:
When I learned we had a new cover assignment from Wired UK, I knew that I'd be up for a retouching treat. This time I got to get close (and I mean 400% closer then any human can) to Sir Richard Branson himself.
Really though, working on a cover is serious business. It has to be no less than perfect. To get started, I had a background plate with White Knight Two and the three seperate portraits of our main heroes. After cleaning up and toning the background, we decided the cover needed stars and a moon. A few brush strokes later and we created space.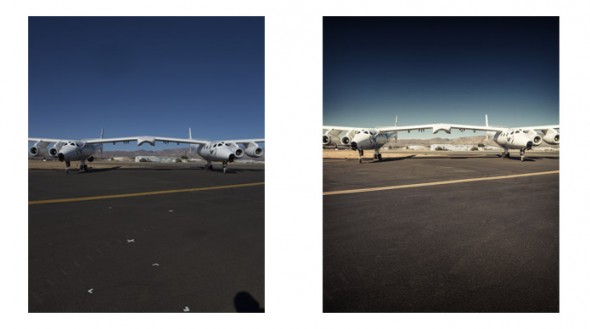 After figuring out the background, I then got to work on my subjects. Working separately on each file, I took care of the basic cleaning, pathing & masking, and color adjustments. Then they were all ready to be transplanted onto the cover. With all of the pieces in one place, the fun really began.
Just like any composite image, my main mission was to create a perfectly believable reality in which all the elements of the image appear naturally in one frame. I want any skeptic out there to be able to look at the cover through a magnifying glass and find no traces of manipulation. To reach this goal, I diligently worked through my pathing and masking, then spend hours blending edges, drawing hairs, blurring, sharpening, toning, stroking, burning, dodging and such. You've got to put your time in if you want perfection.
Spending a good amount of time working on any one image makes it harder and harder to notice things. That is when a fresh set of eyes (or four sets) are so very helpful. With some constructive feedback in the studio and helpful commentary from our editors at Wired UK, we get this cover to look its best. This collaboration is a constant flow of ideas and suggestions mixed with bits of awesome british humor.
After compositing an 11-people cover of MIT scientists for an earlier issue of Wired UK, this 3-people composite did come a bit easier, but it wasn't without a challenge. From drop shadows to the starry sky and everything in between: it all just has to make sense… and sometimes it takes me two or three tries to get there. That's the beauty of the process – you know you're going to get there, it just takes time and creativity.
Projects like this one makes me seriously LOVE what I do. I get to look at cool pictures, plug in my headphones and listen to my favorite bands (this time Ghost and The Sins of Thy Beloved) and make art.
After it's all done and approved, we get the biggest treat we can wish for: a thick envelope from Great Britain with freshly printed Wired UK issue, featuring our cover and 20 pages full of spreads with images we dedicated hours of our lives to. You can't beat that.
---
About the photographer/author: Chris Crisman is an internationally recognized commercial photographer recognized by Luerzers Archive, Communication Arts, American Photography, and the International Photography Awards. He and his studio manager Robert Luessen frequently update their blog and can both be found on Twitter at @crismanphoto and @robertluessen. This post was originally published here.