Nikon Announces the D7100, A Midrange DSLR for "Advanced Enthusiasts"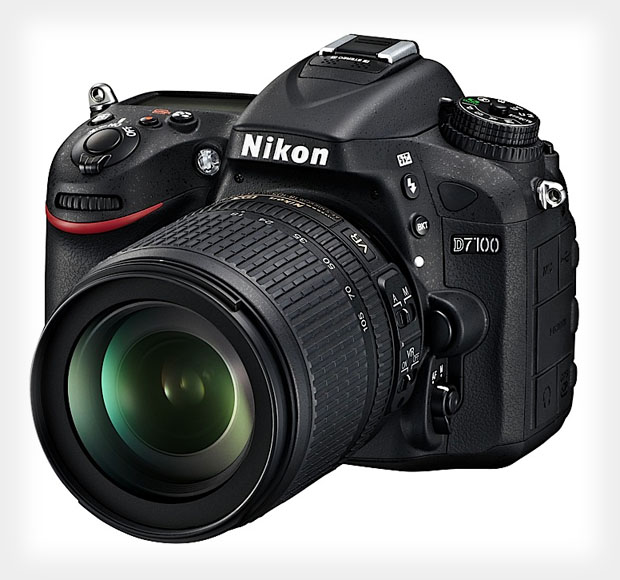 Nikon has announced its latest DSLR, the D7100. As the successor to the D7000, the D7100 is an midrange DSLR geared toward serious photography enthusiasts, and is the new flagship camera of Nikon's DX-format DSLR lineup.


It's a light and compact camera that's loaded with a 24.1-megapixel DX-format CMOS sensor that eschews an optical low pass filter, resulting in photos that "explode with more clarity and detail." The camera has an ISO range of 100-6400 (expandable to 25,600).
For people who need speed, both in shooting and in response, the D7100 has a maximum continuous burst rate of 6 frames per second (apply a new 1.3x crop mode and you can up this figure to 7fps) and a shutter release lag time of just 0.052 seconds. Focusing is done through a new 51-point autofocus system that has 15 cross-type points.
Regarding the 1.3x crop mode: it's a new feature that crops the frame, reducing resolution to 15.4MP while providing an extra 2x telephoto boost, the faster frame rate mentioned above, and better frame coverage by the 51-point AF system. The system is great for things like sports photography, when you might be willing to sacrifice some resolution for extra speed and focusing powers.
On the side of the camera are dual SD card slots. On the backside is a new 3.2-inch 1.23-million-dot LCD viewfinder — one that doesn't tilt or swivel. The optical viewfinder on the camera offers 100% frame coverage, which is a nice feature to have for lower-tier DSLRs.
In terms of build quality, the D7100 has top and rear covers made of magnesium alloy, and the shutter inside the camera is rated to 150,000 actuations.
For filmmakers, the camera can shoot 1080/30p HD video. Drop into the 1.3x crop mode and you can capture 60i/50i.
Want to shoot and transfer photos wirelessly? The D7100 is fully compatible with Nikon's WU-1a Wireless Mobile Adapter. Pair the two together, and you'll be able to remotely control your camera using an Android smartphone or tablet, and photos snapped can be quickly beamed wirelessly to the device.
The D7100 will be available starting in March 2013 with a price tag of $1200 for the body only, or $1600 when bundled with a 18-105mm f/3.5-5.6 kit lens.