Lomography's New LomoChrome Purple Film Snaps Infrared-esque Photos
Lomography has announced a brand new line of film called LomoChrome, and the first product is LomoChrome Purple 400. Available in both 35mm and 120 formats, the film allows photographers to shoot infrared-style photographs without any special gear or filters.

Although the resulting photographs look quite different from standard color negative film, Purple 400 is developed using the same C-41 process, meaning you'll be able to drop it off at your local photo lab for developing.
The new film mimics the style of Kodak's old Aerochrome film line, which was used by the US military for infrared-style aerial photographs. It was more recently used by photographer Richard Mosse for his images documenting Eastern Congo.
Aerochrome was killed off in 2007, and now Lomography has brought a very similar kind of film back into the spotlight with the Purple 400.
Film development lead Georg Thaler tells The Phoblographer that the company spent years figuring out how to shift the colors of ordinary color negative film.
Lomography says that it's making a limited batch (4000 rolls of 120 and 3500 rolls of 35mm) of the film available for customers who would like to pre-order it, which will ensure delivery by July 2013.
The first wave is actually intended to raise funds for the mass production of this film (think of it as a private Kickstarter-style fundraising campaign). Apparently the first batch might produce different results than the mass produced film that will follow.
Here are some side-by-side comparison photographs showing the same scenes shot with ordinary color negative film and then with the new LomoChrome Purple 400: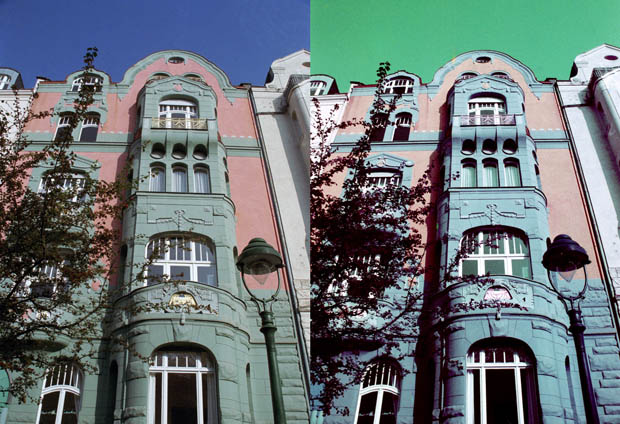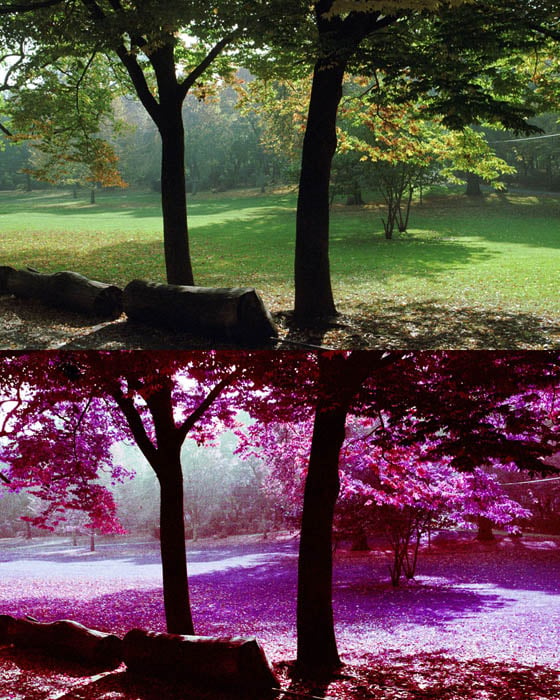 To place your order, head on over to the Lomography Shop. A pack of 5 36-exposure 35mm rolls costs $47, and a pack of 5 120 rolls costs $56. You can also purchase the film in packs of up to 15 rolls for slightly discounted rates.