Lomography Launches LomoChrome Turquoise: A Colorful New C-41 Film Stock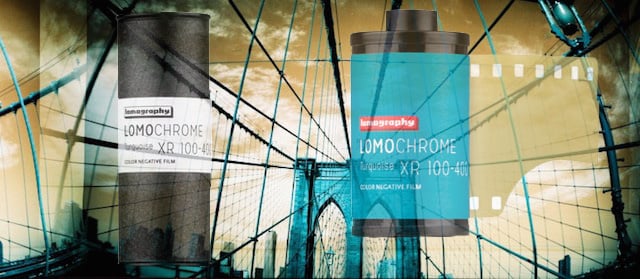 In their ongoing effort to keep film fun and interesting, Lomography has announced the new Lomography LomoChrome Turquoise XR 100–400 film stock. Designed to be developed in the standard C–41 process, the film stock will come in both 35mm and 120 varieties, with an initial batch of 5,000 being prepared for pre-order.
This new film stock falls under the same category as Lomography's LomoChrome Purple, and will change the tones of your photographs in much the same way. Warm tones in the scene will become various shades of blue, while greens will more thoroughly pop and blue skies turn into an unusual, golden color.
The first batch rolling off the production line is now up for pre-order in packs of 5, 10, 15 and 20 in both 35mm and 120 varieties.
The larger the pack you pre-order the more you save, with the 20-pack giving you 15% off compared to purchasing the film in smaller doses. For both 35mm and 120 rolls, the 5-pack starts at $60 and incrementally goes up from there.
However, if you do decide to pre-order your film, don't get too antsy to shoot it anytime soon… estimated delivery date isn't until April 2015.
Here are a few sample shots provided by Lomography so you can see what this strange LomoChrome film will produce:
To secure your share of the first production batch or just find out more about the film, head over to Lomography's website.