Short-Lived Samsung Webpage Reveals Galaxy Camera Coming to Verizon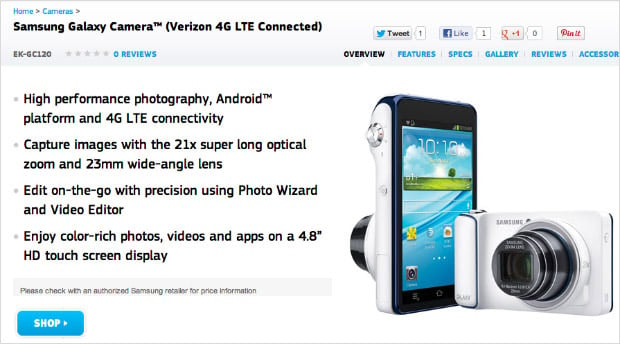 After receiving much press coverage for its groundbreaking fusion of camera and smartphone, Samsung's $500 Galaxy Camera finally hit store shelves in the middle of last month — AT&T store shelves.
Although the launch was done exclusively through what's considered to be the worst US carrier, it appears that Samsung will soon be branching out to additional providers. Verizon customers are reportedly next in line for the unique smartcamera.

The Verge reports that earlier today, Samsung published a product page for a "Verizon 4G LTE Connected" version of the camera (seen in the screenshot above). Although the page was quickly taken down, the cat had already been let out of the bag.
A comparison of the AT&T and Verizon model spec sheets reveals that the two cameras will largely be the same. One difference may be in the networking capabilities of the upcoming camera. The Verizon model appears to only have 700 MHz compatibility, which may be a hindrance to owners who'd like to use it abroad.
Nothing is known yet regarding pricing and availability, but it would be surprising if the Verizon version wasn't in the same price range as the AT&T one (around half a grand). We'll likely be seeing Samsung make an official announcement sometime in the near future.
(via Engadget)
---
Update: Verizon has officially announced the availability of the camera. It's price at $550 — $50 more than AT&T's offering.