Polaroid Jacket Lets You Wear What the Company's Factory Workers Wore
After Polaroid film died off, the The Impossible Project spent years rebooting the factories and breathing new life into old lines of instant film. However, the white-bordered film isn't the only thing Impossible has brought back from the dead. The company has also recreated Polaroid fashion from decades ago, launching the Polaroid Classic Factory Jacket.

The jacket was originally worn by Polaroid factory workers wore to special occasions during the 1970s and 1980s. It's a sporty piece of clothing that features a Polaroid logo over the heart and an easily recognizable Polaroid rainbow emblazoned across the chest (the same thing you see on the front of One Step cameras).
Here's what the product's description says:
This jacket is produced with the highest attention to original details and is a replication of the original factory jackets discovered by Impossible in the Enschede Polaroid factory. The hi-tech microfibers are lightweight and add to the legendary design by making it more wearable. These factory jackets have a narrow cut and you may want to select one size larger than usual. Celebrate Polaroid's most memorable products with the classic factory jacket by Impossible.
Here are some instant photos showing people sporting the classic jackets in Polaroid's film factory: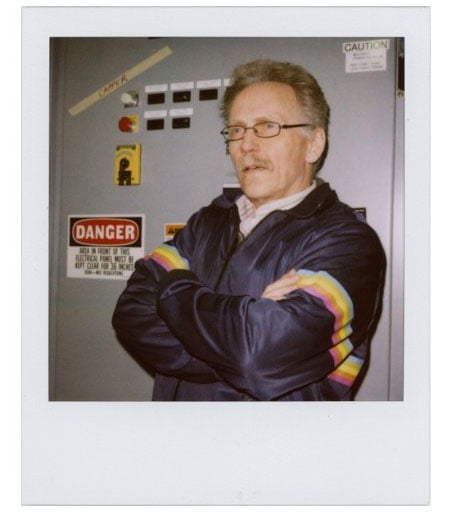 If you love Polaroid enough to wear the company's logo and colors proudly across your chest, then you might want to add the Classic Factory Jacket to your holiday wish list. You can pick one up over at Polaroid or at The Impossible Project for around $85-$90.
Polaroid Classic Factory Jacket [Impossible via Feature Shoot]