ClearViewer: A Folding High-Diopter Lens That Turns Your LCD Into an EVF
ClearViewer is the compact camera's equivalent of a DSLR viewfinder attachment. It's a folding high-diopter lens that lets you use your compact camera's LCD screen as an electronic viewfinder by putting your eye less than 2 inches away from the screen. This lets you see fine details in the shot, make precise manual focus adjustments, and avoid the problem of glare.

Here's what the product's website says:
The basic lens is a single element, convex glass lens, mounted in a plastic frame, that does what it's supposed to do. It's not fancy, as it's simply for the purpose of getting a good view of the screen. The idea behind this device is to create a simple, effective, inexpensive solution for the problem of not having a viewfinder. An LCD screen, being composed of many dots, only has limited resolution anyway, so there's no point in using pricey optics for a simple task.

When you stand back from the LCD screen, your eye takes in the bright background and its "exposure" is affected. No LCD screen can compete with the bright sun. But move in close, and your eye is only taking in the view of the screen; it doesn't need to compensate for the bright sun, and consequently you can see the screen more clearly. [#]
The product comes in two models: a tripod-mounted one and a hotshoe-mounted one. The tripod-mount version folds flat against the LCD screen when it's not in use, but the hotshoe one can only be removed and stowed away separately.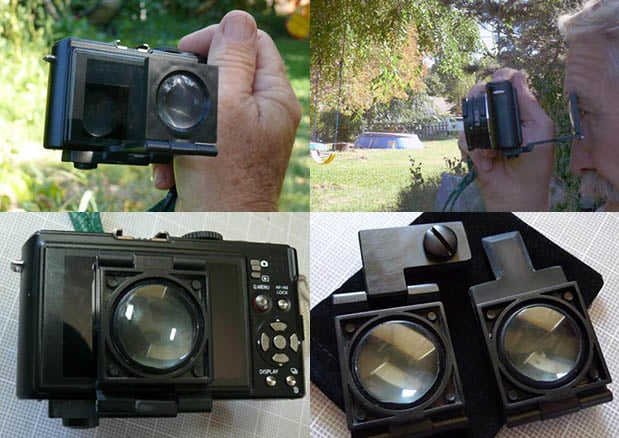 You can pick one up over at The Fancy for $45 or through the official website for $35 to $53 depending on the lens quality you'd like.