How the Wrong Woman's Facebook Pic Became the Face of Iranian Protests
During the Iranian election protests back in 2009, a 26-year-old woman named Nedā Āghā-Soltān (above right) was shot and killed while standing around and observing protestors. After footage of her death went viral online — Time says it's likely the "most widely witnessed death in human history" — Neda's portrait became the face of the movement, as countless protestors around the world held large prints overlaid with statements like, "Neda did not die in vain." The problem is, one of the main photos used wasn't actually of Neda.

It turns out that somewhere along the line, protestors turned to the Internet to obtain a photo of Neda. What they found was the Facebook profile of a university teacher named
Neda Soltani
(above left). Soltani's similar name and appearance led to her Facebook profile picture being mistaken around the world as a portrait of Nedā Āghā-Soltān.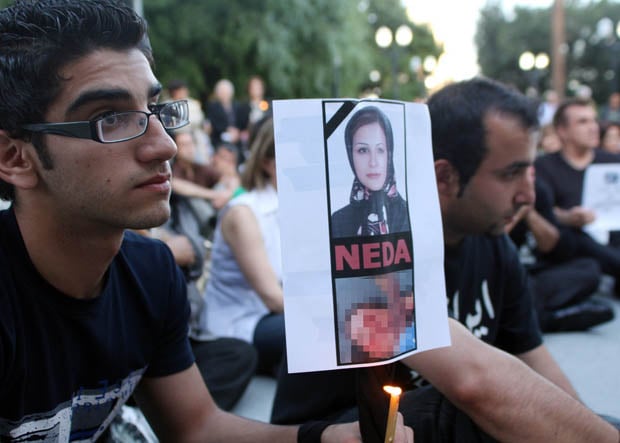 Although Soltani tried desperately to have her face removed from the Internet and the protests, she soon discovered how difficult it is to "put the cat back in the bag" once things go viral. The Iranian government began accused her of being the real Neda but faking her death in order to fuel the protests. She soon had to flee her country in order to avoid imprisonment, and was granted asylum by Germany in 2010.
Soltani has written a lengthy piece over at BBC News in which she gives an account of how a simple Facebook profile picture mix-up turned her life upside down.
The whole thing happened in a matter of 12 days. In less than two weeks I had gone from being a professor of English literature, leading a very normal life, to a person who had to flee her homeland […]

Looking back, the people I am most angry with are the Western media. They kept using my photo even though they knew it was not a picture of the real victim in that tragic video. They knowingly exposed me to extreme danger.
This is the second story we've shared today that demonstrates how sourcing photos from the Internet can have disastrous results.
---
Image credit: IMG_2479 by Anuj Biyani