How to Make a Cheap DIY Rain Guard for Keeping Your DSLR Dry
I've always been asked how I keep my equipment dry while shooting storms, and I figure with Hurricane Sandy on the way, now would be a good time to share! This is a very simple, inexpensive, easy-to-use, and effective solution to shooting in the rain! It costs less than 5 dollars, but I have never felt the need to purchase anything to replace it.

I find this cover works so well because, not only do you have access to all your camera controls, it also provides an extension to your existing lens hood to give it further protection from the rain. So here goes:
Materials
Lens with lens hood
Duct tape
Circular take-out container
Heavyweight clear plastic bag
Tools
Step 1: Trace the outline of your lens hood on the back of the container
Step 2: Using the knife, cut out the circle for the lens hood. Leave a 1 or 2mm gap for the lens hood to sit on.
Step 3: Tack the lens hood in place with a few small strips of duct tape
Step 4: Tape the lens hood securely in place
Step 5: Replace the lid and, using the knife, cut out a circle large enough not to obscure the field of view of the lens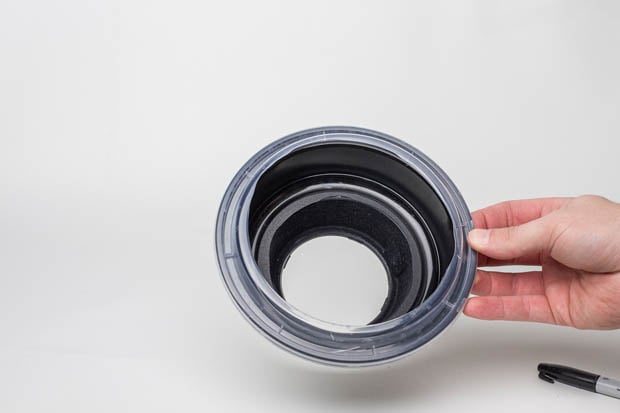 Step 6: Cut out a corner of the plastic bag using scissors, place the hood inside the bag, and re-attach the lid
Step 7: Carefully cut away excess plastic
Step 8: Tape up the edge with some duct tape to hold the lid securely in place
Step 9: Attach the lens hood to your camera and get some awesome shots from inside the storm!
---
About the author: Richard Gottardo is a wedding photographer based out of Toronto, Canada who also chases and photographs storms in his free time. Gottardo's photography has been featured in various publications, advertising, and web throughout North America and the UK. Visit his website here. This post was originally published here.