Gorgeous Photos of Light Experiments Shot Using Ordinary Objects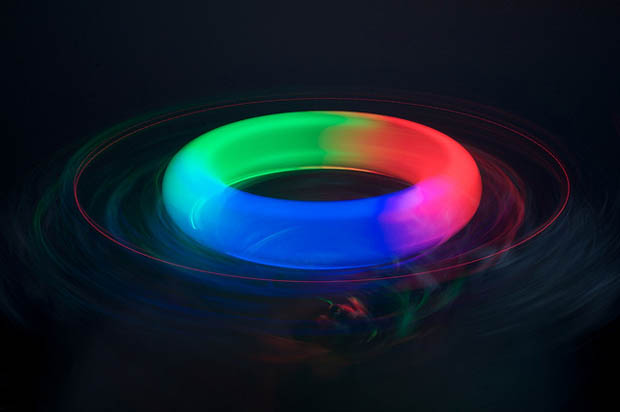 Based in San Francisco, Kim Pimmel is a photographer, a user interface designer, a DJ, and a "maker." Take a look at his experimental light painting photographs, and you'll see each of these interests shining through. Pimmel has spent years experimenting with long exposure photographs that show different light sources as brushes. His beautiful images are created using custom rigs and common objects — things like turntables, ping pong balls, fiber optic cables, pendulums, iPhone screens, and more.

The photographs seen here were not manipulated aside from basic image adjustments, and were captured using a Nikon D60.
Think these photographs would look great as wallpapers? Pimmel does too; he has made a number of them available as free wallpapers for your smartphone.
You can see his entire collection of light experiment photos in this Flickr set titled "Light Studies." The comments section of each photo often reveals the object that was used to make it.
Light Studies by Kim Pimmel (via Colossal)
---
P.S. Two years ago, we featured a hypnotic stop-motion video Pimmel created using these same techniques. He attached light sources to a spinning record player, photographed it, threw the photos together, and set it to Tron music.
---
Image credits: Photographs by Kim Pimmel