A Sneak Peek of a Messy Photokina as Companies Scramble to Set Up Booths
I'm in Cologne, Germany covering Photokina right now. It's the day before the trade fair opens, and as I was walking through the exhibition center to a press event (which I'll write more on soon), I passed by some of the main exhibition halls. Instead of the squeaky clean "photographer's Disneyland" that guests enjoy when the fair is up and running, everything was a mess, as companies were working hard to set up their impressive displays.
Since this isn't a view that most people who visit the fair see — after all, who wants to waste time walking around a day early? — I decided to roam around and snap some photos of what Photokina looks like the day before opening.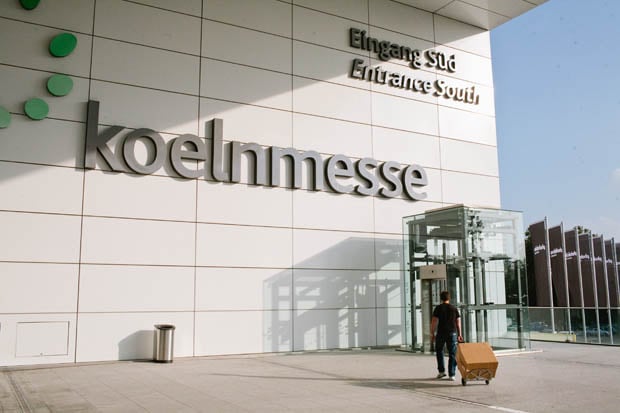 The main entrance to the exhibition halls is very "Nikoned". You learn a lot about what you are as you walk up the yellow stairs. I AM a rainbow of fun!
Most of the under-construction displays were "open to the public", but some of them (the room-sized ones) were cordoned off. Aside from that, no one seems to care if you just walk around for a sneak peek. I didn't have my press badge on, but no one else had identification either, so there's not really any way to tell employees from sneak peekers.
I would have liked to look around longer, but I had to hurry off after about 20 minutes. (Hurrying anywhere at Photokina takes forever — the place is gigantic).
If you ever attend Photokina and find yourself in Cologne a day early, try paying a visit to the booths as they're being set up. You can have plenty of time to oogle at interesting gear without the hustle and bustle of the 180,000 people who attend:
Just don't tell them who you heard this tip from, lest they change their policies or deny me a press pass the next time around. Shhh…