PIX Magazine for Lady Photographers Miffs Women, Gets Mocked for Fluff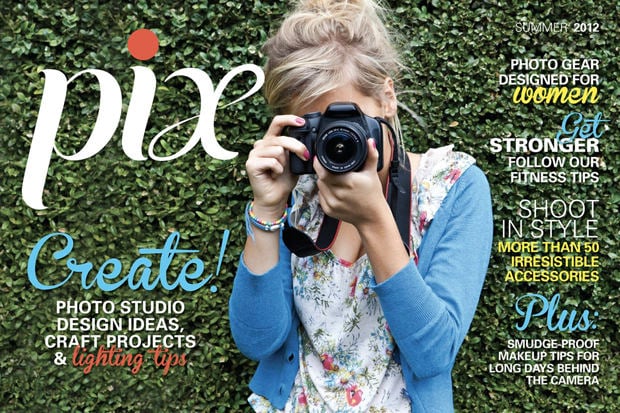 PIX magazine is a newly launched digital magazine that has women photographers in mind.
But the writers at Jezebel — and at least one female photojournalist who wrote in with a tip about the magazine — are a bit miffed over the content, which they say is "full of lady stereotypes".

Here are a few of PIX's features, plus the colorful commentary from Jezebel in parenthesis:
"Smudge-proof makeup tips for long days behind the camera" (Because every lady's top priority while on the job is her mascara!)
"Seasonal Flats: these flats will keep your feet covered, comfortable and cute while you're on photo shoots" (Stay away if excessive florals make your eyes hurt.)
"Step-by-Step: create these beautiful lanterns for your studio" (Hmm, has nothing whatsoever to do with photography, but ladies looove decorating!) (Side note: I'll admit that these are pretty awesome and I want to make some for my apartment.)
"Beauty Dish: New Jersey-based wedding photographer dishes about her camera-ready style" (Duh, because all women looove weddings!)
"Photographing Newborns: A unique kind of labor" (Double duh: all women looove babies!)
"Couples at work, couples at home" (Can you imagine ever reading a story like this in a men's — or gender neutral — magazine?)
"In mint-condition: stay on trend with these green accessories" (Uh, seems like someone may have been running a little low on "trend" ideas…)
"Lens Flare: Photography inspired accessories" (That aren't green?)
"Luminous Lenses: Shoot in style with these designer lens protection wraps" (Zebra print!)
"Hanging Tough: These camera straps are stylish yet tough just like you" (Blerrrgh.)
In the PIX Editor's Note, Jeaninie Moutenot writes:
If you love to snap photos, chances are you're pretty creative and artsy about the rest of your world too. It's important to you that your business is modern and cool, you've always got an eye out for hip clothing and accessories, and looking professional and shooting well are top priorities. If this sounds like you, PIX is here to help!
As a whole, Jezebel summed the magazine up as filled with "excessively girly and fluffy content" — perhaps geared more towards the mom with a camera demographic, rather than photography business owners as the Editor's Note suggests.
PIX publisher Neilsen Photo Group, which also owns Photo District News, released a statement:
On July 10th The Nielsen Photo Group, parent company of Photo District News, Rangefinder and other publications and photography events, introduced a new, free digital magazine edition of PIX for photo enthusiasts. The content of this edition is specifically geared toward women who enjoy photography as a hobby, featuring articles and product suggestions intended to inspire women to shoot more and create better photographs…
What do you think about PIX — stereotypical fluff or simply tapping into a niche market of accessorized photo enthusiasts?