Fashion Mag Uses Photos of White Model to Illustrate 'African Queen' Editorial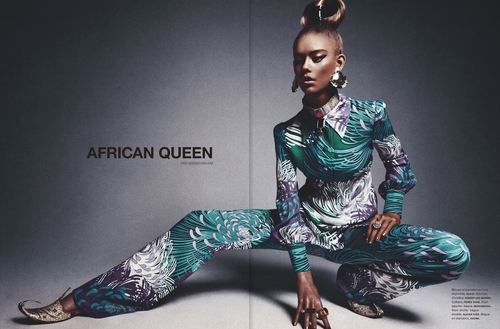 International fashion magazine Numero is raising some eyebrows with its choice of photography for an editorial titled, "African Queen." The piece features 16-year-old Ondria Hardin — a caucasian model — with heavily darkened skin.

Foudre calls Hardin's appearance blackfacebody, and writes, "why hire a black model when you could just paint a white one!"
Here are a selection of the photographs found in the piece:
Laura Beck over at Jezebel writes,
It's impossible to look at this and not ache for young women of color who want to pursue careers in modeling (and arguably, fashion by extension). When they don't see themselves on the runway or in magazines, it could be very easy for them to think, "huh, I guess modeling isn't for me." Then the status quo reigns, and the runways remain monotone. If jobs for "African Queen" photo spreads aren't going to black women, what hope is there?
Julee Wilson of the Huffington Post offers a similar criticism:
[…] the editorial serves as another sad example of how the fashion industry continually ignores or exploits ethnic diversity rather than celebrating it. And to think how easy it would have been for Numéro to select one of the countless beautiful black models and avoid this justifiable backlash and contribution to an unrelenting problem.
Beck also did some digging, and found that Hardin's modeling agency has a number of black models on its roster that could possibly have been used for this shoot.
---
Thanks for the tip, Sam!