Is HDR Acceptable in Photojournalism?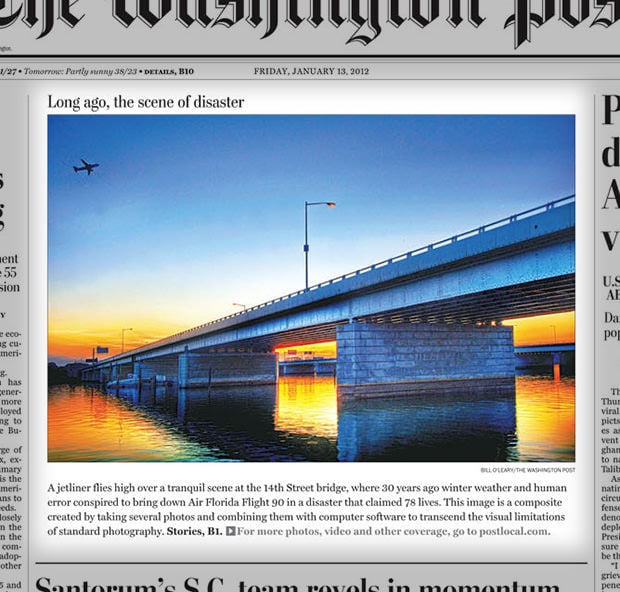 The Washington Post raised some eyebrows last Friday after running an uber-saturated front page photo with the caption stating that it was "a composite created by taking several photos and combining them with computer software to transcend the visual limitations of standard photography." After emailing the photo editor, Poynter learned that the image was simply an HDR photograph. While it's a pretty common technique these days, some believe that it has no place in photojournalism,
Sean Elliot, president of the National Press Photographers Association, said, "HDR is not appropriate for documentary photojournalism." The organization's code of ethics say photographers should respect the integrity of the digital moment, "and in that light an HDR photo is no different from any other digital manipulation."

"By using HDR," he told me by email, "The Washington Post has combined different moments, and thereby created an image that does not exist. The aircraft visible in the final product was not there for all the other moments combined into the final, and that alone simply raises too many questions about the factual validity of the actual published image." [#]
What complicates matters is that many new cameras (e.g. Nikon D4, Apple iPhone 4S) offer HDR features that create single images from multiple exposures in the camera. The Washington Post published a response to the controversy yesterday. Do you think HDR is an appropriate technique for photojournalists to use?
---
Image credits: Screenshot from The Washington Post, and photograph by Bill O'Leary