Sony A77 Rumored to Have Two Pellicle Mirrors for Crazy Hybrid Viewfinder
SonyAlphaRumors received a pretty interesting tip yesterday regarding the design of the upcoming Sony Alpha A77 (which is still a rumor at this point). The anonymous tipster wrote that the camera — successor to the A700 — will have an innovative design that boasts a hybrid viewfinder by blending optical and electronic images:
Yesterday Sony explained the new system that will be used for the incoming a77 (the a750 will use a regular SLR design). Practically the are using two semi-transparent mirrors and a high-resolution EVF to reinforced the live image. They are using a reflexive technology design called 70/30, between each semi-transparent mirrors.

The final image in the viewfinder will have 30% of original image and 70% of electronic reinforced image through the new EVF.

The first Single-lens Translucent (SLT) cameras to hit the DSLR market were the A33 and A55, announced by Sony back in August. A big disadvantage of the SLT system over traditional DSLRs and even prior pellicle mirror cameras is that it doesn't support optical viewfinders.
Here's what the diagram for the Sony SLT system looks like: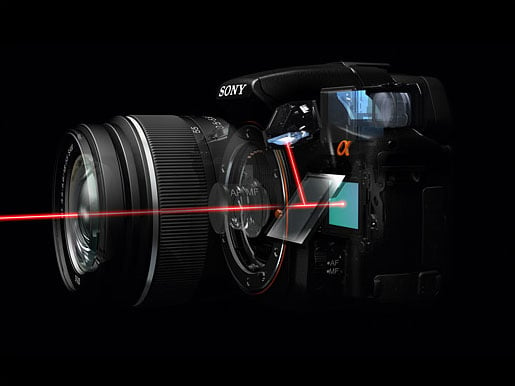 For the A33 and A55, 70% of the light passes through the translucent mirror (AKA beam splitter) to the sensor used for live view and capturing photographs, while 30% of the light is directed upwards to the autofocus sensors.
In the rumor sent to SonyAlphaRumors, the tipster claims that a second translucent mirror will be added above the existing one, directing the light from the first mirror into the viewfinder. The electronic viewfinder light is split with this mirror, with 30% of the EVF light sent to the autofocus sensors, and 70% used to enhance the dimmed optical view. Thus, what the photographer sees is 30% optical and 70% electronic.
If there's truth in this rumor, then the Sony Alpha A77 is going to be a pretty darn interesting camera.
(via SonyAlphaRumors)