Interview with Miklos Bacso of miklos.ca
Miklos Bacso is the photoblogger behind miklos.ca.
---
PetaPixel: Could you tell me a little about yourself?
Miklos Bacso: I was born and raised in a small town called Apagy, Hungary and moved to Canada in 1992 because my parents figured we (my younger brother, sister and myself) would have a better future here than there… After going back to visit in the summer of 2008 for the first time in 16 years, I would have to say that they were right! I am a programmer / website designer for a company called Bosch Rexroth, I also do product photography for them when they need… I live in Welland Ontario, about 25 minutes from Niagara Falls.
PP: Did you take a lot of photographs when you visited?
MB: When we visited, I decided only to shoot film, and only in black and white.. I had no particular reason to do so and I kind of regret it because Budapest is beautiful in colour. However I like a lot of the photos that turned out in black and white as well. The photos of Budapest are here: http://miklos.ca/photos/tags/budapest … A couple of photos from my hometown (Apagy) are here: http://miklos.ca/photos/tags/apagy
PP: How did you first get into photography?
MB: It was back in 2003 or 2004 when photoblogs were starting to be popular and although I had been taking photos with a little Canon S400 beforehand, that's when I started taking photos more seriously. Since then I've done portraits, weddings, abstract work.. Now I mainly focus on documenting life around me.
PP: What was your first camera?
MB: My first camera was the Canon S400 but then I got a Sony F828 and bought my first film camera, a Canon A1. After that when I got more serious, I bought a Nikon D2X.
PP: What equipment do you use now?
MB: Now I mainly use the Nikon D700 but I try to use film at least monthly. When I do, I mainly use a Nikon F5 or an F55 and a Rolleiflex 35C that I got from Bob at notraces.com.
PP: What's on your wishlist?
MB: Some nice Nikon glass would be nice. I covet the 14-24mm Nikkor, and a decent telephoto lens.
PP: Where do you get your film developed?
MB: A lot of the black and white film that I shoot I develop at home, unless it is in bigger batches, such as the trip to Hungary, in which case I usually get it developed at a store called The Camera Place located in Niagara Falls, Ontario. I also go there for printing majority of my film shots. The owner lets me use his darkroom at the back of the store to do some black and white prints manually which is kind of nice.
PP: How would you describe your photography to someone who has never seen it?
MB: Very laid back, documentary style (with minimal postprocessing.) I am simply documenting life around me now so that we can look back years and years down the road. Sometimes I try to take photos that "look nice" but more often times than not, I fail :)
PP: How has photoblogging changed since 2003 or 2004?
MB: I fell out of the photoblogging loop back in 2006 or so and as such, I cannot answer that question in a general sense… For me, however, I know that I've redone my site a million times since then and also I've shifted focus from "let's try to see how many visitors I can get" to "let's take that shot so we can remember it later". My photoblog changed in terms of the content I publish. 99% of the photos I put up now hold some sort of meaning to me, or the people around me. Of course there are the odd photos that I take just for fun which usually get tagged as "random". I still visit a few photoblogs from the days when I started and I'm happy to see that they're still going but I don't know much about the thousands of new ones that probably surfaced since then. I think people generally just use Flickr now. I have a Flickr account but I prefer to have all my stuff in one spot on a personal site so uploads to my Flickr stream are very rare these days.
PP: When, where, and how much do you shoot?
MB: Back in the beginning I used to upload one a day, much like most of the other photobloggers out there. These days I tend to upload batches of photos, about 15-30 at a time, only a handful of times per month. I don't shoot as much as I used to anymore but I don't have any plans of shutting my site down anytime soon either. Most of my photos are around the Niagara Region (Canada) unless we go up north for vacation.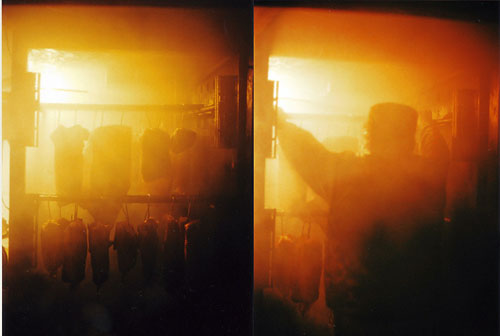 PP: Can you briefly describe your workflow?
MB: My workflow for digital photos is very simple. I shoot RAW, I try to get the framing and the exposure right in camera, and do 99% of the processing in the raw converter which usually just includes white balance, contrast and saturation adjustments. Because I work with batches of photos at a time, I don't tend to spend too much time on individual photos unless I plan to print one or two. For the film shots, my preferred method is getting the photos printed at the lab, then scanning the print with the cheap little flatbed scanner I have which is more than enough for the purposes of posting to web. I hate scanning negatives and dealing with dust etc, so if anyone wants a print of any of my film shots, I take the negative to the lab. Film shots that I post I don't usually work on at all, other than removing dust spots from scanning.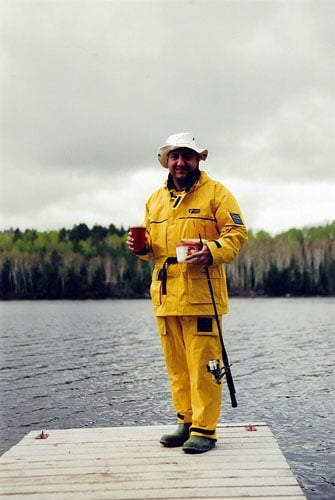 PP: What advice do you have for someone just starting out in photography?
MB: I'd have to say that exposure is one of the most valuable things you could learn if you're just starting out.. Get that under control right off the bat, and you're laughing.. Learn shutter speeds, apertures, ISO settings… Don't always on "Aperture priority" or "P" modes… I mean they are handy sometimes for quick snaps but I think it's important to understand what's going on… Also if you have a digital SLR, most of the new ones are pretty decent these days so don't be afraid to use higher ISO settings either… Keep in mind that even if it looks a bit grainy on screen, when you print it, it will probably look fine.
PP: Who are some photographers you keep up with?
MB: To name a few, I keep in touch with Bob from NoTraces.com, Kathleen from DurhamTownship.com, John from Orbit1.com, Jessyel from Dailysnap.com, my friend Dave from Farmfive.com (although he doesn't post as often anymore)…
PP: Who is one person you would like to see interviewed on PetaPixel?
MB: Bob from NoTraces, definitely. He's quite a character. :)
PP: Anything else you'd like to say to PetaPixel readers?
MB: In the words of Hal Johnson and Joanne McLeod from those old Body Break commercials … Until next time, keep fit and have fun! (And keep taking lots and lots of pictures!)