Manhattanhenge: When and How to Photograph It in 2023
Twice each year, the setting Sun aligns perfectly with Manhattan's street grid, illuminating the north and south sides of every cross street on the island. The event, called "Manhattanhenge," delivers beautiful vibrant colors and, unsurprisingly, is a major draw to locals and tourists alike in New York City.

Table of Contents
Why the Name 'Manhattanhenge'?
A portmanteau of "Manhattan" and "Stonehenge," the term "Manhattanhenge" relates the twice-yearly event in New York City to a similar event at Stonehenge in England. During the summer and winter solstices, the sun rises in perfect alignment with several of the stones at the prehistoric monument in Wiltshire, England.
While who built Stonehenge is one of humanity's greatest mysteries, it is likely not a coincidence that the sun lines up with the structure at the solstice.
Famed astrophysicist Neil deGrasse Tyson is credited with coming up with the name "Manhattanhenge." He explains on the American Museum of Natural History's website that had Manhattan's street grid aligned with the geographic north-south line, "Manhattanhenge would coincide with the equinoxes."
When Does Manhattanhenge Occur?
Because Manhattan's street grid is rotated 30 degrees east from geographic north, the days of alignment do not coincide with the equinoxes or solstices. Instead, Manhattanhenge occurs around May 30 and July 12 each year. While the precise dates can vary slightly, it is always near Memorial Day in May and around the MLB All-Star Break in July.
"These two days happen to correspond with Memorial Day and Baseball's All-Star break. Future anthropologists might conclude that, via the Sun, the people who called themselves Americans worshiped War and Baseball," writes Tyson.
In 2023, the half Sun Manhattanhenge will be visible on July 13 at 8:21 p.m. EDT. The entire Sun effect is visible on July 12 at 8:20 p.m. EDT. This article will be updated in 2024 with the new dates and times for May and July.
Half Sun Versus Full Sun
As the name suggests, during the half Sun Manhattanhenge event, the horizon will slice the Sun basically in half. While the full Sun Manhattanhenge shows the full orb of the Sun above the horizon.
The Best Places to See Manhattanhenge
While any city organized on a grid may offer a similar experience twice a year, Manhattan has distinct characteristics that make it an especially spectacular location. Beyond needing the city to be on a grid, a clear view of the horizon is also required, and streets must be perfectly straight. There are few places that check all these boxes.
Manhattan also has exceptionally tall buildings lining nearly every street, which creates an incredible photographic opportunity, as exhibited spectacularly by photographer and friend of PetaPixel Adam Gray.
Tyson says that Manhattan's primary east/west thoroughfares offer great views of Manhattanhenge, including 14th, 23rd, 34th, 42nd, and 57th Streets. "Find a spot as far east as possible that still has views of New Jersey across the Hudson River," he explains while adding that the Tudor City Overpass in Manhattan and Hunter's Point South Park in Long Island City, Queens, also offer beautiful vantage points.
The sun sets over 42nd Street Tuesday evening, one night before the summer Manhattanhenge takes place in New York City #newyork #newyorkcity #nyc #manhattanhenge #sunset @agreatbigcity pic.twitter.com/oO7Frh8JzV

— Gary Hershorn (@GaryHershorn) July 12, 2023
More of Gary Hershorn's photography is available on his website and Instagram.
More from Dan Martland is available on Twitter.
"It's so famous because it's a gorgeous sunset," says Jackie Faherty in an article on The New York Times. Faherty is a senior scientist and astrophysicist at the American Museum of Natural History.
"The sun kisses the grid of one of the greatest cities, if not the greatest city in the world, and touches the whole corridor of the concrete jungle with these amazing golden hues. It's a beautiful thing," Faherty continues.
While 42nd Street is considered the most popular viewing location for Manhattanhenge, Faherty suggests that those trying to avoid the crowds should head to 72nd Street or Pershing Square.
Tips to Photograph Manhattanhenge
The good news is that photographers can capture Manhattanhenge with practically any camera. The bad news is that finding a good spot may take a lot of work, as it is a popular spectacle.
Since finding a safe spot to place a tripod can be challenging, photographers may need to shoot Manhattanhenge handheld. Using a fast enough shutter speed is vital, which may require photographers to increase their camera's ISO setting.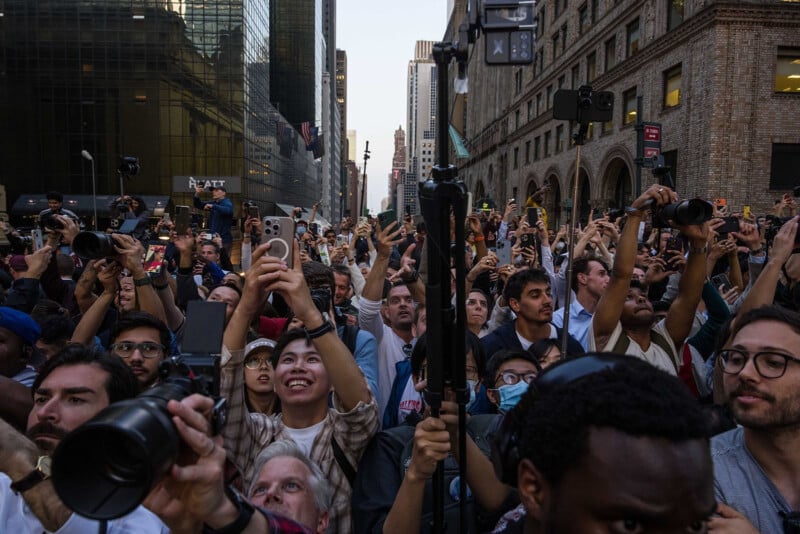 As for lens selection, it is really up to the photographer to decide what type of photo they want. A telephoto lens is a good choice for photographers seeking a close view of the setting sun. Meanwhile, if photographers want to focus more on the people and the buildings lining the streets of Manhattan, a wider lens is suitable.
No matter the lens a photographer chooses, if they are trying to capture a beautiful starburst effect of the setting Sun, they must stop their lens down, likely to f/8 and beyond.
Additional tips include shooting in RAW format, using manual mode or exposure compensation if the dynamic range of the scene is tripping up a camera's metering system, and, as always, experimenting with different compositions.
---
Image credits: Images © Adam Gray. More of Gray's photography is available on his website and Instagram.