Thousands of Photographers Gather in New York for 'Manhattanhenge'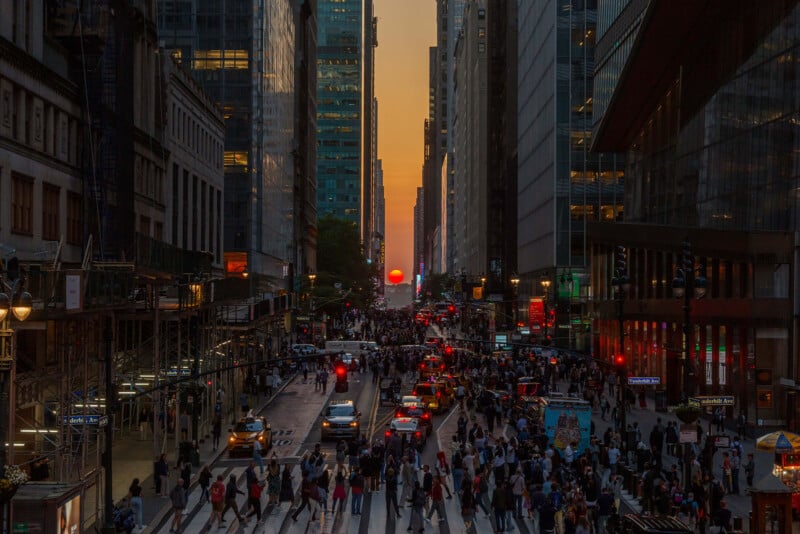 Last night saw huge crowds of photographers gather to capture "Manhattanhenge" — a unique event in which the setting sun aligns with the east-west streets of New York City.
Photographers Gary Hershorn, Adam Gray, and Dan Martland were all present to capture jaw-dropping photos. But they were not alone — thousands turned up with smartphones, tripods, and telephotos lens to get a picture of the phenomenon.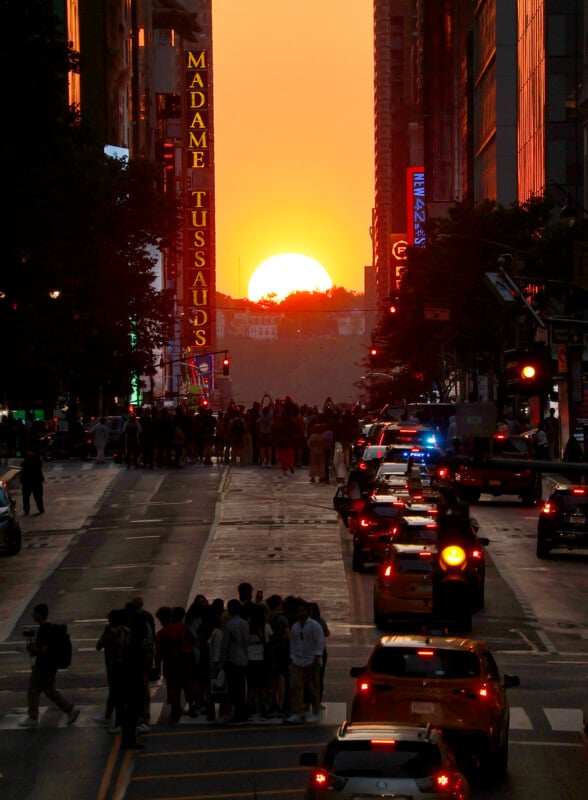 Manhattan's easy-to-use grid system, which dates back to the early 1800s, is to thank for the phenomenon. This happy alignment starts at Houston Street and runs up to just south of 155th Street. The bi-annual celestial event occurs around May 30 and July 12 each year.
A fun scene on 42nd Street in Times Square as the sun sets on the second evening of Manhattanhenge in New York City, Tuesday evening #newyork #newyorkcity #nyc @agreatbigcity #sunset #manhattanhenge pic.twitter.com/KM9j7xtCOd

— Gary Hershorn (@GaryHershorn) May 31, 2023
As PetaPixel's DL Cade notes, any city laid out in a grid will offer this special photo opportunity a couple of times per year. It won't be quite as perfect as Manhattanhenge because of Manhattan's clear view of the horizon past the grid, but non-New Yorkers have to take what they get.
"It's so famous because it's a gorgeous sunset," Jackie Faherty, senior scientist and astrophysicist at the American Museum of Natural History, tells The New York Times.
"The sun kisses the grid of one of the greatest cities, if not the greatest city in the world, and touches the whole corridor of the concrete jungle with these amazing golden hues. It's a beautiful thing."
Manhattanhenge derives its name from Stonehenge, a prehistoric monument in the English countryside which the rising sun shines through on summer solstice.
The astrophysicist Neil deGrasse Tyson and native New Yorker is credited with coining the phrase Manhattanhenge after visiting Stonehenge as a child.
To see more of Adam Gray's work head to his website and Instagram, to see more of Gary Hershorn's head to his Instagram and website, for Dan Martland head to his Twitter and Instagram.