How to Delete Your Instagram Account
Instagram is a wildly popular (and often lucrative) photo and video-sharing social network, but sometimes it can become a bit overwhelming, leading to the question of whether it's worth so much effort. It's easy to get drawn into endless scrolling through eye-catching photos when the intention was to spend just a few minutes.

Social media influencers often put in extra time trying to build a following and when that doesn't happen as quickly as hoped, it can be disheartening.
Studies have also linked
Instagram use to things like depression, body image concerns, low self-esteem, anxiety, and other mental health issues.
For whatever the reason, stepping away can feel like a relief and eases what might have begun to feel like a burden. If you are looking to delete your Instagram account, this article will guide you through the process.
Table of Contents
How To Save Instagram Account Data Before Deleting
Even if you are intent on deleting your account, a moment should be taken to consider whether any information from that account might be wanted in the future. Deleting an Instagram account is permanent and everything is cleared, so this is the time to review and save data before taking the plunge and letting it all go.
To download Instagram account data, the user should open the Settings menu, click Privacy and security, then Data download and Request download. A link to the content will be created and sent to the preferred email address.
There is an option to choose HTML or JSON. HTML is usually the best option since it is compatible with a web browser. JSON is a structured data format that is useful in certain situations when importing to another service.
The account password is required even if already logged in. After tapping Request download, the request will be processed by Instagram, which might take up to 48 hours.
Eventually, an email with a download link and additional instructions will be sent. Downloading can be done from the app but it is faster when handled via a computer since it can be a large amount of data.
How To Permanently Delete An Instagram Account
Instagram accounts can currently be deleted by visiting a webpage through a mobile or desktop browser. While some Instagram users may have a deletion option in their iOS or Android app settings, this is not an officially supported feature and Instagram currently states that there is no way to delete accounts from within the app.
Deleting an Instagram account is relatively easy, but it shouldn't be done lightly, particularly for older accounts that might have several years of images, videos, and comments. After deletion, none of this information will be retained unless previously saved. As mentioned above, there are several ways to restrict access, block troublesome accounts, and even temporarily disable an account, deleting the account should be the last resort.
To proceed with deleting an Instagram account, the user can open the link below to go to Instagram's Delete Your Account page.
https://www.instagram.com/accounts/remove/request/permanent/
A reason is required, but it can be as vague as selecting Something else if there isn't a wish to share this information with Instagram. The account password must be entered, even if already logged in. By clicking the Delete button, Instagram will begin the process.
How to Undelete Your Instagram Account
Once you start the account deletion process, the profile of the account that's being deleted will be hidden immediately and a 30 day countdown begins, after which all data connected to that account will be permanently deleted. It's possible to cancel deletion simply by logging in again before the 30 days are up.
If you wait too long and that 30-day window expires, however, you'll be out of luck: the account will be gone and you will need to sign up all over again and start with a blank slate. If someone else grabbed your username while the account was deleted, you will also need to come up with a new username for your new account.
Do You Really Need To Delete Your Instagram Account?
If completely deleting an Instagram account sounds a bit scary, it should. Everything in the account will be lost unless it's backed up first and it might not be possible to sign up again with the same username. While Instagram makes it relatively easy to delete an account, that sometimes isn't really necessary since an account can also be disabled temporarily.
If the account has become burdened with spam or targeted by some angry people, it might be better to block those annoying accounts or limit who can interact by setting the account to private so only approved followers can view posts.
Even if the overall feeling of Instagram is painful at the moment, some time away might be enough to make it feel like a peaceful and enjoyable space again. Deleting an Instagram account cannot be undone, so if this is the plan, it might be a good idea to save data before permanently trashing everything that's been posted and shared in comments.
How To Temporarily Disable an Instagram Account
To temporarily disable an Instagram account, the user should sign in via a computer. There's no way to do this from the mobile app, however, some tablets such as the iPad, allow viewing the desktop version of a website and can be used if a laptop or desktop isn't easily available.
From Instagram.com, the user should log into the account that is to be disabled, then click the profile image that appears at the upper-right of the browser window and select Profile from the menu that appears. This loads the user's Instagram profile page. Clicking the Edit Profile button allows the username and other details to be edited. Scrolling to the bottom, there will also be an option to Temporarily disable my account.
Clicking this link loads a confirmation page in which Instagram asks why the account is being disabled. There's an option for 'Something else' if not in the mood to share the reason. To proceed, the password for the account must be re-entered. This hides the account, making it appear as if the account has been deleted. However, it takes some time, usually about a day for this change to happen.
Disabling an account is much faster than deleting and it's easy to enable the account again after some time away. To restore the account to active status, the user simply needs to login again.
How To Block Instagram Accounts
If the idea of deleting an Instagram account is based on unwelcome interactions from other Instagram users, blocking those accounts might be an alternative solution to make Instagram feel like a friendly place to share photos and videos again.
When an account is blocked, the owner will not be notified of this. It simply removes the ability for that account to see the user's posts and any past and future interactions are hidden. Blocking can be undone so this doesn't have to be a permanent decision. Rather, this is a tool that allows removing a troublesome interaction for as long as is deemed necessary.
There are three easy ways to block an account from the Instagram app or website. From the profile of the account that is to be blocked, the user can tap the three dots at the upper right to see a list of options and select Block. If starting from a direct message from the bothersome account, the name at the top of the chat can be tapped to reveal the Block option.
It's also possible to block an account via the app without having to see any of that account's content. The user can go to their own profile, tap the More menu "hamburger icon", which looks like three horizontal lines at the upper-right, then Settings to see more options.
In the Privacy section, tapping Blocked Accounts will show a list of every account that has been blocked. Tapping the plus button at the upper-right shows a list of accounts being followed. Tapping the Block button beside any account, will immediately do so for that account.
It's also possible to find an account using the search field at the top and filling in keywords. Matching accounts will be shown with a Block button beside each. Whichever method is used, there's an option to also block newly created accounts, which is helpful for particularly worrisome accounts that might try to get around being blocked.
How To Restrict Instagram Accounts
Restricting troublesome Instagram accounts is also possible and is a less extreme way to limit unwelcome comments. While restricting an account hides their comments on the user's posts, messages are still allowed. Past comments remain and new comments can be approved, at the user's discretion.
Restricting can be a useful way to gently hide posts from friends and relatives that might have good intentions but post embarrassing or inappropriate content that doesn't align with the user's posts or core audience. Restricting an account is handled in the same way as blocking, but selecting the Restrict button rather than the Block button.
To remove a restriction, find Restricted Accounts in the Settings / Privacy menu and tap the Unrestrict button that's beside the account that is to be returned to normal privileges.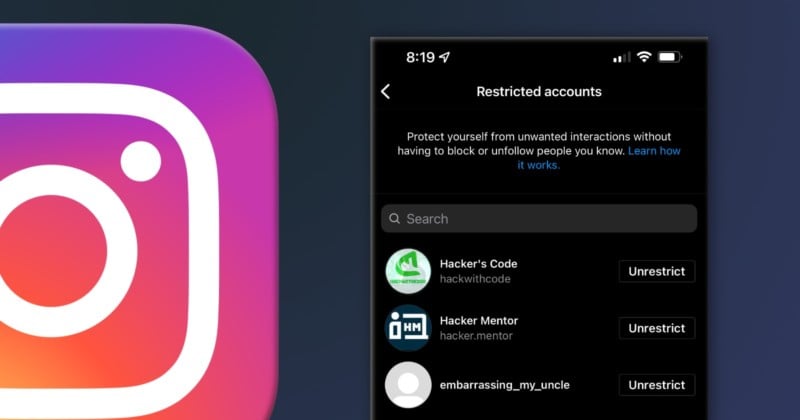 How To Make An Instagram Private Account
If there are too many bothersome accounts or comments to easily block and delete them all, it might make more sense to make an Instagram account private. If this is done, only approved followers will be able to see posts, likes, and comments.
A private account's profile image and bio will still be visible to anyone unless they are blocked. The only way to prevent this is to remove the profile image and bio, but as a public face for the account, it's usually better to simply limit the amount of information shared if there's a concern.
It's important to note that making an Instagram account private doesn't affect existing followers, so there is still value in blocking, even when switching to a private account. Business accounts can't be made private so it must be converted to a personal account, to make this type of change. Private is the default option for accounts created for users that are under 16 years of age.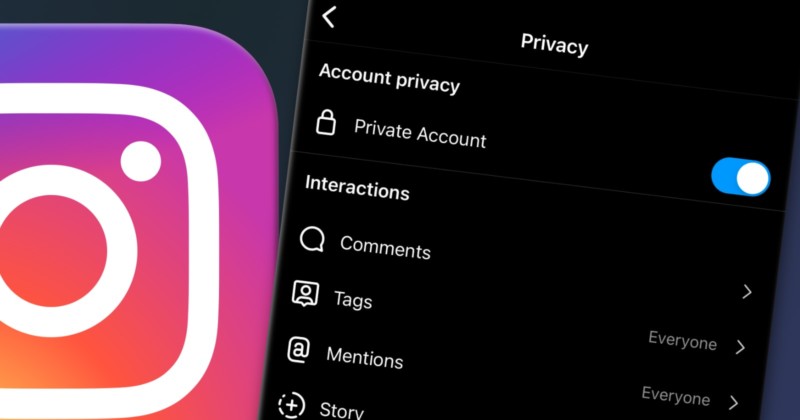 To make a public, personal Instagram account private, the user should open the Settings menu which is found on the profile page, then select Privacy and enable the toggle switch for Private Account. An option to review and change the account's current followers will appear and it's a good idea to take a moment to view the list. This is important because setting an account to Private only affects new followers. A Remove button appears to the right of each account, making it possible to hide the user's account from existing followers by removing them.
Anyone that already follows the account will continue to have access as before. A private account still receives messages and the account name and profile image can be seen publicly. Accounts that wish to follow can tap the Follow button to request permission and those messages will appear in the user's Instagram activity feed which can be found by tapping the button at the upper right that looks like a heart.
Conclusion
While an Instagram account can be a fun pastime, a business venture, or even a hobby, there could be good reasons to want to permanently delete an account. Abusive behavior from others is usually relatively easy to block. Embarrassing interactions can be restricted and an account can even be made private or temporarily disabled to avoid large scale concerns. In some cases, an account might simply be unused or was never given attention.
By deleting an abandoned account, it frees up the account's username to be used by someone else, while avoiding the risk that the unused account could be hacked. Whether choosing to secure an account further or completely deleting it, keep in mind that it's possible to have more than one Instagram account to provide some separation and make Instagram a fun and useful social media experience.