The Best Photo Book Services in 2023
Over the last fifteen years, physical photography has become a rarity, even a luxury, for the everyday citizen. Modern cell phones have provided average folks with all the camera power they could ever need. Social media has rendered the storage and sharing of visual memories a strictly online affair. As with most recent innovations, the price for increased accessibility has been paid for in tangibility. What was once common has become quaint, what was universal is now bespoke.
Exit the photo album, and enter the photo book.
Gone are the sticky plastic and frustratingly loose photos of your grandmother's old albums, now replaced with your favorite digital images printed directly on high-quality paper and professionally bound into one sleek tome. The ability to pre-select precisely which photographs take up your precious physical space and to quickly design entire projects all from your computer chair as opposed to laborious scrapbooking sessions represents a huge leap forward for the average consumer.
What We're Looking For
Over the last few years, the market has been flooded with services promising sturdy, quality photo books at cutthroat prices. Navigating this relatively new space can be difficult, with few trusted name brands to latch onto.
With a strong focus on customization, usability, overall item quality, and, crucially, reliability, we have compiled what we believe to be the seven best photo book services currently available.
At a Glance
The Best Overall Photo Book Service: Printique
If you are at all familiar with photography, you likely know the name Adorama. New York's premiere photo emporium also offers its own printing service, Printique (formerly Adoramapix). A stable company with a well-earned reputation to maintain, Adorama has clearly taken great care to make sure Printique lives up to the expectations.
It is possibly the most pleasant interface you'll find on this list, with tons of customization of the workspace itself to get you into the groove. That dedication to a library of options extends to every portion of the program, with tons of unique design styles and over 2,000 backgrounds to choose from for your book's pages.
Printique's least expensive hardcover book is a layflat — something that no other company, at least that I'm aware of, can claim. Layflat books use a single continuous piece of paper: for example, pages two and three are printed on a single piece of paper and it is not glued into the actual binding. Thus comes the name, as you can "lay" these books "flat" and the pages themselves then showcase the entire two-page photo in a continuous and beautiful layout. This is great for panoramas or any photo that you want to span across two pages. If you've ever flipped through a photography book where a single image is printed on two pages, you will instantly realize why layflats are an amazing option.
As for the finished product? Unparalleled. A Printique-made photo book is guaranteed to be among the best-bound, most eye-popping out there. The images are gorgeously transferred to physical format, and that may well be due to the "secret sauce" of the program's automatic final color correction. This option is automatically selected on checkout, and based on user reviews, you will want to leave it that way.
The only complaint among patrons of Printique is that its images can come out slightly dark compared to the best of the best. Based on personal experience from one book I purchased from Printique, this is not universally true — it may well depend on how experienced those customers were, particularly with photo editing, and/or the quality and calibration of their displays.
Printique may be run by one of the biggest names in retail photography, but it's a big name with a stellar reputation. So make no mistake, this is a big leaguer, though it is not alone at its level.
Disclosure: PetaPixel has an ongoing affiliate relationship with Adorama, but the links above are not part of that agreement and are not affiliate links. The author is not connected to the affiliate program, was not asked to include Printique in coverage, and the authenticity of his selection is genuine and based on anonymous experience with the brand.
---
Best Photo Book Service for Quality: Mixbook Photo Co.
While Printique is our top choice, it only narrowly edged out the second-best option: Mixbook. Named by multiple publications, including the New York Times, as the best photo book service available, Mixbook truly is among the top of the class and often comes in a bit cheaper than Printique, especially if you just want a standard, non-layflat photo book.
Allowing you to upload from your computer, cell phone, online photo storage, and even your social media profiles — something no other options here offer — Mixbook gives you complete and coherent access to every memory you have stored. The interface is no slouch, either. Not only is it highly intuitive, but it also offers the strongest guidance boxes of any service, ensuring even the most casual creator will feel confident clicking through its options. Those options are more than sufficient, by the way. Mixbook boasts a huge number of templates that are of high and consistent quality.
So where does Mixbook falter? While price is difficult to compare in the photo book market, it is undeniable that Mixbook lands at the highest end of the spectrum. Despite offering frequent discounts, upgrades to paper quality will cost you more than the competition, which is why we did not choose this as the best "overall," but rather for those money-no-object folks who desire the highest quality possible. Rest assured, however, that Mixbook's superior color reproduction and printing will leave you entirely comfortable with whatever premium you have paid.
---
Best Printing Service for Most People: Shutterfly
Shutterfly's appearance here should surprise no one. In a sea of potential unknowns, Shutterfly has been a part of the digital photography revolution from the very beginning. Anyone who has ordered something online from Best Buy likely recognizes the name.
Shutterfly provides three levels of photo book service that suit a variety of user needs. Its "Make It Fast" option outsources the job outright to its team of designers. For those seeking more control, "Custom Path" gives you the ability to make your book to your exact specifications and arrange your own photos. Customization is strong here, boasting a respectable set of creative features and one of the widest template selections available. Finally, "Simple Path" allows you control over making your book, but the photos are arranged for you automatically.
Sizing is more than adequate here with six distinct choices. Covers are offered in both hard and soft materials, including leather. Pricing is reasonable; like most of these services, there are constant coupons and discounts available seasonally online.
Where Shutterfly struggles is in the web editor itself, which can be challenging to use. Much of this comes down to the learning curve, and once the program is mastered many of these problems dissipate. More concerning are reports of trim issues, with uneven photo-matching: pictures don't match perfectly across seams or struggle at edges. This issue may be somewhat uncommon, but when paying for a service of this type from a brand of this repute, it is notable enough bring up.
Compared to the lesser-known top-tier options in Printique and Mixbook, Shutterfly does suffer from inferior image quality in general — despite costing roughly the same as Mixbook, depending on your options. But its massive library of book templates, clip art, backgrounds, and ease-of-use make it an entry worthy of note.
---
Easiest to Use Photo Book Service: Picaboo
With a name like Picaboo, you know you are getting a program geared more toward the fun of creation than anything else. On this front, the service mostly delivers.
Ease of use is a major selling point for Picaboo, and it truly finds a sweet spot between an accessible interface and rich features. This makes building a book with Picaboo not only enjoyable but faster than many other options — well, fast for designing, at least. Unfortunately, this strength is hobbled ever so slightly by Picaboo's infrequent crashes and lag along with a very slow upload speed compared to competitors. The interface also seems quite antiquated compared to most, if not all, competitors here — but the simplicity of choices is part of its appeal for those who don't want to fuss with advanced options.
While this diminishes the service a bit, average users should be willing to overlook it just for the chance to relax and let Picaboo's impressive presets do much of the creative work for them. From wedding, to travel, to holiday and seasons, to baby, to "styles" themes such as "Girly" or "Urban," there is a decent range of options to satisfy the average user.
Offering seven sizes and reasonable binding/printing options, Picaboo is more than adequate when it comes to the actual physical product you are creating. Adequacy may not be enough for you when it comes to image reproduction, however, as the service's color and print quality trail behind competitors. For many, this may not be a dealbreaker, but those with a more discerning eye should be advised. One comfort is that Picaboo offers a 100% satisfaction guarantee to those displeased with their finished product. So long as Picaboo is contacted within 30 days, unhappy customers are eligible for a refund.
---
Best Photo Book Service for an Heirloom-Level Product: Artifact Uprising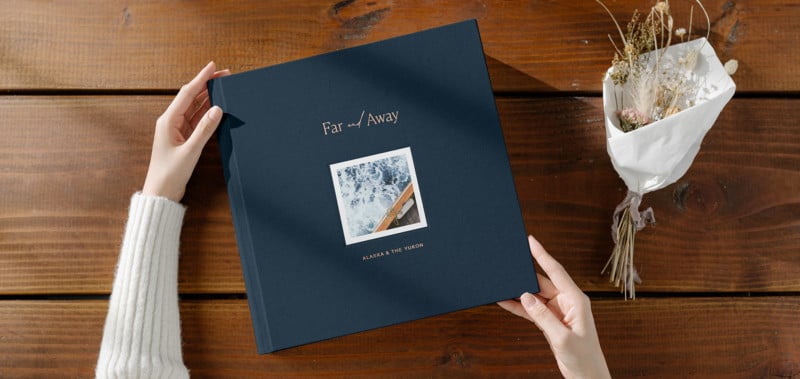 Perhaps, for you, price is no issue, because what you seek is more than a mere photo book. You are in the market for a true keepsake, with a feel and appearance designed to awe all who hold it. An object that does more than displays memories but communicates the very weight and importance of them. In that case, look no further than Artifact Uprising.
It's important to understand that when you order from Artifact Uprising, you are committing to a book with a minimum of fifty pages, which makes it a perfect time capsule for your wedding or other major milestones.
Elegance is the mantra here, and it is visible in force from the moment you load the website. A gorgeous minimalist interface guides you through the design and development of what will be a true gift for you or whomever you are treating. If only this attention to detail carried over to the image reproduction itself. Arguably, image fidelity and quality should be the most important consideration when evaluating a photo book. In this case, however, focusing on Uprising's middling printing would undersell the true value of the service.
One look at the binding options will remind you of why you have chosen to pay a premium for this keepsake. The photos themselves are only one component of the presentational power of an Artifact Uprising book. Add-ons like an impressive walnut storage box make the company's goals plain: You want to transform your memories into a statement piece. At this, Artifact Uprising's success is clear.
---
The Best Accessible and Affordable Photo Book Service: Walmart Photo
Yes, Walmart Photo is indeed one of the best photo book services in the market today. This fact may be particularly gratifying to those who can still remember physically entering a Walmart to pick up a packet of freshly developed photographs.
Happily, you will likely find Walmart Photo has brought that simple and convenient experience into the 21st century without a hitch. Importing your photos is as easy here as it is with Mixbook is high praise. Options are robust, the interface is smooth as silk, and the prices are, predictably, quite competitive. If you're looking for the perfect balance of affordable and acceptable, Walmart Photo is your choice.
Be aware that what you gain with ease and value here you will sacrifice in color reproduction. The vibrance of the printed images leaves quite a bit to be desired. No one should be using this service for fancier gifts or more intensive projects, but as a suitable replacement for the old photo albums of your youth, you could do far worse.
---
The Best Photo Book Service for Adobe Users: Blurb
In the world of self-published photobooks, Blurb owns a special place in many photographers' hearts. In the sixteen years since its inception, it has produced tens of millions of books for hundreds of thousands of customers. For much of this time, Blurb has been considered among the cream of the crop.
In terms of the final product, Blurb still offers quality images (though not on par with the higher-end options on the list) at incredibly reasonable prices, shipped safely and securely, with the stamp of a brand that has earned a lot of goodwill.
But all longevity brings unique advantages and predictable disadvantages. On the one hand, though ownership has changed hands over the course of its lifespan, there is an infrastructure here proven to be responsive and reliable. Despite the relatively recent changes behind the scenes, the prices have remained stable and affordable. Blurb is trusted because it has demonstrated it can be.
Of course, the downside of age is a lack of alacrity, where Blurb cedes ground to younger, hungrier outfits. Blurb's web-based interface, Bookify, offers an inferior experience to other web-based solutions on this list. The reason to choose any web-based creation software is, obviously, ease of use. Unfortunately, Bookify's ease comes at the expense of its usability, diminishing options to an almost restrictive point. Factored in with the interface's many bugs — adding text is a frustrating, unpleasant experience — one wonders if Blurb is interested in competing in the web-based space at all.
Thankfully, Blurb's downloadable software BookWright exists. It is robust and feature-rich, smooth,intuitive, and in some ways unique. It almost seems like a program built for Adobe users, and offers a spate of options that feel incredibly familiar in both function and handling. The big selling point is the plug-ins for Adobe programs: Photoshop, Lightroom, and InDesign. This gives some users an attractive workflow that could be the difference-maker for those interested in high-volume work. To top it off, Blurb offers nice features like PDF-to-Book and the ability to self-publish and sell via Blurb Bookstore, Amazon, Ingram, Apple Books Store, and Kickstarter. Magazines, trade books, notebooks, wall art, eBooks, and templates round out the very user-friendly features of this affordable service.
---
Image credits: Header photo licensed via Depositphotos.