Best Fall Foliage Maps for Tracking Leaf Color Forecasts in 2023
Autumn has officially begun in the northern hemisphere, meaning foliage season is just around the corner. Much of New England, a popular region in the United States for fall photography, experiences peak foliage in early-to-mid October, but what about other places? Where can photographers find the best information to plan their leaf-peeping adventures?
Fall Foliage Prediction in the United States
Many of our readers are in the United States, so it makes sense to start with an excellent resource for tracking the annual autumnal changing of the leaves across the country.
Smoky Mountains offers an interactive predictive map of foliage conditions across the contiguous U.S. each year — we will deal with Alaska separately, and Hawaii is not known for its fall foliage.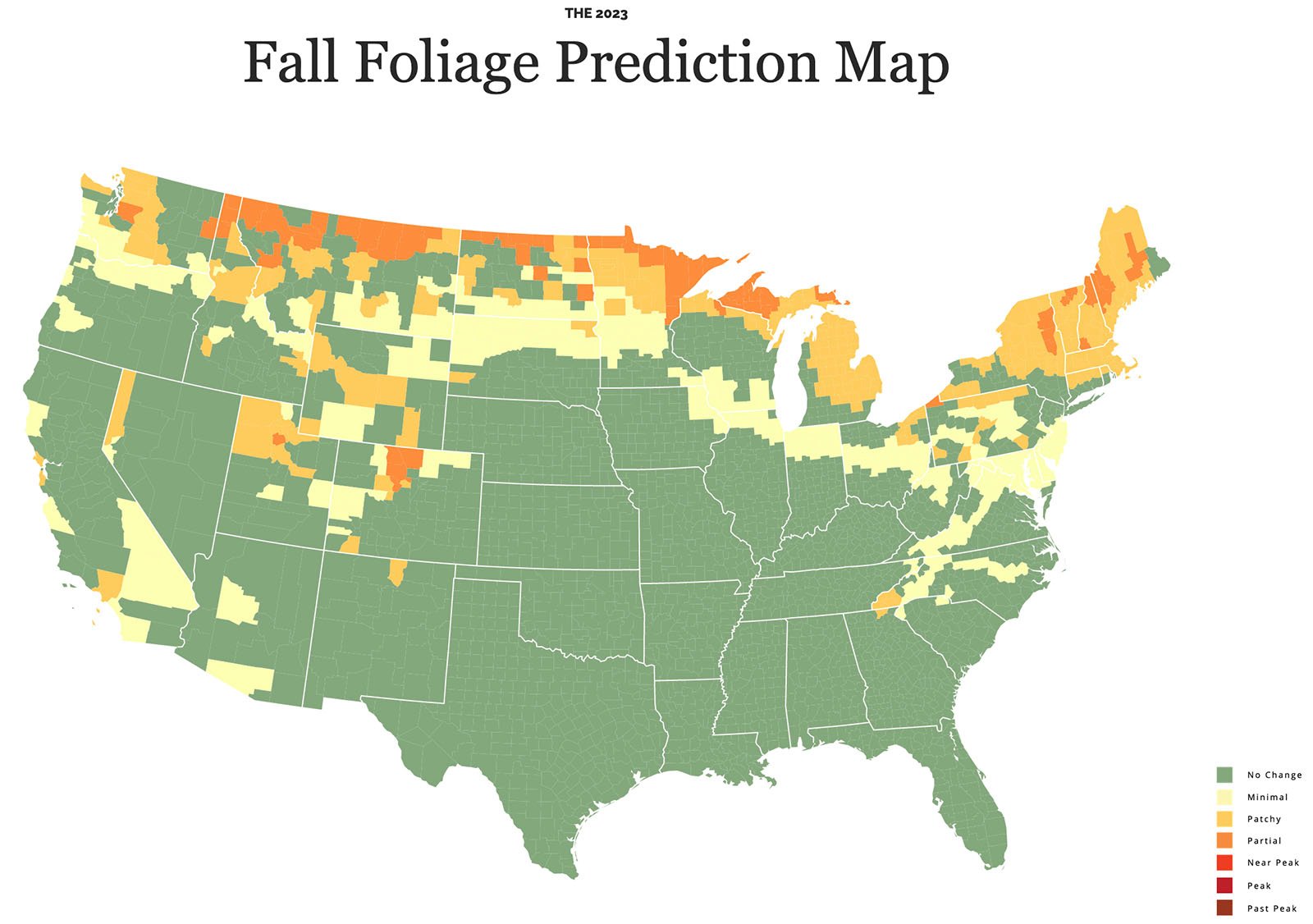 As of this week, there is patchy and partial fall foliage across much of the U.S. While the tool admits that it cannot promise 100% accuracy, it allows users to jump ahead, a week at a time, to try to get a sense of what foliage will look like in different areas at selected times.
For example, the early-to-mid-October timeline we highlighted earlier, which this year is the week of October 9, shows predicted peak foliage across a vast swath of the U.S.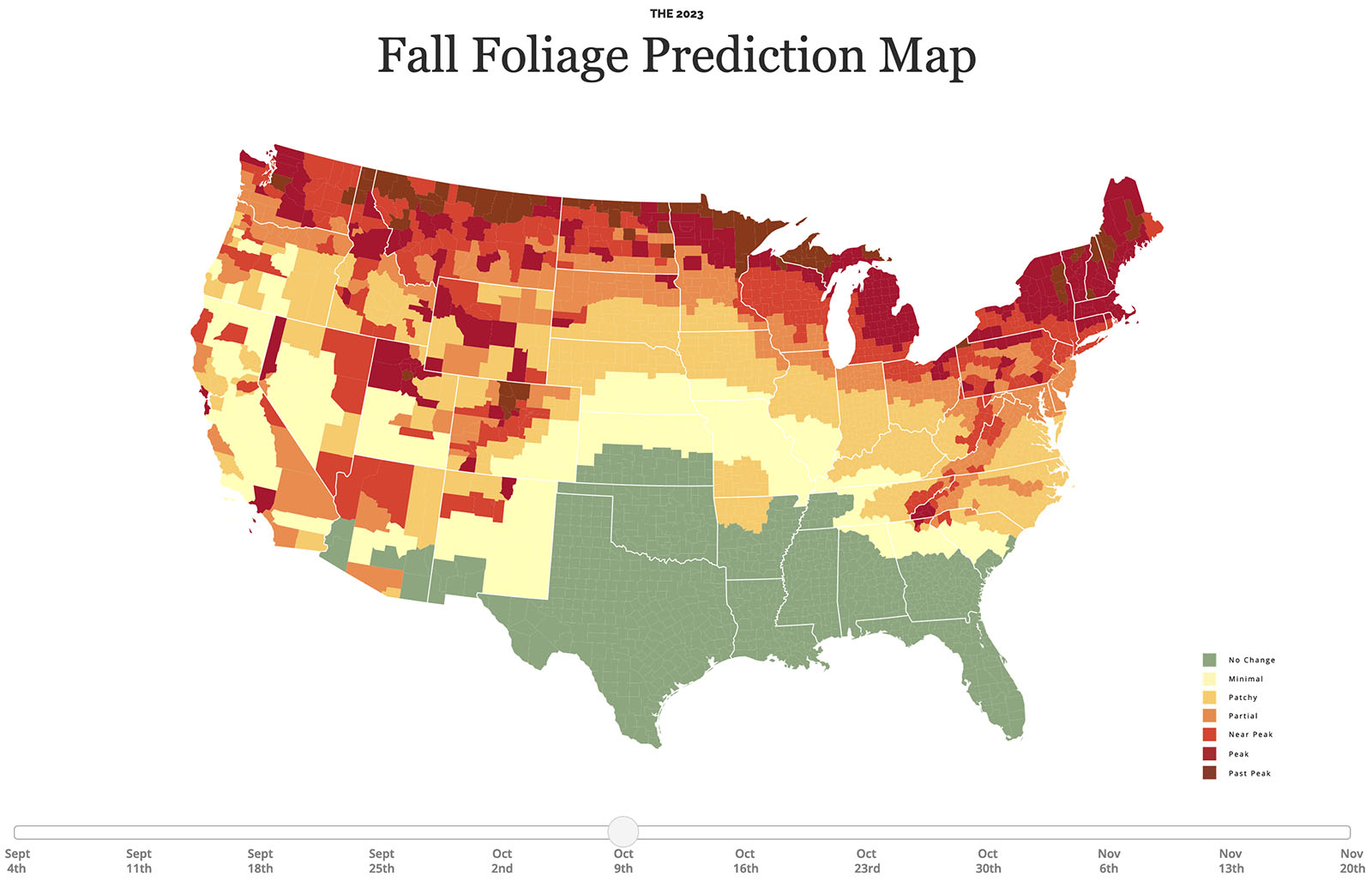 In regions not as well known for fall foliage, such as Tornado Alley and the southeast, foliage season starts a bit later, with a predicted peak in November. By early November, famous fall colors in the northern U.S. will have come and gone.
American Forests, which uses Smoky Mountains' map in its annual foliage forecast, also outlines specific areas photographers can visit for great fall color in particular parts of the United States. For example, while Arizona is not known for its colorful leaves, Coconino National Forest is a fantastic resource for landscape photographers in the southwest.
American Forests also points out Great Smoky Mountains National Park in Tennessee for southern shooters, Palisades Creek Canyon in Idaho for people in the Rocky Mountains region, and the famous White Mountain National Forest in New Hampshire for New England shooters, although they don't want for autumn photography opportunities.
It is also worth noting that predictive maps, and even current data from people on the ground in different places, are subject to rapid change due to localized weather patterns. When leaves are at peak color, with vibrant red, orange, and yellow hues, they are also much more susceptible to being blown off of trees by wind or knocked down by a heavy fall rainstorm.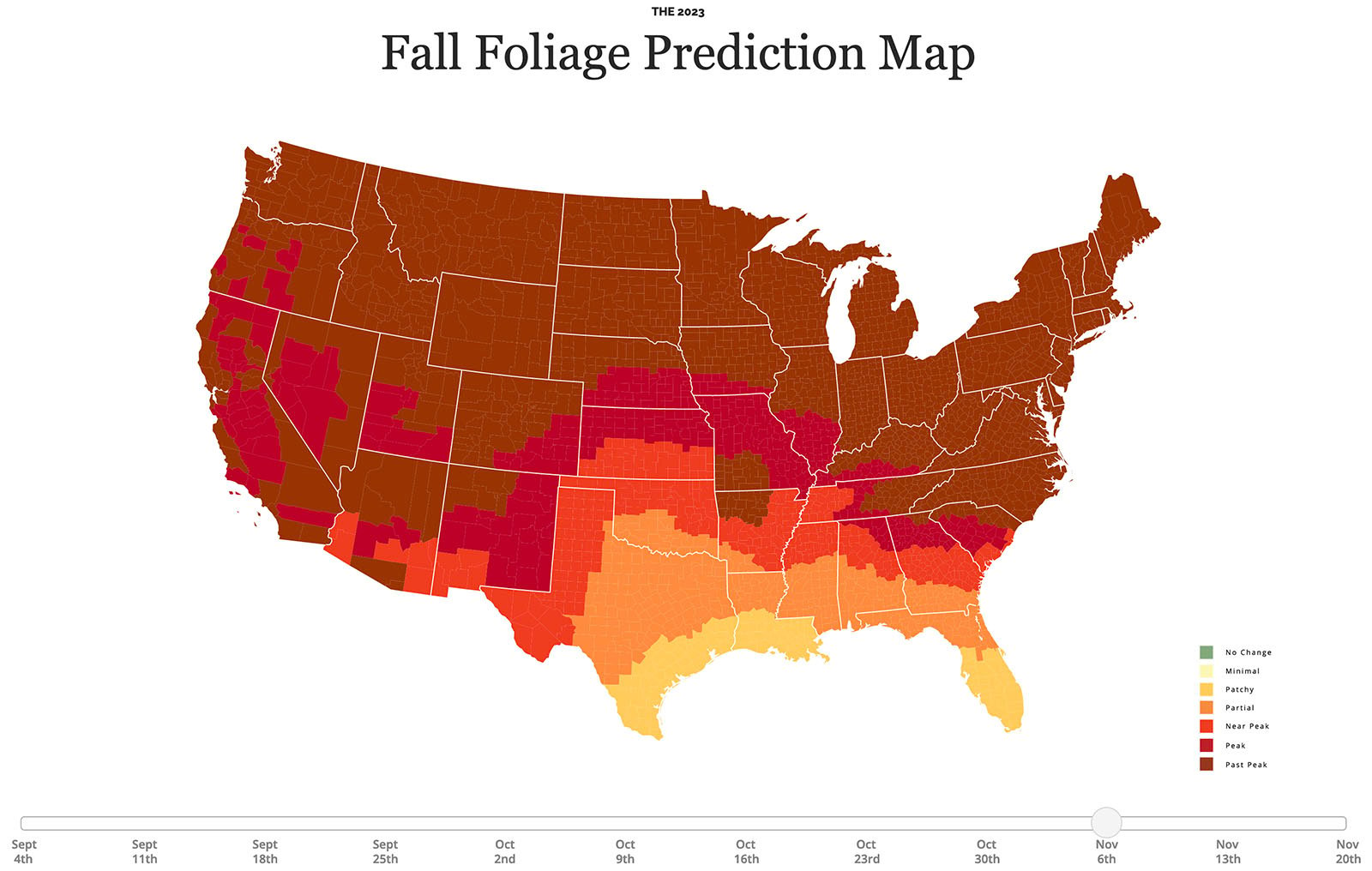 When the color is good, there is no time like the present to get out there and take photos because those beautiful leaves may be gone in the blink of an eye, even if foliage season is still in full swing elsewhere.
Regional Foliage Prediction in the U.S.
While a map like the one Smoky Mountains offers annually is excellent for getting a large-scale view of foliage driven by local data submitted by real people, looking at very local foliage prediction resources is also a good idea.
For example, in my native Maine, the state government has a foliage resource, Maine Foliage. The state is divided into sections, and a weekly report shows the most up-to-date information about foliage conditions.
Other states have similar resources. For example, Visit New Hampshire has one that offers predictive information for different parts of the state, and New England offers a map of the entire northeast, showing foliage conditions in Maine, New Hampshire, Massachusetts, Vermont, Rhode Island, and Connecticut. Vermont is an especially amazing place for fall foliage, and the state government there also has a dedicated site to help visitors plan autumn adventures.
Other states with detailed foliage tracking resources include New York, Pennsylvania, Ohio, Minnesota, Michigan, North Dakota, South Dakota, Utah, Colorado, California, Oregon, Washington, and Alaska.
There are undoubtedly additional foliage trackers in other states, although Smoky Mountains is a great resource for leaf peeping throughout Appalachia. Areas without dedicated state-wide fall foliage resources may also have very local maps, so be sure to check local news websites.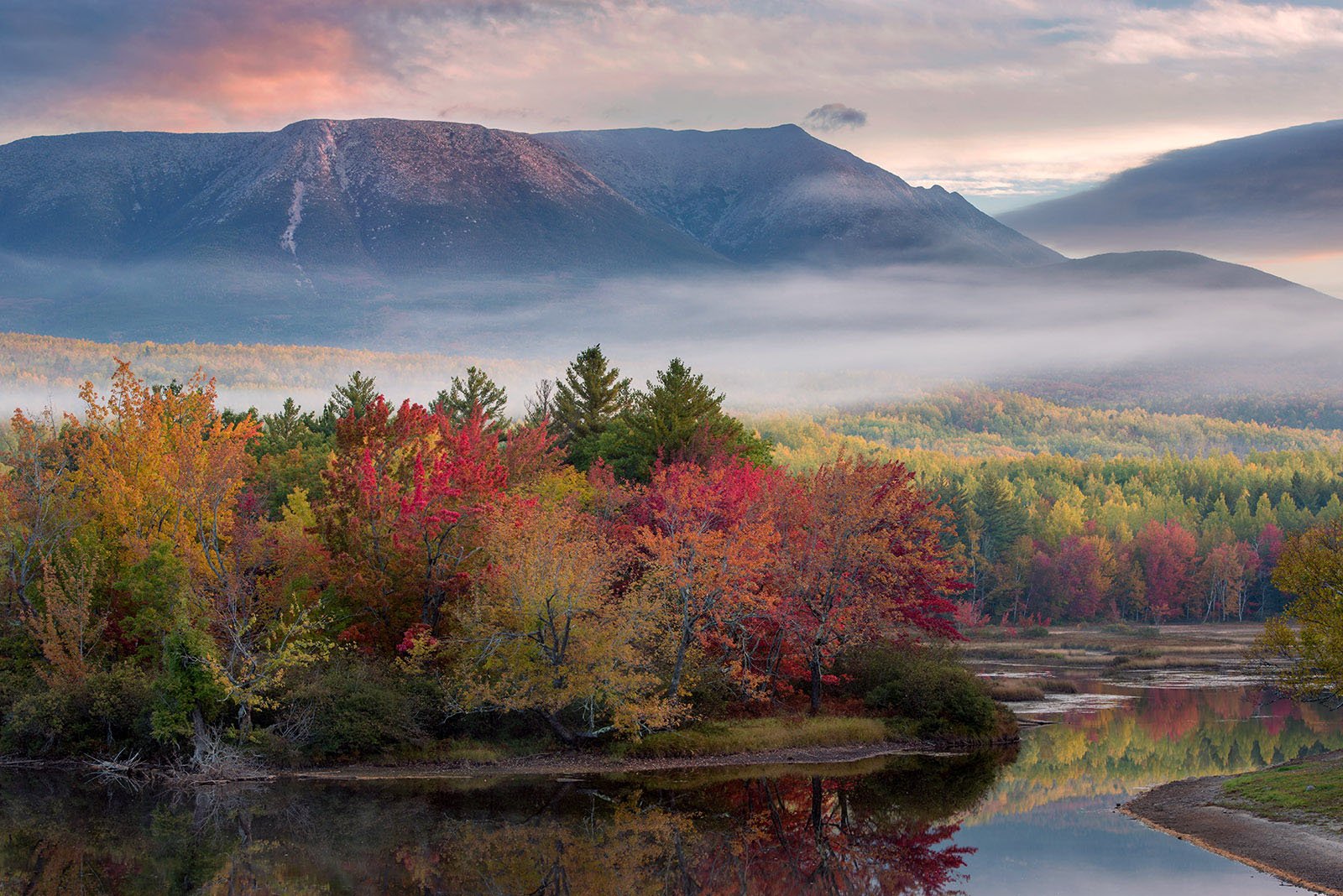 Foliage in Canada
In Canada, The Weather Network is a good resource for nationwide foliage reports. It has yet to publish its annual report, but it should arrive shortly.
In specific provinces, there are foliage reports available for Quebec, Ontario, New Brunswick, Nova Scotia, with additional fall foliage resources in British Columbia.
Of course, there are plenty of other regions in Canada with superb autumn color, including the jaw-dropping Banff National Park in Alberta. The iconic aspen trees typically keep their brilliant yellow leaves well into October.
Foliage in Europe
Chatting with a British member of the PetaPixel staff, it became evident that while people in the United Kingdom enjoy autumn walks and fall foliage, it is not quite the huge event that it is in the United States.
That said, as evidenced by brilliant British photographers each year, there is plenty of amazing color in the U.K. Forestry England maintains a very detailed foliage tracking map, as a matter of fact.
As for continental Europe, there are many places for photographers to enjoy great fall color and capture stunning landscape and nature images.
Charlie's Wanderings outlines 15 great spots, featuring locations in Germany, Czechia, Italy, Slovenia, Belgium, France, Austria, Hungary, Switzerland, and Croatia. Speaking of Switzerland, the Swiss government has a foliage map.
Otherwise, foliage maps and reports in Europe are rather sparse, although there are many travel blogs and websites with good information about places to see fall colors and when people should visit.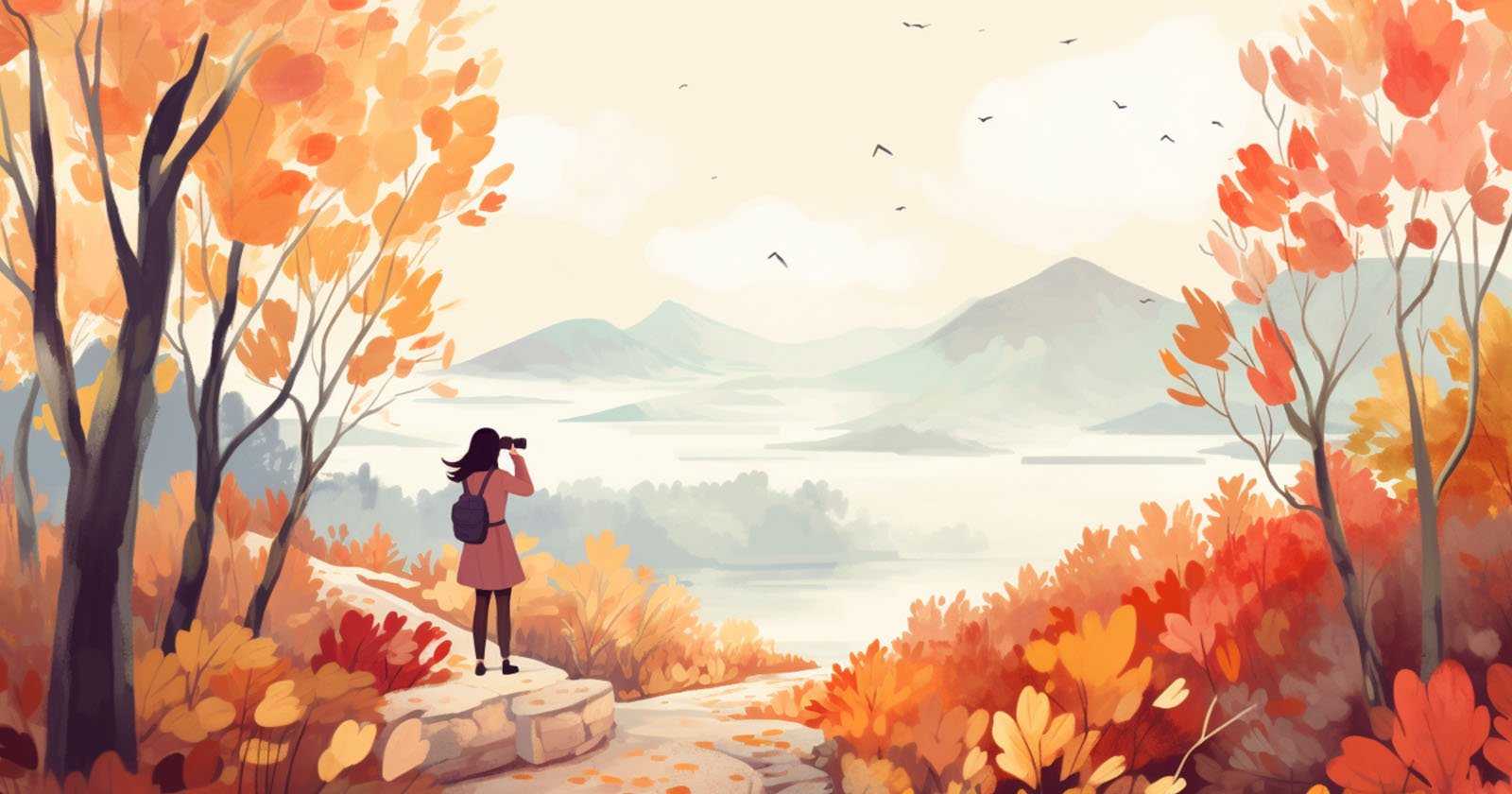 Summary
Ultimately, the best foliage tracking resource depends on where you are located or where you plan to visit. Photographers in the United States have so many amazing ways to keep track of fall color, including the predictive map of the country offered by Smoky Mountains.
In Canada, the situation is murkier, although the fall color is no less spectacular. Photographers in the Maritimes, Quebec, and Ontario can expect their fall colors to follow a similar pattern as the northeast United States, with some areas in Canada being slightly ahead or behind their neighbors south of the border.
European photographers, unfortunately, don't have easy access to wide-ranging foliage reports. However, the photography community is tight-knit, and reaching out to landscape photographers in specific areas can yield helpful, accurate information.
It is worth reiterating that predictive maps are not 100% accurate. If you travel a great distance to see fall colors, you can use our outlined resources to make informed but not foolproof travel plans. Weather can change fall color conditions very quickly, and leaf drop can happen overnight.
It is also essential to consider highly localized conditions for bright, vibrant leaves. Trees that are along a shoreline often change color faster, so if photographers have a specific shot in mind that includes a river, stream, or lake, they should plan for those trees to turn a bit quicker than the rest of the area.
---
Note to readers: We are looking forward to seeing great foliage photos this fall. Please let us know if you capture colorful shots you'd like to share.
---
Image credits: Photographs © Jeremy Gray