The DJI Wishlist: 6 Features We'd Like to See in Upcoming Drones
It's been over two years since DJI released the DJI Mavic 3, an upgrade to their incredibly popular Mavic 2 Pro/Zoom series. In this new form factor, they redesigned the battery to offer a whopping 45-minute flight time, added Occusync 3.0 for better flight distance and stability, added 5.1K video resolution, added an onboard SSD (to the Cine version), and experimented with adding a Zoom lens to capture images and video at different focal lengths.

Since the initial release, DJI has released the
Mavic 3 Classic
and
Mavic 3 Pro
, to add or remove the zoom functions as desired, as well as pushed out a number of firmware updates that have increased height limits and turned the sensors into rudimentary cameras for better obstacle avoidance.
They haven't stopped there. With increasing drone regulations around the world, DJI has endeavored to shrink their tech into a compact but highly functional form factor in an effort to comply with sub-250g weight restrictions. The Mini & Mini Pro series offer better flight times, great picture quality, and increasingly advanced functionality in a drone the size of an iPhone 15 Pro Max.
As with most technological releases, as soon as one announcement is complete, attention turns to the potential features that may or may not be included in the next iteration. With the advancements outlined above, where does DJI go from here? How do they better the functionality while maintaining good size, form factor, and usability? We have some suggestions.
Below, we've looked at DJI's commercial drones (the Inspire and Matrice series) and their (limited) competitors, to compile a wishlist of firmware and hardware features we'd like to see in their upcoming drones and their potential likelihood of manifesting on future models. To top it all off, we've also added some blue sky features that would really push the boundaries of what's possible. Expect drone-related puns, copious amounts of wishful thinking, and a smattering of optimism.
Feature 1: Parallel Battery Charging
Expected Series: Mavic 4/Air 4/Mini 5
Likelihood: Medium
Number one on my wishlist is a DJI proprietary charger that offers parallel battery charging. This means that rather than the current chargers that charge batteries one by one in order of lowest to fullest charge, the charger can simultaneously charge batteries in one go, reducing the charge time from a few hours to potentially around 90 minutes for all batteries. It's been speculated that parallel chargers would be larger, heavier, and require a fan to keep it cool, also making it noisier. Third-party chargers that offer parallel charging are also readily available online and offer a cheap solution to the lack of a proprietary one for all models, but it's about time DJI also addressed this issue – especially with the Mavic series where extra batteries are now eye-wateringly expensive.
Feature 2: Swappable Gimbal for Different Focal Lengths
Expected Series: Mavic 4
Likelihood: Low (very, very low)
In my defense, I did mention that there would be some wishful thinking and blue sky suggestions on this list. It also shouldn't need to be stated (but I will anyway) that I'm not an aeronautical engineer and can just about tie my shoelaces on a good day.
When the Mavic 2 Pro/Zoom were released, there were some DIY videos that showed how to swap from one version to the other. With the release of the first Mavic 3, DJI tried to combine longer and shorter focal lengths into a single gimbal, resulting in a slightly gimmicky attempt that resulted in mediocre results from the 7x optical zoom camera. The Mavic 3 Pro improved on this, offering a good quality 3x zoom with good results, and an improved 7x zoom that, while good, still doesn't quite cut it due to the smaller sensor. It would be great to have a gimbal setup that either allows for the changing of lenses or a hot-swap feature where you can change to a gimbal with a dedicated focal length and larger sensor size for optimal results. Think of a Zenmuse-style feature for the Mavic series. Obviously there are considerations to weight, safety, and software compatibility, but if DJI were to offer a plug-and-play solution for a variety of focal lengths at a few hundred bucks each, I'd have a hard time convincing myself not to pick one up.
Feature 3: Better Pro Camera Features
Expected Series: Mavic 4/Air 4
Likelihood: Medium-High
Bundling all of these into one desired feature for the sake of convenience. I love both the automated and pro capabilities of DJI drones. Quickshots will help you get a variety of very usable footage in a short space of time, while Pro modes will let you finely adjust settings to get detailed footage in a wide variety of conditions. But, in the words of my girlfriend upon coming home to find I had cleaned the entire apartment: "This is great, but you could still do more." This would include things like AEB and multishot modes for panoramic images, 9 shots and 180-degree panoramas for zoom lenses, enhanced low-light performance, faster and more accurate focus, and better dynamic range. Some of this could be addressed by switching the current 4/3 CMOS sensor to a larger one (potentially APS-C), but I'll once again leave that to the tech wizards at DJI to discuss.
Feature 4: Battery Hot-Swapping
Expected Series: Mavic 4
Likelihood: Low-Medium
Recently Autel announced the addition of hot-swapping to their EVO Max drone series. This means that the drone is equipped with a built-in supercapacitor that retains about 30s of charge to allow the pilot to quickly and conveniently switch batteries. While DJI's commercial drones have something similar (the Inspire 3 has two batteries), this technology hasn't trickled down into the prosumer-level drones yet. While power-up times for the Mavic series aren't particularly lengthy, for pro users, being able to switch the batteries out in a matter of seconds can be the difference between getting the shot and missing it. Downsides of this feature can include reduced battery life, which would mean that DJI would need to find a couple of minutes elsewhere to make this feature worth it.
Feature 5: AI Flight Modes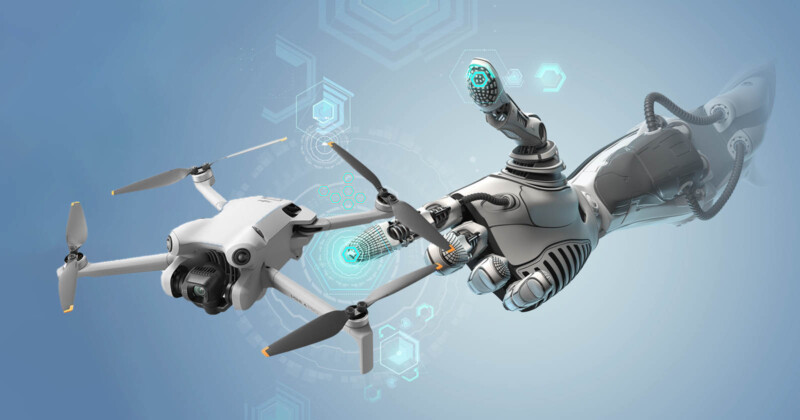 Expected Series: Mavic 4/Air 4/Mini 5
Likelihood: High
It wouldn't be a 2023 article if it didn't mention AI and improved intelligent flight modes in some shape or form. DJI drones currently do a great job of using AI features in their Intelligent Flight modes to make capturing footage and imagery easier. ActiveTrack has seen marked improvements over the years, Waypoints has become better to use, and Quickshots still serves as a great one-stop shop for fast, easy drone footage. Despite these modes, I still find myself resorting to manual control for things like simple pan-ups because I'm happier with the results. Improved object recognition and more timely suggestions of specific modes could avoid a lot of digging around in menus and would ensure these features are used more often.
Feature 6: Improved Battery Life
Expected Series: Mavic 4/Air 4
Likelihood: Medium
I don't think a drone feature wishlist would be complete without the perpetual want for longer flight times. While most DJI drones offer a flight time of over 40 mins (if using the larger battery for the Mini series), DJI has yet to release a drone with a coveted hour-long flight time. This may be because in order to power a drone like the Mavic 3 with all its bells and whistles, a larger battery is needed, and the heavier the battery and the drone itself, the less flight time you'll get. Potential solutions include a carbon fiber chassis and improved chip efficiency, but both these solutions would take time and extra cost to develop.
We'll wait with bated breath to see if any of these features make it to the upcoming releases of DJI drones. If you think there's anything we've left out, what other features would you like to see included?