Moment's First-Ever Camera Arrives Under the 'Long Weekend' Brand
Moment made a name for itself through first lenses for smartphones before expanding to accessories, bags, and even a smartphone app. Today, it released its first camera: the Long Weekend 35mm Reusable Film Camera.
Filed under its Long Weekend brand that it produces in conjunction with YouTubers Willem Verbeeck and Allison Simon (which previously released two different series of small bags), the 35mm Reusable Film Camera is a simple, lightweight, fixed focus camera that the company says is compatible with most 35mm film stocks. Moment says the Long Weekend camera is ideal as someone's first experience with film.
"You get a brand new camera that you know will work out of the box without the troubles of dealing with aging used cameras of unknown condition. This can be positioned both as a great camera for someone looking to shoot their first roll of film or as a camera for experienced photographers to bring to the beach, take to the lake or bring places you might not bring a professional camera you don't want to break," Moment says.
"Visually it gives you the nostalgic and playful look of a disposable camera, without the wasteful process of disposing the camera each time you shoot a roll. Essentially a reloadable disposable that opens up the options of what film you want to shoot as well."
Made entirely of ABS plastic and powered by a single AAA battery, the Long Weekend camera is joined by the line's first backpack as well as a new camera cube, padded wraps, and zip pouches.
The Morro Convertible Backpack doesn't scream "camera backpack" but instead looks more akin to what a high school-er might bring to class. It features multiple pockets, soft padded shoulder straps, interior padding to keep gear safe, and can hold a 16-inch laptop.
When combined with the Morro Camera Cube 8L, the interior of the bag better fits camera equipment, and front zipper doors provide quick and easy access. While the bag doesn't look it, Moment says it's weatherproof thanks to the use of "rugged fabrics" and has water-resistant treatment and two layers of waterproof coating. When empty, it weighs just 1.7 pounds (780 grams).
The new Padded Camera Wraps sport the Long Weekend blue aesthetic and are designed to provide "just the right amount" of padding to protect gear without adding unnecessary bulk.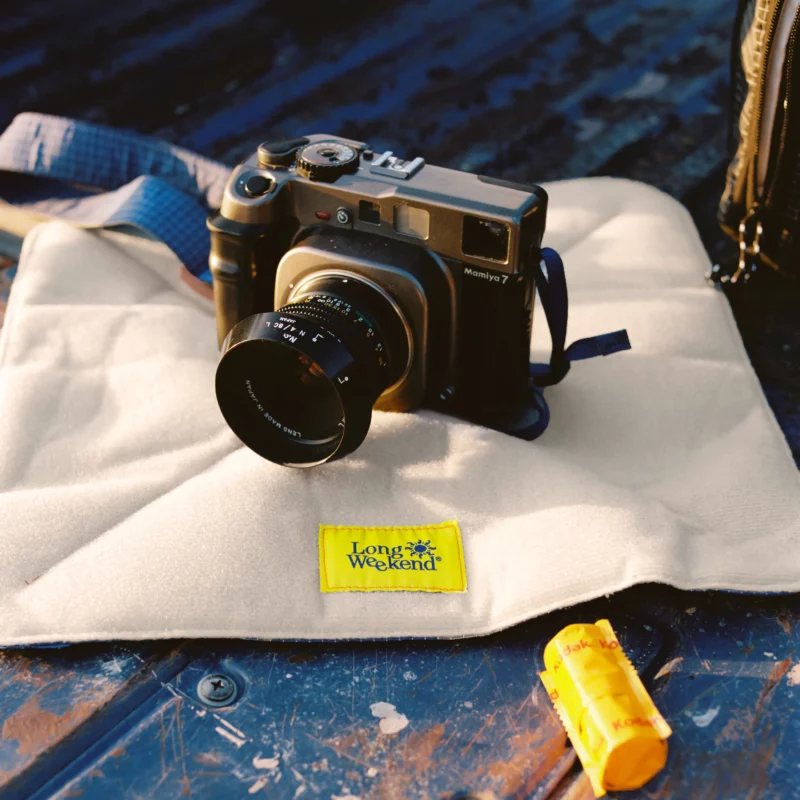 Finally, the new zip pouches are made to hold all manner of accessories and even small cameras and are intended to help keep the interior of a bag organized.
The Moment Long Weekend 35mm Reusable Film Camera is priced at $49.99, the Morro Backpack at $149.99 (the cube is available separately), the padded wraps at $24.99, and the Zip Pouches start at $14.99. All of the new Long Weekend additions can be pre-ordered starting today and will ship at the end of December.
---
Image credits: Moment