Adobe Stock is Selling AI-Generated Images of the Israel-Hamas Conflict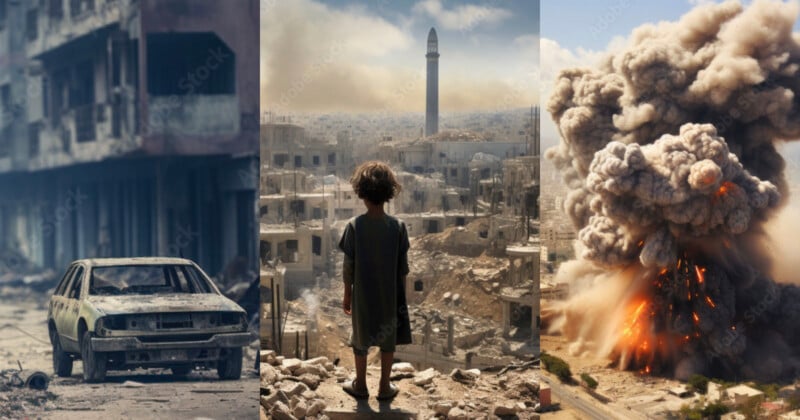 As fears rise over fake imagery generated by artificial intelligence flooding the internet, one of the world's leading stock photo websites is openly selling AI images of the Israel-Hamas war.
A quick search on Adobe Stock for "Israel-Palestine conflict" brings up dozens of AI-generated images purporting to show the Middle East conflict; in fact, the overwhelming majority of results are AI.
Some pictures appear more real than others but at first glance more than a few could be perceived as real. Futurism notes that a handful of small publications have ran these images without labeling them as AI including here and here.
Some of the images are evocative: for example, a Muslim mother and child standing amid the rubble of a war-torn landscape. Others show smoke rising behind the Al-Aqsa mosque in Jerusalem.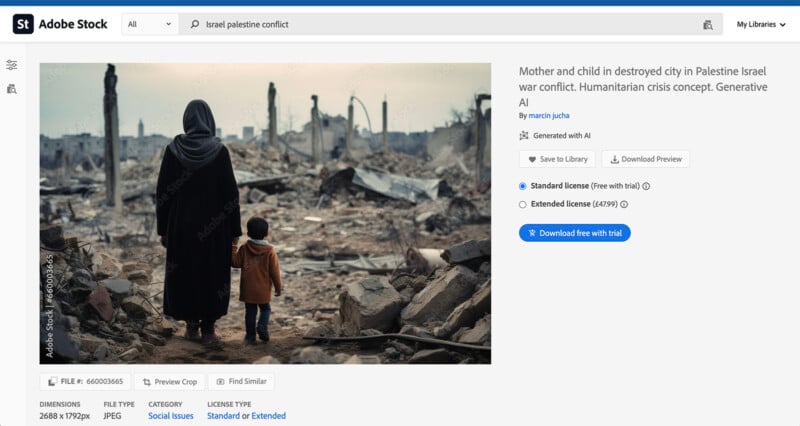 Crikey, an Australian website which broke the story spoke to a senior lecturer from RMIT University in Melbourne who says there are concerns whether audiences are recognizing the images as fakes.
"There is potential for these images to mislead folks, to distort reality, to disrupt our perception of truth and accuracy," Dr T.J. Thomson tells Crikey.
Dr. Thomson says that in the course of his research, he has found newsrooms are particularly concerned about misinformation but there are also worries that AI images could replace on-the-ground photographers who are risking their lives to capture real imagery of the conflict.
The added irony is that these AI images are likely to have been trained on real photos of conflict zones taken by photographers in the firing line who are unlikely to have been meaningfully compensated.
Adobe contacted PetaPixel with the following statement:
"Adobe Stock is a marketplace that requires all generative AI content to be labeled as such when submitted for licensing. These specific images were labeled as generative AI when they were both submitted and made available for license in line with these requirements. We believe it's important for customers to know what Adobe Stock images were created using generative AI tools," it says.
"Adobe is committed to fighting misinformation, and via the Content Authenticity Initiative, we are working with publishers, camera manufacturers and other stakeholders to advance the adoption of Content Credentials, including in our own products. Content Credentials allows people to see vital context about how a piece of digital content was captured, created or edited including whether AI tools were used in the creation or editing of the digital content."
Adobe announced that it is accepting AI-generated submissions from generators such as Midjourney, DALL-E, and Stable Diffusion last year and are unique in that they are the only major stock photo website to have such a policy.
In June, a report from Stock Performer suggested that AI images are outperforming real photos on Adobe Stock. The analytic website for stock photographers found that the average revenue per image per month for AI images is a whopping four and a half times bigger than photos or any other format.
---
Update 7/11: The article was updated with Adobe's comment.