Instagram's Expanded 'Gifts' System Pays Creators, But it isn't Simple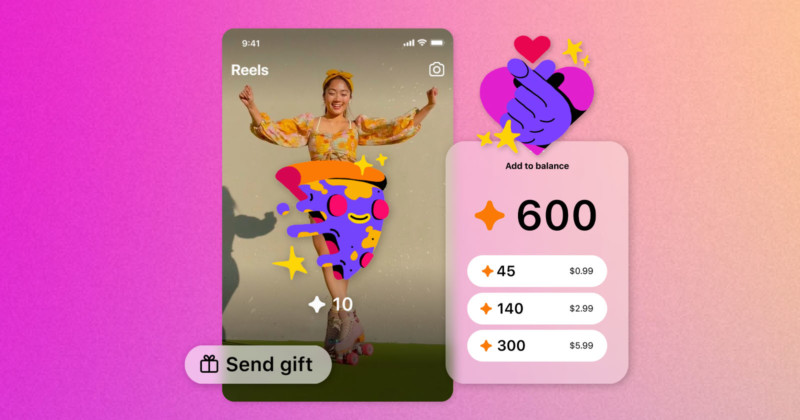 Instagram is making its Gifts feature available to more creators in the United States. Gifts are described as a way to more easily earn money from an audience — easy in theory, but it muddies an already confusing monetization web with Meta-owned properties.
This week, Instagram announced that it would be making Gifts — a feature it first started testing last November — more widely available on the platform.
Select creators can receive gifts from supporters in via a method that seems to be influenced by mobile gaming. Fans can purchase a currency called "Stars" in the app with real-world money, and those Stars are then given to creators as a way for a fan to express appreciation. How creators actually make money from this is a bit more complicated than simply cashing out Stars for their equivalent value in real-world dollars, however.
Stars, Instagram's Cut, and Payouts
"Viewers will purchase stars and use them to send you gifts on Instagram. Instagram will then provide you with a revenue share from your reels that received gifts on a monthly basis equal to $.01 USD for every star received from fans," Instagram explains.
That equates to $1 per 100 stars. Users can buy 45 stars for $0.99. At that conversion, Instagram takes in about $2.20 per 100 stars and pays out less than half of that to the creator. The exact amount that Instagram makes per transaction of course changes depending on how many stars are purchased at once — Instagram shows that up to 300 can be bought for $5.99, but also shows the option to buy 140 for $2.99.
"You will get paid out when your overall balance reaches $100, including earnings from other monetization programs," Instagram adds.
Creators can see their total and monthly approximate earnings in the Instagram Professional Dashboard. Those payouts are issued to a creator's account about 21 days after the end of the month in which the gift was received.
"A payment as long as you made at least $100 in a given month or from your cumulative months' earnings. For example, if you make $50 in April and $80 in May, you'll be paid in June," Instagram further clarifies.
As a note, Facebook Stars on Reels is a separate digital currency, despite the similar name. Users can't use Facebook Stars balances to send gifts on Instagram. Additionally, Instagram Gifts are different from Instagram Badges, a separate monetization system available for live video content creators.
Multiple currencies are confusing, especially since they don't overlap and none of them is a universally accepted amount like the dollar. That confusion, and the incongruity of how much a star is actually worth, is probably the point — the more a purchaser can be removed from the actual value of a fake currency, the easier it is to get them to spend it.
Still Not for Everyone
This convoluted system still isn't available to all creators. Instagram doesn't explain what makes a particular user eligible, but anyone can check their eligibility on their Professional Dashboard.
"Gifts are one of the growing number of ways we're helping people make a living and grow their community on Instagram, and we hope to bring gifts to even more people soon," the company says.
---
Image credits: Meta