Lomography's Nour Triplet V 64mm f/2 Lens Offers Creative Control
Lomography has launched its Kickstarter campaign for the Nour Triplet 64mm f/2 Bokeh Control Art Lens. Available for Canon RF, Nikon Z and Sony E-mount cameras, the unusual lens promises users the ability to capture three distinct image styles in a single lens.
---
A special thank you to Lensrentals for providing the Sony Camera Body used in this review. The company's full list of available gear, both for rental and for sale, can be perused on its website. Personal note: the yearly subscription for Lensrentals HD is well worth it if you rent a decent amount of gear.
---
The Lomography Nour Triplet 64mm f/2 Bokeh Control Art Lens is designed to give photographers and videographers control over the spherical aberration allowing for three distinct bokeh effects; Soft — for the "timeless, ethereal scenes stand out with softened light and a slight swirl", Classic — which "elevates a sharp subject against an enchanting diffused backdrop", and Soap Bubble — which "creates mesmerizing separation between your subject and backdrop with bubble-shaped bokeh texture."
According to the company, the new lens pays homage to the forgotten and fascinating scientist Hasan Ibn al-Haytham who was among the first to record the "enigma of spherical aberrations." The new lens is built in an effort to combine historical design with modern innovation to give creatives multiple possibilities on their full-frame mirrorless systems.
The 64mm fully manual lens (available in Brass or Black Aluminum) is constructed of five elements in three groups with a dual aperture mechanism that features an iris-style and special shaped drop-in rear aperture plate. The system has an aperture range of f/2 to f/16, offers a field of view of 37 degrees, and has a minimum focus distance of 0.6 meters.
The Nour Triplet lens has a versatile 64mm focal length that allows users to create portraits leveraging three levels of aberration control, as well as the additional feature of an included six special-shaped Lomography drop-in aperture plates at the rear for customized "bokeh effects". According to the company, videographers can take advantage of the control knob to create powerful transitions with their shots switching between soft-focus glows to sharp three-dimensional effects with a "soap-bubble" bokeh pattern.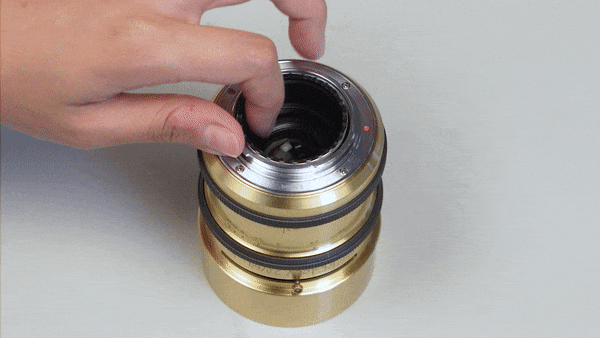 "Unlike most modern lenses that prioritize technical perfection over artistic expression, our lens is designed to take you on a creative journey. This handcrafted brass lens is designed to inspire and empower photographers and videographers to unleash their artistic vision."
Below are several sample images Lomography provided to showcase the lens' capabilities:
The Nour Triplet Lens is launching on Kickstarter with its historically-inspired brass design as well as a sleek black aluminum version for the Canon RF, Nikon Z and Sony E mounts. The lens will be available to backers at an early-bird starting price of $335 for the Aluminum and $410 for the Brass versions ($449 and $549, respectively, at full retail). The company expects deliveries to start before December 24th, 2023.
---
Disclaimer: Make sure you do your own research into any crowdfunding project you're considering backing. While we aim to only share legitimate and trustworthy campaigns, there's always a real chance that you can lose your money when backing any crowdfunded project.
---
Image credits: Lomography