MagLight: The MagSafe Smart RGB Light Redefines Mobile Photography Lighting
In a world where smartphone photography is dominating the visual spectrum, Moonside, a cutting-edge lighting technology company, has announced its newest innovation – Moonside MagLight. The MagLight is the world's first 6-in-1 MagSafe smart camera light designed for phone cameras, bridging the gap between professional photography lighting and mobile photography creators.

Full disclosure: This sponsored article is brought to you by Moonside.
This game-changing device is a Swiss army knife for any photography enthusiasts, integrating the best features of smart RGB LED camera light, MagSafe compatibility, a 4000mAh power bank, wireless charger, phone stand, and even smart home lighting into a single, compact device. With strong N52 magnets built-in, you can effortlessly snap the MagLight to the back of your phone and position it precisely where you need it for the best lighting. Android phone users can also take full advantage of MagLight with an included removable MagSafe ring sticker.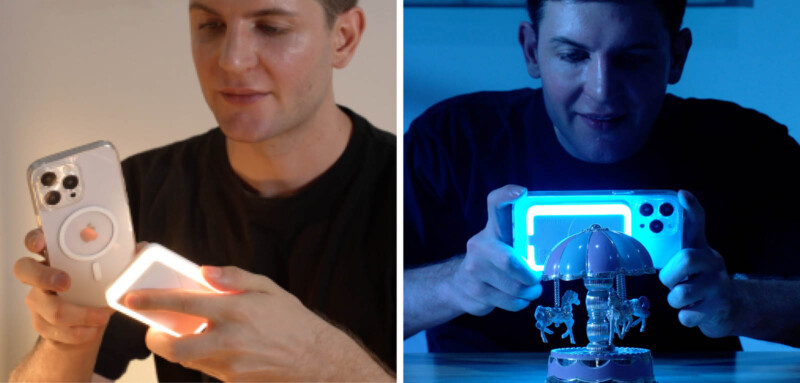 Say goodbye to blurry or overexposed images! MagLight will significantly enhance the quality of your photos and videos taken in low-light conditions. Unlike the standard dazzling flashlight on your phone, MagLight offers soft and luminous lighting that provides ample details in your shots. Moreover, MagLight has a vast selection of 16 million adjustable colors that enable you to explore your creativity and capture stunning visuals.
The MagLight boasts 67 individually addressable RGB LEDs that output a max brightness of 680 lumens. Its two-sided lighting zones can be used for both back and front camera shots. MagLight is the perfect companion for anyone from professional photographers to vloggers, to social media influencers, offering an unprecedented level of control and customization over different lighting conditions.
Another standout feature of the MagLight is its ability to customize colored and animated lighting effects via the Moonside iOS & Android app. Users can adjust the lighting to their liking, creating the perfect ambiance for every shot and every scene. Whether you're shooting a dramatic sunset, a vibrant cityscape, or a cozy indoor scene, MagLight has got you covered.
MagLight is also a 4000mAh power bank with a built-in 15W wireless charger, it can give your phone a much-needed boost when you are shooting awesome works on the go. Whether you're on a day-long photography expedition or simply capturing life's spontaneous moments, the MagLight ensures that your phone's battery won't call it quits before you do. Forget the hassle of tangled cables; simply attach the MagLight to your phone, and it begins charging.
Moonside is taking the versatility of its groundbreaking MagLight one step further with the introduction of two new add-on accessories: the MagFlip and the MagPod. These two accessories are designed to extend the functionality of the MagLight and enhance its compatibility with MagSafe technology, providing users with even more creative and practical options.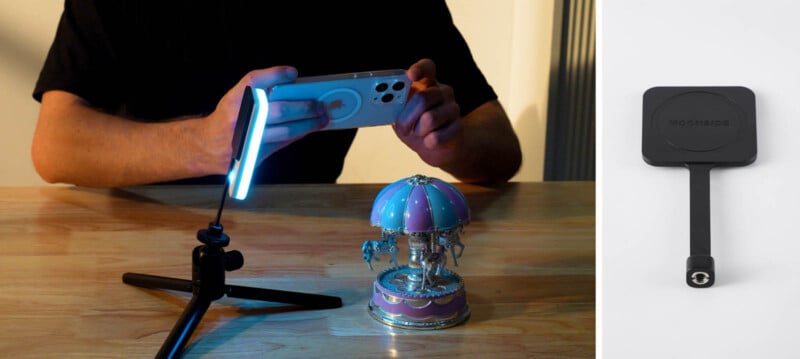 MagPod is a sleek aluminum MagSafe-compatible adapter that comes with an adjustable tripod specifically designed for your MagLight and MagSafe phone. This accessory is a game-changer for productivity and professional camera work, offering a stable and versatile platform for your phone and MagLight. The MagPod features a versatile 1/4-inch screw mount that allows easy attachment to any tripod or other compatible camera accessory. Additionally, it comes with a cold shoe adaptor, which enables you to mount your MagPod with MagLight onto your professional camera, opening up a world of creative photography options.
MagFlip is an ultra-thin accessory compatible with MagSafe technology. It serves multiple purposes, acting as both a phone stand and a transformer for your MagLight, turning it into a smart lamp. This dual functionality makes the MagFlip a valuable addition to your MagLight setup. MagFlip can easily snap onto the back of your phone. This allows you to adjust the direction of your MagLight freely, providing the perfect lighting for any scenario. Whether you're capturing a photo, reading a book in bed, or making a video call, the MagFlip ensures your MagLight provides optimal illumination.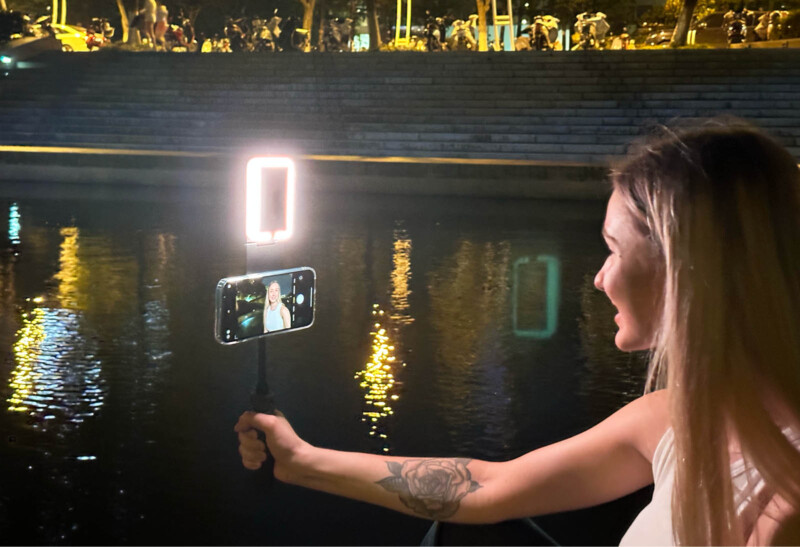 The possibilities become even more exciting when you combine the MagFlip and MagPod together. This setup provides an unprecedented level of versatility, allowing you to utilize your MagLight in a multitude of ways, from a well-lit video call setup to a professional mobile photography lighting rig.
The MagLight's combination of awesome lighting features and user-friendly design makes it a must-have for anyone looking to step up their smartphone photography game or add a touch of convenience to their daily creative life. Whether you're a professional photographer, an influencer, or just someone who loves to capture the beauty of life through your smartphone, the MagLight is your key to unlocking a world of visual possibilities.
MagLight starts at $75 USD for a limited number of early-bird buyers. You can order it now with up to 50% off discounts from its retail price.
---
Full disclosure: This sponsored article was brought to you by Moonside.