The New Keks KM-Q is a Sugar Cube-Sized OLED Shoe Mount Light Meter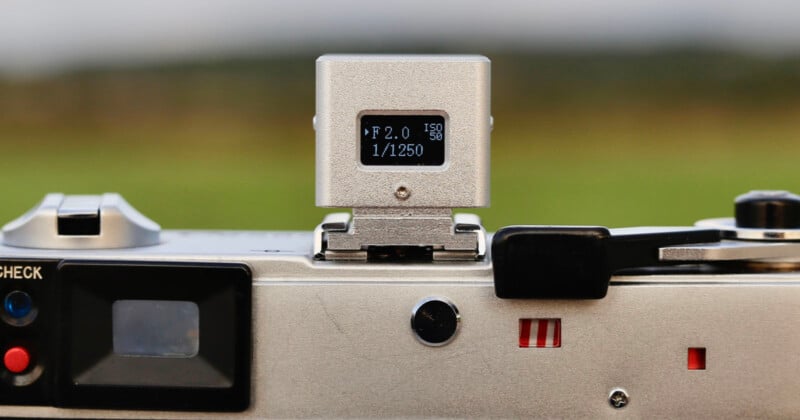 Keks Camera, which launched the KM02 OLED light meter this past April, has announced an even smaller option. Called the KM-Q, the company says it is so small it is comparable to the size of a sugar cube.
The KM-Q joins the KM02 in the Keks light meter lineup. Although designed for use with analog cameras, it works with any camera with a hot or cold shoe. The KM-Q is made out of aluminum and is half the size of the its older sibling, the KM02, and weighs a scant 18.5 grams.
Just like with the KM02, the KM-Q features an OLED display, albeit it is more compact given the small size of the light meter: it measures 0.42-inches across. It comes in either black or chrome, fits three different sizes of shoe mount, and promises over 20 hours of use with display on and over six months in standby. The 120mA battery charges via a USB-C port.
To meter light, the KM-Q uses a VEML7700 high accuracy ambient light 16-bit digital resolution sensor, the same hardware found on the larger KM02. As before, Keks promises that the upgraded software ensures higher accuracy and better reliability, therefore guaranteeing a more accurate reading.
"Moreover, this combined with a 50mm lens view, striking a good balance between average and selective metering," Keks adds.
"Despite being only half the size of the KM02, the KM-Q still inherits the exceptional build quality and outstanding performance synonymous with the KM02 model. The KM-Q is available in both top and back display versions, catering to the diverse needs of film photography enthusiasts."
The KM-Q comes in two versions (in addition to the two color options) that change where the display is located. For those who prefer eye-level metering, it can be equipped on the back of the cube. For those who see themselves metering from the waist, it can also be purchased with the display on the top of the cube.
The Keks KM-Q is backed by a 12-month warranty from the data of purchase and the company is so confident in the product that it promises to repair or replace it free of charge if by some off chance it is defective.
The new super-small light meter is available to pre-order starting today from the Keks web store for $80. The company says it expects to start shipping units starting on September 25.
---
Image credits: Keks Camera