Ulanzi U-Mic Wireless Microphone: Fantastic Audio Recording for Under $100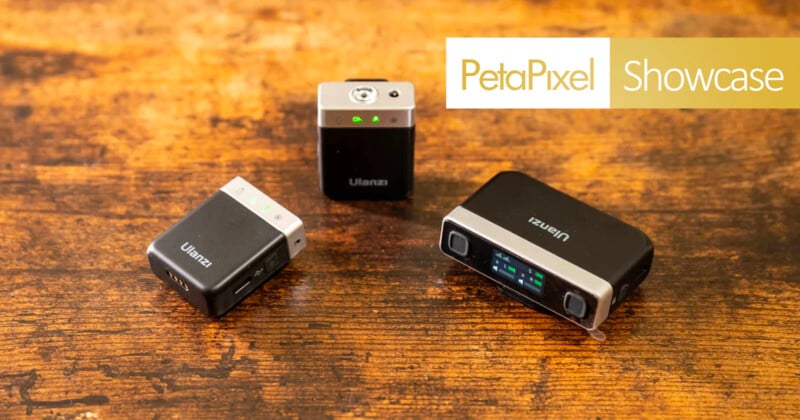 The $99 U-Mic Wireless Microphone (A018GBB1) by Ulanzi is an extremely affordable, compact, and dynamic, wireless audio system designed to give users the best quality microphone system for under $100.

Full disclosure: This sponsored article is brought to you by Ulanzi.
The new U-Mic Wireless Microphone finds itself in an interesting and cost-effective position as an incredibly diverse touchscreen audio recording system that is also easy to use. The two transmitters and receiver in the bundle offer users both single and dual channel recording (with optional on-board recording) wrapped up in a portable storage box that doubles as a charging case. This system keeps everything safe and secure and tops up your batteries while not in use, ensuring you'll always be ready to record when the time comes.
Features, Design, and Build Quality
Out of the box, the Ulanzi U-Mic Wireless Microphone is both tiny and impressive. The self-contained system features a portable matte-black (with silver trim) storage case for the receiver and transmitters that doubles as a charge station (reminiscent of an AirPodPro case) using the USB-C port on the back of the case.
In addition to this, the package includes a 3.5mm TRS cable for connecting the receiver to a camera or external audio recorder, a USB-C to USB-C cable for connecting to Android smartphones, a 3.5mm TRS to Lightning cable for iOS smartphones, a USB to USB-C cable for charging the whole setup, two windscreens to attach to the transmitters to help reduce wind and noise from the microphones, a felt carrying bag to safely contain all the pieces while not in use.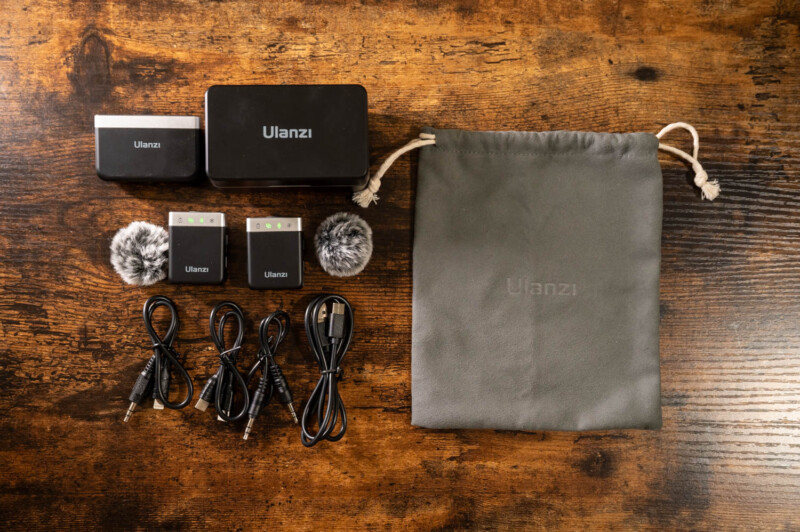 The front of the storage case also features a small LED charge indicator so users can tell just how much life the charge station has left in it before they start their projects.
The company says the system offers a long battery life of up to twenty hours (total using the charging case), or six hours of continuous non-stop usage for the receiver, and fourteen hours for the transmitter(s) using a 300mA battery. The microphones provide users with a maximum transmission distance of 100 meters allowing them to move freely while staying connected to their cameras or recording devices.
The system itself is controlled using a touchscreen interface that, despite being very small, is actually quite easy and intuitive to use. Simply swipe down on the screen of the receiver to access the options page where users can change the audio options (Mono, Stereo, Safety), Volume, Gain levels, and main system settings, which contains the Brightness, Language, Date/Time, System Information, and Factory Reset options.
When you've selected a particular menu item, simply swipe up to exit the page and get all the way back to the main display screen where users can see the connection, battery life, and volume/input levels for the connected/active transmitters. On either side of the touch screen, users will find physical Mute buttons for the two transmitters that allow users to quickly and easily enable/disable recording for each individual channel.
On the sides of the receiver, users will find the 3.5mm ports to connect to a headset or camera/recording device, the USB-C charging/data transfer port, and a "toggle" button that gives users control over the device's main power, wireless pairing, and touch screen lock/unlocking. On the very bottom(s) of the device, users will find the pogo pins for charging the mic set (same as the transmitters) and a belt clip for securing the devices.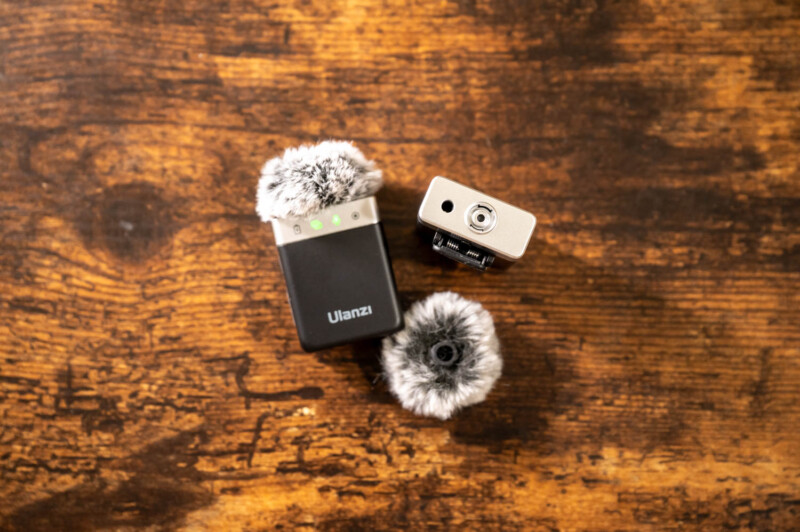 The transmitters offer a more simplistic display with indicator lights that show the status of the battery, the audio/mute indicator, the wireless connection status, and the local recording status. The top of the transmitter is where users will find the built-in microphone and audio inlet connection for the windscreen as well as the 3.5mm port for connecting an external Mic/lav clip should you choose to use one. Like the receiver, the transmitter(s) have a USB-C connection on the side for direct charging and data transfer, as well as a physical button to toggle local recording on/off and muting.
It's worth noting that each transmitter is capable of onboard recording (not relying on connecting to an external device) and has a recording capacity of 8GB of storage for up to 14 hours of backup audio capture. This means this system allows users to record audio directly to each transmitter as a backup in case they find themselves in an area with heavy wireless interference and dropouts.
The devices themselves are impressively lightweight and compact weighing just 34.6 grams for the receiver (RX) and 23 grams for each transmitter (TX), and measuring 65.5 × 17.5 × 41.4 mm and 35.6 × 15.5 × 45.8 mm respectively. The 97 × 58.5 × 57.9 mm charging station/case weighs just 128.5 grams for a grand total of 209.1 grams (excluding the cables).
Basically, the system can easily fit in nearly any gear bag and would go unnoticed. The U-Mic Wireless Microphone system is so lightweight it can easily survive falls from some significant heights without worry as well. I didn't test this to-aggressively with my usage, but I have to admit I did accidentally drop the transmitters and receiver onto a hard tiled floor and they didn't even scuff the paint job of the little beasts.
The system uses a 2.4G wireless transmission with -10 to 10db gain adjustments and a 48KHz 16Bit CD level that the company says will ensure incredibly stable and high-quality lossless sound. Honestly, the only thing missing from this bundle that would make it a perfect sub-$100 system is the fact it doesn't include an external wired lav-mic. It would basically be perfect if it came with a set of these, but even if users buy a set of mics additionally to the bundle, they are still getting an impressively cost-effective and compact audio recording system that can quickly swap between digital cameras, recorders, iPhones, and Android devices without any headaches or custom settings required.
Audio Quality
The U-Mic Wireless Microphone can record audio in two ways; either from a lavalier mic connected to the 3.5mm jack or using the built-in mic (and optional windscreen). For the majority of my testing we simply used the on-board microphone and the audio quality was surprisingly good. Out of the box, the gain was actually a bit loud at its default setting, requiring me to actually lower its settings as it was clearly more sensitive than I needed even in a busy outdoor setting.
The depth of the audio captured was pretty good with a surprisingly lower frequency (bass). It's not what I would call perfect, but for a system that is under $100 it's very VERY impressive, and definitely on par with some other more expensive competing brands.
Since the mic is somewhat omnidirectional, there is the risk of picking up some background noise, but for the most part, it was very minimal, especially if the mic is placed close to where the audio source is coming from. Obviously the closer you are to the mic (and more direct) the better the audio quality will be, so adding a wired lav-mic would definitely be recommended when filming/recording in busier uncontrolled environments, but even without the lavs, the audio captured was very impressive without any clean up at all. Also, using the lav mics can add a level of discretion to your shoot as the mics won't be blatantly visible to both the viewer and passers-by.
Additionally, the U-Mic features three pickup modes for clear and consistent voice capture: Mono Mode for accurate frequencies, Stereo Mode for high-fidelity audio, and Safety Track Mode as a backup against level spikes.
Who Is It For?
The U-Mic Wireless Microphone is definitely built with Vloggers in mind. But the system is not just limited to them. This sleek-looking audio recording system is a great addition to the kit bag for content creators, live-streamers, TikTokkers, podcasters, and filmmakers who use a mix of portable (mobile smartphones) as well as digital cameras and just audio captures. Regardless of what you're using the microphones for, the U-Mic system ensures your voice is heard in stunning clarity.
Why Is This Cool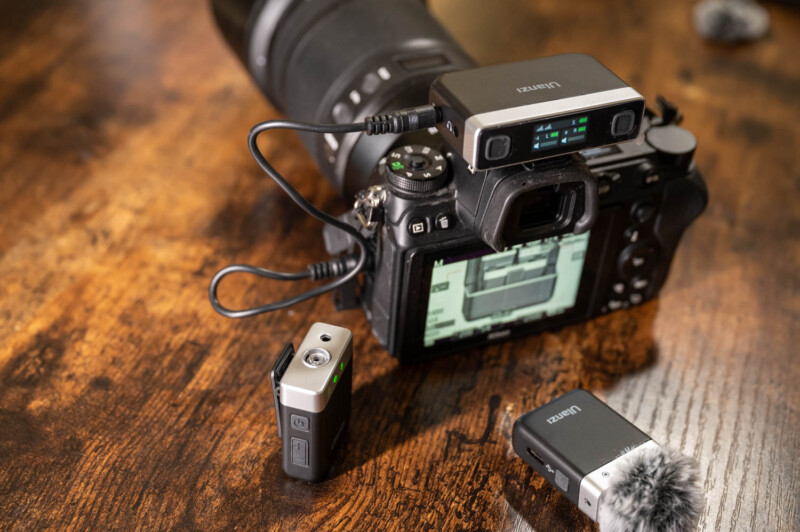 Besides an actually impressive audio quality and recording range, for creatives and filmmakers at both amateur and professional levels, the U-Mic Wireless Microphone provides users with a professional and comfortable high-end performance experience at a very cost-effective low price that is sometimes as low as 1/4 the cost of its competitors. The company says that RODE, Hollyland, DJI, Comica, Saramonic, BOYA, etc., are priced between $150~$330, Ulanzi realizes the highest quality of wireless microphones within a hundred dollars, giving their customers much more bang for their buck.
The U-Mic Wireless Microphone system gives its users a full range of audio recording capabilities for indoor and outdoor interviews, live broadcasts, travel photography/documentary, microfilm recording, and other scenes with consistent stable recording and no need to worry.
Where Can You Get It?
The Ulanzi U-Mic Wireless Microphone is available to order now for a special $79.95 price (Regular $99.95) from the Ulanzi web store. Early Bird pricing ends on September 17th.
---
Welcome to a PetaPixel Showcase, in which our staff gives you a hands-on with unique and interesting products from across the photography landscape. The Showcase format affords manufacturers the opportunity to sponsor hands-on time with their products and our staff, and it lets them highlight what features they think are worth noting, but the opinions expressed from PetaPixel staff are genuine. Showcases should not be considered an endorsement by PetaPixel.