Tips for Creating Your First Contract as a Wedding Photographer
Creating your first contract as a wedding photographer? My first tip is to hire a law professional to review your contract. While over a decade of experience in the wedding industry allows me to give you some tips based on my experience, a wedding photography contract is a legal document between you and your clients that outlines expectations, responsibilities, and deliverables.

This article will mostly talk through what those expectations and deliverables are, but for the official legal language and structure, a lawyer is more qualified to give you official advice.
As you run through these tips, think about what your expectations are as the photographer and what the clients' expectations are from you. It's reasonable for your client to expect you to show up on time and deliver what you promised. But it's not reasonable for them to expect to love the artistic direction of every photo you take or that you can be in two places at once.
When building your contract, you might lean toward the overly aggressive or overly lax side of the coin. I've always found it feels good to protect myself from things that are probable while not getting overly aggressive and starting off the client relationship with a harsh contract. So what are all the things that might go wrong? Let's start with getting the right date and location!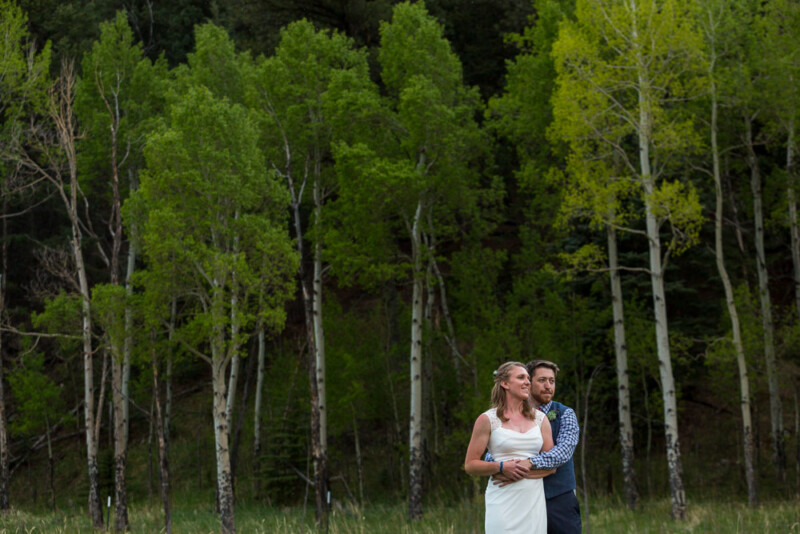 Stating the Details
First off, any specifics and details you know should be included in your wedding photography contract. This includes the wedding day information such as the wedding date and wedding location. You also want to include information about the parties involved, meaning who the contract is between — in this case, the photographer or photography company and the couple.
You also will want to include detailed package information and payment details. This will indicate what they are getting in their package and for what price. You'll also want to break down the payment amounts and due dates including indicating if you require a non-refundable retainer to hold the wedding date.
The contract will go on to protect the interests of both parties. On the most basic level, the client wants to receive the services and products they paid for and the photographer wants to know they're going to get paid for the work they do on the date they've blocked out on their calendar during a sometimes limited wedding season. But let's be real, as you dig into it there are a few more expectations to consider.
Setting Expectations
A clear policy for canceling and rescheduling became even more important after the events of 2020 as well. You can fine-tune your own policy at varying degrees of strictness and should include something about Force Majeure events and unforeseen circumstances from either side. As an example, some photographers let their couple apply the retainer to a new date in the event they need to reschedule while others charge a rescheduling fee due to the potential loss of income from the unused booked date.
You will want to include important expectations such as a model release that grants you permission to use the photos for your marketing purposes and even seemingly less important expectations such as if a meal will be provided so that you know whether or not you'll be fed on a wedding day. You also want to include something about safety, compromised coverage, and/or an exclusivity clause to protect you from things that might get in your way preventing you from being able to do your job.
You can also help set client expectations as well, a contract can be favorable to both parties. For example, you expect the clients to be on time so your clock might start ticking at the scheduled start time. And if for some reason you're late because of an unforeseen event, it seems fair that you would work extra to make up for the lost time. Finally, you'll also want to include a limitation of liability.
Deliverable Information
Next onto the deliverables, with the delivery of digital files, photographers include clear information about copyright and image license in their contracts. Copyright is something that couples often ask about but typically they don't actually want the copyright, they just want a personal use license to print their own photos wherever they want. You can also include information about sharing on social media and tagging if that's important to you.
Next, if you include things like editing and wedding album design in your packages, you should consider setting expectations about doing additional edits or design. What's your policy if a couple never orders their wedding album and then comes back 3 years later? What's your policy if someone repeatedly asks you for additional extensive post-processing?
Again, setting clear boundaries around deliverables can benefit both parties. You can set limits around their requests but they can hold you accountable for things such as deliverable due dates. You might also want to state that clients are responsible for backing up their photos, we keep copies of all our delivered weddings just in case but it's nice to not be fully responsible for that.
Summary
In review, you'll want to state the details such as who, what, when, where, and how much money. You'll want to set expectations including a model release, a meal clause, and something to protect you from compromised coverage. You'll also want to lay out a clear cancellation and rescheduling clause.
From there you'll want to outline the deliverables including copyright information, post-production policies, and boundaries around requests. Think of all the things that could go wrong (like a car accident or losing all your client's photos) and then outline how you would like to handle them. You might not think you need an album design clause until you have that one client who is never satisfied and you spend countless hours at their beck and call.
My goal is to clearly communicate throughout the whole wedding process. If I'm reasonable and my clients are reasonable, then I hopefully won't ever even need to lean on my contract. But boy would it be terrible if it wasn't there when I did need something to lean on.
---
About the author: Brenda Bergreen is a Colorado wedding photographer, videographer, yoga teacher, and writer who works alongside her husband at Bergreen Photography. With their mission and mantra "love. adventurously." they are dedicated to telling adventurous stories in beautiful places.