Panasonic G9 II is a Photo-Focused, PDAF Equipped, 60FPS Burst Camera
Panasonic has announced the long-awaited Panasonic Lumix G9 II, the first Micro Four Thirds camera in the Lumix G Series to feature phase-detect autofocus technology.
Arriving six years after the original Panasonic G9 — practically a lifetime in the interchangeable lens camera space — the G9 II promises to have been worth the wait.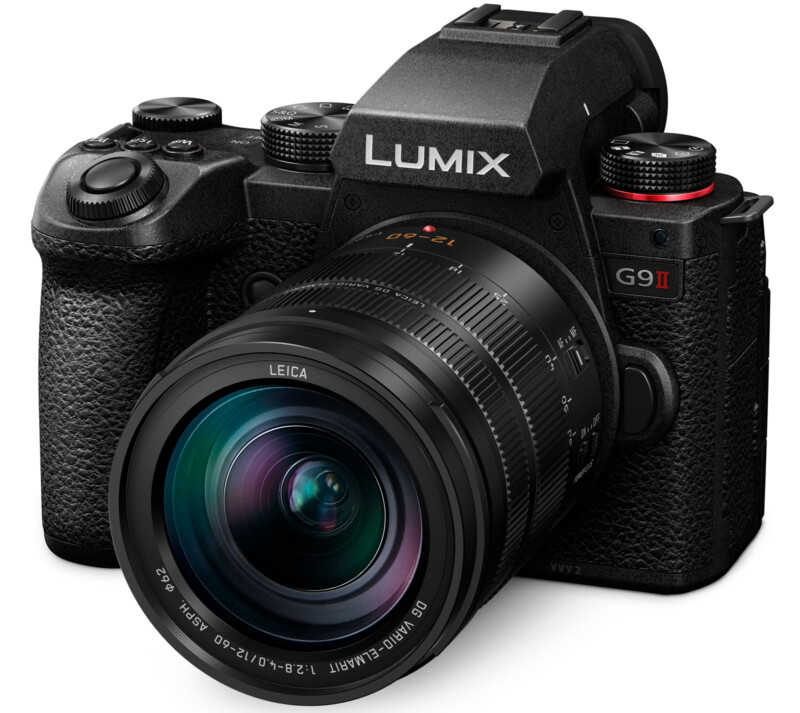 The new flagship Micro Four Thirds camera is built with still photographers in mind. It features a new 25.2-megapixel Live MOS image sensor, a more powerful processor, a swift hybrid autofocus system with subject recognition technology, and burst shooting at up to 60 frames per second.
25.2-megapixel Live MOS Sensor and Incredible Speed
At the heart of the G9 II is an all-new 25.2-megapixel Live MOS image sensor that promises high-speed response and high-quality images. The camera's native ISO ranges from 100 to 25,600, although it can be extended to ISO 50 when shooting still photos. For video, the ISO range is 100-12,800 in many cases, although V-Log is ISO 500-12,800 unless extended.
The sensor's fast readout and the G9 II's increased processing power enables burst shooting with continuous autofocus at up to 60 frames per second. This requires the user to be in SH60 mode, which requires using the camera's electronic shutter. With fixed focus, the G9 II can shoot even faster, reaching 75 fps.
When using the mechanical shutter or electronic front curtain shutter, the G9 II tops out at 14 frames per second with AF-S and 10 fps when using AF-C.
The G9 II also includes pre-burst recording, which continuously cycles through the 1.5 seconds before fully pressing the shutter, recording the previous 1.5 seconds' worth of images when the shutter is pressed.
The G9 II can record approximately 200 images, including RAW+JPEG, when shooting at 60 or 75 fps. The buffer depth ranges from 160 to 200 frames when using the mechanical shutter depending on the file type.
Phase-Detect AF Comes to Lumix G Series
After announcing the S5 II and S5 IIX full-frame mirrorless cameras with phase-detect autofocus at the beginning of this year, it was practically inevitable that Panasonic's future cameras, including Micro Four Thirds cameras, would include PDAF. Sure enough, the G9 II includes a hybrid autofocus system.
The G9 II's hybrid AF system includes subject recognition technology powered by artificial intelligence. The G9 II's AI-based subject detection system now recognizes cars, motorcycles, and animal eyes on top of preexisting human and animal detection modes. Alongside the new subjects the G9 II can detect, Panasonic also claims that the G9 II offers faster and more accurate human and animal recognition.
The G9 II includes 315 contrast-detect autofocus points organized across a 21 x 15 grid and 779 phase-detection AF points in a 41 x 19 arrangement. The autofocus area covers nearly all of the image area.
A Stills-Centric Camera with Video Chops
While Panasonic is positioning the G9 II, like its predecessor, as a stills-focused camera, the G9 II offers many impressive video features.
The G9 II shoots 4:2:0 10-bit 5.8K video using the full 4:3 sensor and 5.7K video in 17:9 aspect ratio. It also shoots 4:2:0 10-bit C4K/4K video at up to 120p, like the GH6. Also, like the GH6, the G9 II records Apple ProRes video.
The G9 II supports recording and playback using an external SSD via USB, includes Real-time LUT support, and features Active I.S. Technology for handheld video recording with perspective distortion correction.
Additional New Features
Speaking of Active I.S. Technology, the Panasonic G9 II features in-body image stabilization that provides up to eight stops of shake correction.
Thanks to its image stabilization, the G9 II can deliver 100-megapixel High Resolution and Live View Composite images when shooting handheld.
The G9 II promises improved black-and-white images with a newly added Leica Monochrome mode, which Panasonic says delivers high-contrast monochrome images.
Design and Features
While much of the focus is on the G9 II's new image sensor and hybrid autofocus system, it is worth looking closely at the camera's design.
The G9 II looks much like its predecessor, including an SLR-style body. The G9 II's dimensions (width by height by depth) are approximately 5.29 x 4.03 x 3.55 inches (134.3 x 102.3 x 90.1 millimeters), and the camera weighs 1.45 pounds (658 grams) with its battery and an SD card inserted.
The original G9 has an identical weight and very similar dimensions. The G9 II is slightly narrower, taller, and deeper.
The G9 II includes a 3.68-million dot OLED electronic viewfinder with approximately 0.8x magnification (35mm equivalent). The EVF offers up to 120Hz refresh rate. It seems that the G9 II uses a similar or identical EVF as its predecessor.
On the rear of the camera is a 3.0-inch type free-angle touchscreen with 1.84 million dots. This is an increase in resolution over the G9's 1.04-million dot rear panel.
Another improvement to the G9 II's design comes from the eight-way joystick, up from a simple four-way controller on the G9, and a repositioned eye sensor for the EVF that promises improved reliability.
The G9 II also works with a newly announced DMW-BG1 vertical grip. This grip allows photographers to use a second battery to extend battery life and more comfortably shoot in vertical orientation.
The Panasonic G9 II includes a full-size HDMI (Type A) port, USB-C (compatible with USB power delivery), and dual UHS-II SD card slots. The camera also includes 5GHz Wi-Fi and Bluetooth 5.0.
For outdoor photographers who shoot in challenging conditions, the G9 II's magnesium alloy body is not only robust, it features a weather-resistant design, which Panasonic claims is tightly sealed against dust and water.
Key Improvements Over the Original G9
Beyond the obvious change in autofocus technology, it is worthwhile to provide a quick overview of the G9 II's key new features compared to its predecessor.
In the image sensor department, the G9 utilized a 20.3-megapixel Live MOS image sensor while the G9 II ups the resolution to 25.2 megapixels. The new 25-megapixel sensor's native ISO is lower (100 versus 200) and the High Resolution mode is now 100 megapixels instead of 80.
Alongside the boost in resolution, the G9 II is also faster. Whereas the G9 could shoot at up to 20 fps, the G9 II more than triples that with its 75-fps shooting speed. Of course, photographers wanting continuous AF must settle for a still-very-fast 60 fps.
Buffer depths are better, too. The G9's buffer ranges from 50 to 60 images when shooting continuously in most modes, including all modes with AF-C, so being able to shoot 200 RAW+JPEG frames at 60 fps with continuous autofocus on the G9 II represents a significant improvement. Pre-Burst Recording is also better now with recording up to 1.5 seconds instead of 0.4.
Improved image stabilization offers shake correction up to eight stops instead of 6.5.
Although designed with still photography in mind, the G9 II's video features are still a massive upgrade over the G9's. The G9 II can shoot at nearly 6K, whereas the G9 topped out at 4K. While the G9 shot 4K at up to 60p, the G9 II can record C4K video at 120p. The G9 II offers higher bitrates and ProRes video, to boot. While this may sound like an oversimplification, practically every primary video spec is better on the G9 II than its predecessor.
Pricing and Availability
The Panasonic Lumix G9 II will be available at authorized retailers beginning in early November for $1,900.
The Panasonic DMW-BG1 battery grip, which is also compatible with the Lumix S5 II and S5 IIX full-frame mirrorless cameras, will be available in late November for $350.
---
Image credits: Panasonic