Fujifilm Adds 500mm Super-Tele and Power Zoom Lenses to GFX Roadmap
Fujifilm has unveiled an updated lens development roadmap for the GFX System with two exciting additions alongside the new GF 55mm f/1.7 R WR, GF 30mm f/5.6 T/S, and GF 110mm f/5.6 T/S Macro lenses for GFX cameras. Fujifilm also announced its new flagship camera, the GFX100 II today.
The GFX System lens lineup will include 20 models when the pair of in-development lenses arrive.
---
Update: During its X Summit, Fujifilm revealed additional details about its updated lens roadmap, including the GF 500mm lens featuring an f/5.6 aperture. This article has been updated to reflect the new information.
---
First up is an ultra-telephoto prime lens. The 500mm lens — equivalent to 396mm on a full-frame camera — doubles the previously longest lens in the GFX System, the GF 250mm f/4 R LM OIS WR.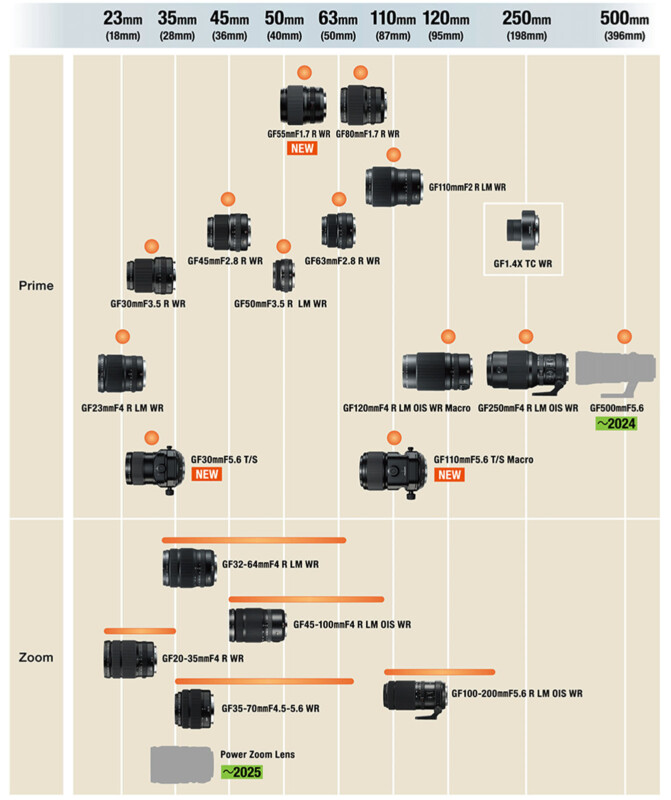 The GF 500mm f/5.6 will be compatible with Fujifilm's GF 1.4x teleconverter, which is currently compatible with only the GF 250mm f/4 lens in the GFX System lens lineup. This will give the lens a 700mm focal length, or 554mm in 35mm equivalency terms.
A 500mm lens is highly unusual for a medium-format camera system. Pentax has some rather long lenses for its 645 system, including a 400mm f/5.6 ED IF lens, but such long lenses are few and far between for large-format camera systems.
The second new lens on the GFX System lens roadmap is the first Power Zoom G Mount lens. Designed to "provide precise control over aperture, focus, and zoom," the PZ lens will be built with still and video production in mind.
"We are excited about the value these new lens offerings will bring not only to the GFX System portfolio of lenses, but also, and especially, to creatives as they continue to strive to tell their stories. Their broad capabilities will make these lenses unique and valuable assets to creators looking to create compelling still and video content," says Victor Ha, vice president, Electronic Imaging Division and Optical Devices Division, Fujifilm North America Corporation.