Laowa Expands Its 'Most Compact' Anamorphic Lens Series
Venus Optics has launched a pair of new compact Laowa Nanomorph anamorphic lenses on Indiegogo.
Following the company's successful crowdfunding campaign for the Nanomorph 27mm T2.8, 35mm T2.4, and 50mm T2.4 lenses last year, the new 65mm T2.4 and 80mm T2.4 anamorphic lenses extend the series' focal length options.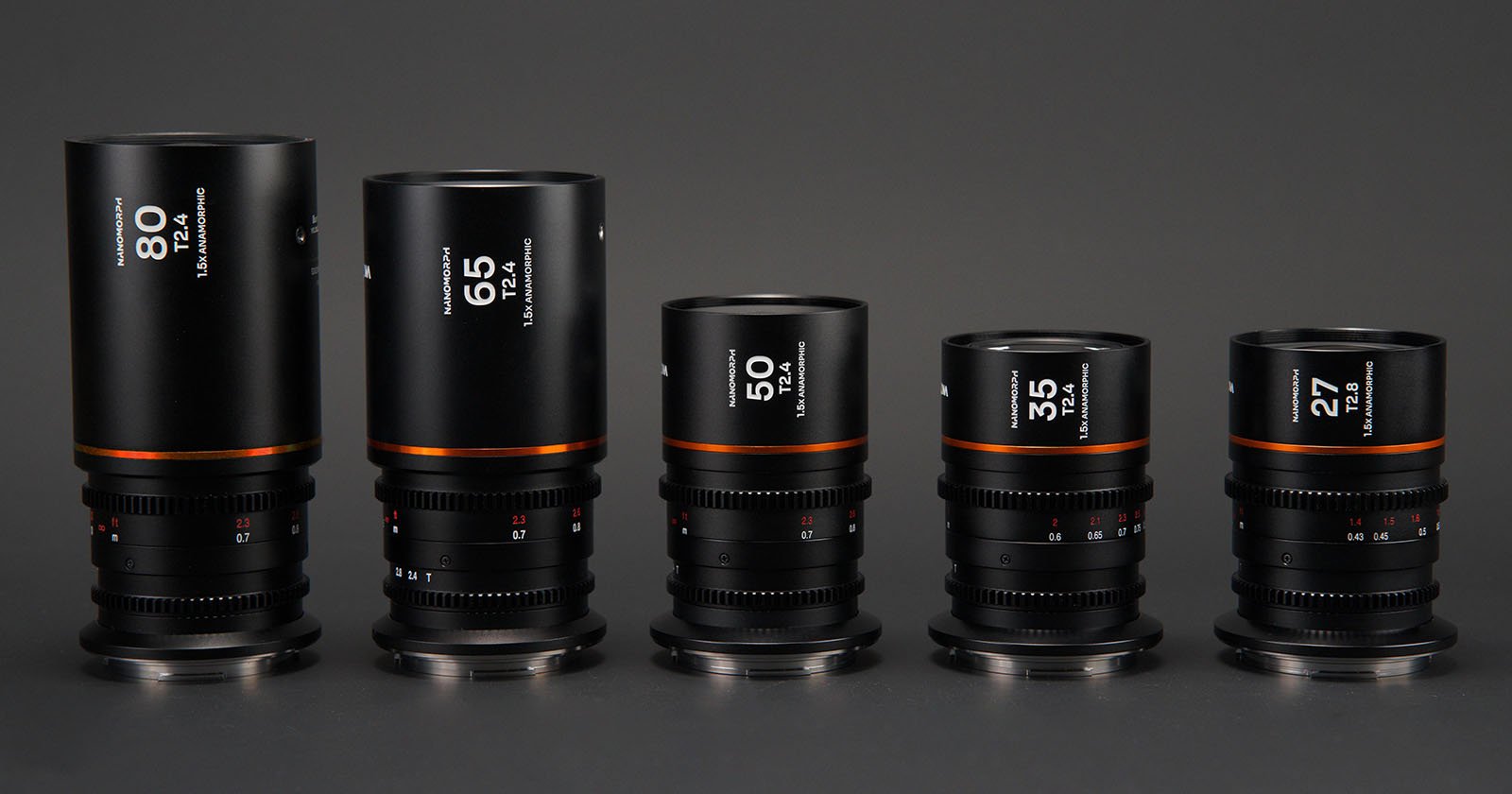 Like their predecessors, the two new Nanomorph lenses are designed for Super35+ sensor coverage and deliver a constant 1.5x squeeze ratio. The lenses also come in amber, silver, and blue flare options. Anamorphic lenses are well-known and desirable for their characteristic lens flare. The flare appears as horizontal streaks rather than circular shapes with anamorphic lenses. While in many cases, photographers and videographers want less flare, with anamorphic lenses, the flare is part of the appeal.
Venus Optics teased the new crowdfunding campaign earlier this month, and at that time shared news of a brand-new 1.33x anamorphic adapter. The 1.33x front anamorphic adapter is compatible with all lenses in the Nanomorph series, not just the two new ones, and turns any Nanomorph lens into a 3x anamorphic.
The 1.33x anamorphic adapter can also be used on standard spherical lenses, including Laowa's Ranger Cine Zoom full-frame lenses. Venus Optics promises a minimal loss in aperture stops and image quality when using the adapter thanks to its "special design."
Returning to the new Nanomorph primes, they are available in a wide range of lens mounts, including Canon RF, Sony E, Micro Four Thirds, Nikon Z, DJI DL, L-mount, and Fuji X. Although physically longer than the 27mm, 35mm, and 50mm Nanomorph lenses, the 65mm and 80mm lenses share a unified gear position with their predecessors, ensuring that users can swap between all five lenses without requiring different focus gears.
Concerning focus, the manual focus lenses include a built-in back focus adjustment, eschewing the need for shims. The aperture and focus rings utilize standard 0.8 mod gear designs, and the focus ring has 270 degrees of throw.
Pricing and Availability
The pair of new Laowa Nanomorph lenses are available in a two-lens bundle for $1,630 on Indiegogo, a 20% discount relative to the retail price. Each lens can be purchased separately for $1,064, a 5% discount. The mirrorless versions of the Nanomorph lenses include an interchangeable lens mount, adding to their versatility. However, the EF/PL version cannot be swapped to become mirrorless.
The new 1.33x front adapter is available as an add-on for just over $700.
The new Laowa Nanomorph lenses and 1.33x adapter are expected to ship in September. The complete details of the new products and all backer options are available on Indiegogo.
---
Disclaimer: Make sure you do your own research into any crowdfunding project you're considering backing. While we aim to only share legitimate and trustworthy campaigns, there's always a real chance that you can lose your money when backing any crowdfunded project.
---
Image credits: Venus Optics